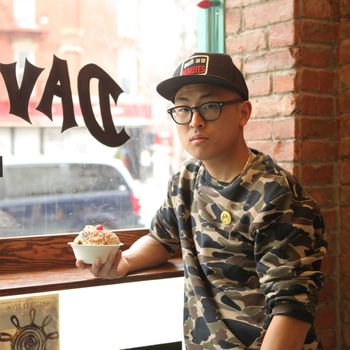 "If I don't make really good ice cream, I'll die."
Photo: Melissa Hom
At some point, everyone with a desk job has thought about it: Kicking over that cubicle wall, quitting on the spot, and opening a restaurant. Or maybe a bakery? Or better yet, an ice-cream shop. David Yoo actually did it. Not the cubicle-kicking part, but he did leave his job as a graphic designer (clients included Versace and Madonna) in order to open Davey's Ice Cream in the East Village, where he spends his days making flavors like roasted pistachio and "strong coffee" from scratch. Four months after opening, Yoo's shop is off to a solid start (despite the cold weather), so Grub sat down with him to talk about the realities of living so many people's dreams: balancing financial and creative needs, the challenges of opening in the off-season, and big plans for moving forward.
What inspired you to quit your job and open an ice-cream shop?
After I graduated from Parsons, I worked as a graphic designer — specifically in street fashion. I wanted to try something different, so I went into high-fashion advertising. I loved the job. Versace was my client, and my last big project was a Madonna album. But I've been in the city forever, and I reached a point where, long-term, I couldn't imagine myself doing that. On my last day, I didn't take a single file with me. Once I left the studio, there was no going back.
Why ice cream?
I wanted to do something more hands-on, but still be creative. I'd never worked in the food industry. I'd been making ice cream at home, and the whole idea started out as a joke. My original idea was to have a candy shop, but once I started researching, it didn't make sense to make candy from scratch. That was way out of my league. Ice cream seemed doable. But everyone thought it was a joke. I wasn't really convinced, either.
I made my business plan in two months, and within three months, I had submitted it to the bank, gotten the loan, and that's when I really took it seriously. I did the whole thing in one year: I quit in September and I opened the shop in September. I went all in.
You took Penn State's ice-cream crash course. Did that help prepare you?
It was interesting. It's not really a business-type thing; it's more about the science and the fundamentals of ice-cream making. I do all the ice-cream formulations by hand now, and that's the kind of stuff I learned.
Christina Tosi was at Penn State with you, right?
Yeah, that was a coincidence! She was there, and so was Fany [Gerson] from Dough and La Newyorkina. There was this small New York clique. It was really fun.
How did you come up with your recipes, and where do you buy your ingredients?
It's all about the cream: I use Battenkill cream. Initially, I bought all the milk from Eataly, Whole Foods, and like fourteen brands, and Battenkill truly stood out as the best. It took a long time to get the formula right. It's really about the butterfat and the sugar. My ice cream's actually lower in sugar: It's 13 percent sugar — 10 or 13 percent, depending on the flavor. My recipes have undergone six revisions since opening, and all my recipes are in pencil. I want to digitize everything, but I don't want to do that until the recipes are final. I don't know if they will ever be finalized, because they keep changing.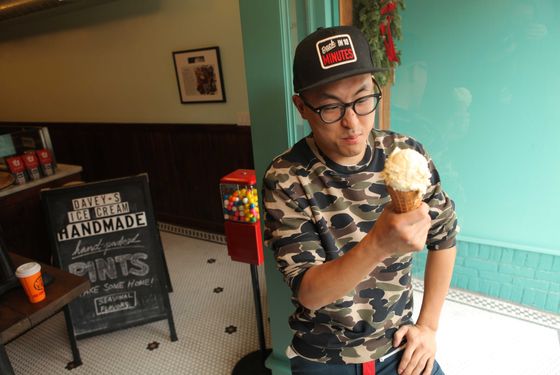 "All my recipes are in pencil."Photo: Melissa Hom
You initially planned to open in June, and then it got pushed to September. How did launching in the off-season impact business?
It was hard because I technically lost a season, but I'm actually so happy I opened up later. When I opened, it was kind of a disaster: All my skills were wrong and all my mixes came out wrong. I had to trash everything and pull all-nighters to make enough ice cream for the opening; I had made a big deal out of free scoops. After the grand opening, I closed the shop down, threw everything away, and remade it all. But if that had been at the peak of summer, it would have been a nightmare. I would have died.
Now, I'm in a good groove. I have a lot of regulars. It's why I wanted to do this: I really like making ice cream, just kind of chilling, and at nighttime, when people come in, talking to the customers. When the space fills up at night, that's when I'm happiest.
Which flavor's been the biggest hit?
Definitely Cookies & Cream — we use real Oreos — but people always get vanilla. For my Strong Coffee flavor, I use Birch Coffee. I used to live in midtown, and that was my favorite coffee. The obvious choice would have been Blue Bottle or La Colombe, but I wanted to team up with a company from New York.
The seasonal flavors are my experimental stuff, and eventually, they're going to be more conceptual. Because I come from a fashion background, my goal is ultimately to design the seasonal flavors like a capsule collection. Hopefully, by next year, I'll have everything nailed down, and the seasonal flavors will be a cohesive collection of flavors. When I went into this, I thought I'd make the best ice cream, but in reality, it's actually like this much ice cream and that much everything else: I do all the accounting, the marketing, and the graphics.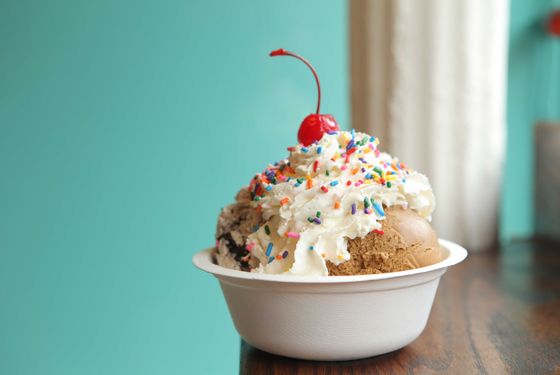 "My goal is ultimately to design the seasonal flavors like a capsule collection."Photo: Melissa Hom
Your brownie has its own following, too.
Originally, it was actually my girlfriend baking the brownies. I would force her to come in before she went to work to make the brownies, and then I'd send her off. But then I realized that I can't do that forever. This sounds awful, but I phased her out.
Is she at least still your girlfriend?
Yeah. She kind of freelance bakes, so I worked with her. I wanted a brownie that was fudgey. I needed that for my sundaes. It took two months to get that recipe down, but once we came into the kitchen, I had to revise it again because it didn't make sense in a commercial kitchen.
It's a saturated market, with Van Leeuwen and Big Gay Ice Cream nearby in the East Village, and new shops like OddFellows and A.B. Biagi opening this past year. Are you competitive?
All I care about is making the best ice cream. If I don't make really good ice cream, I'll die. Ultimately, it's not about making money. That's why I quit my job. But money's also important because I need to pay my employees.
How do you see Davey's growing?
Right now, I'm figuring out what the neighborhood — the East Village — wants and tailoring it to that. I want it to be a neighborhood shop first. I live by Tompkins Square Park, and the East Village feels like it's the last part of old New York — or true New York. I like it here. It's only been a few months since I opened, and I'm trying to pace myself. But I want to do wholesale. I want to do cakes. I want to do all of it.