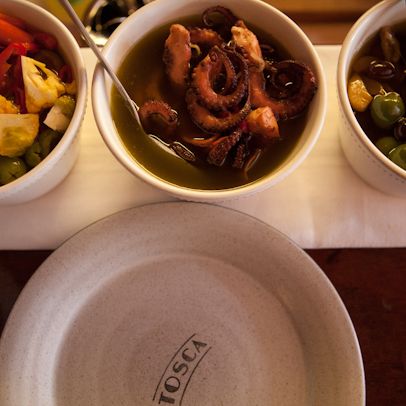 Bloomfield serves food that "you want to eat today."
Photo: Andrei Riskin
Adam Platt, who gave up his anonymity on the cover of the latest issue of New York, did not file a review this week. But Joshua David Stein ate four-star tacos and Stan Sagner discovered just how well a pair of Canadians can do in a New York steakhouse. Read it all, straight ahead.

Pete Wells jetted off to San Francisco to visit Ken Friedman and April Bloomfield's newest venture, Tosca Cafe, where they converted a landmark dive bar into a blossoming Italian restaurant. The kitchen churns out unfussy dishes like a "wonderfully old-school" chicken marsala, lumaconi pasta baked with lemon-scented cream ("I would eat [these] once a week if I lived nearby"), and chicken with potatoes dressed in hot pork fat. Although there are some "dim moments" — like an "aggressively garlicky" mussel soup and bland cannoli — Bloomfield smartly "doesn't reach for an 1919 Italian-American version of retro-authenticity." Instead, she serves food that "you want to eat today."
Daniel S. Meyer filed a review on Contra's "affordable set menus served in a casual atmosphere." Unfortunately, while prices were cheap ($11 average per dish), the dinner there is "less of a steal than it appears to be." The constantly changing menu means "polished food" is nearly impossible, resulting in dishes like "chewy rounds of raw squash sprinkled with even chewier half-popped sorghum kernels" and "offbeat desserts." Also a miss: the large intervals of time between the small courses "requiring supplemental bread, cheese, and plenty of wine" — all of which seemingly "conspires to effortlessly nudge the gentle $55 base towards $100." On the upside, vanilla ice cream with freeze-dried raspberry jam and caramelized cheese "tastes like a savvy order from a Scandinavian 16 Handles," while the slow-roasted Mangalista pork collar with sweet husk cherries and turnips "hits every note." Two stars.
Joshua David Stein awarded Danny Bowien's creative foray into Mexican food, Mission Cantina, four stars this week. He found himself especially pleased with the tacos, in which peanuts are paired with pickled tomatoes to "elevate the beef tongue taco from quasi-food dare to a tonguing revelation," braised octopus is combined with chicken wing to form a "singular mind-blowing taco," and the al pastor is made with "smoky and flavorful" rotisserie pork belly. Other must-orders: "super crispy" and mole-rubbed chicken wings, the whole rotisserie chicken, and the queso oaxaca. Stein's only real gripe? "There's no dessert."
Stan Sagner visited Long Island City's M. Wells Steakhouse and found the restaurant to be "an eclectic, energetic, and whimsical re-imagining of the staple New York steakhouse." The menu is comprised of essentially all hits: the M. Wells Caeser ("beautifully dressed plate of anchovy-rich chopped romaine"), the "bone-in" burger ("one of the city's tastiest"), "magnificently crusted" rib eye perfect for a "purist in search of a carnivorous fix," foie-gras-encrusted gnocchi, and the cheesy, almost "pourable" Pommes Aligot that "ought to come with a warning label: delicious but deadly." Even dishes that don't quite hit the mark, such as the pancake-inspired stack of pork chops "sliced magazine thin," are a "welcome reinterpretation of a New York tradition." Four stars.
The Laotian fare at Khe-Yo is the subject of this week's New Yorker review by Amelia Lester. The cuisine is "similar to Thai food in its careful balance of sweet and spicy, but with the sour funky element turned up a notch." The flavors are best showcased in dishes such as the "rich, springy, and bright" pig's-face salad, whole grilled quail on a stick, and the "spectacular" roasted kabocha squash salad with beech mushrooms, mint, kaffir lime, and chili that is "pleasantly disorienting." Another hit: the sticky rice, which is sometimes ground up as an umami powder akin to "old-school supermarket Parmesan."
Steve Cuozzo gave three stars to Rotisserie Georgette this week, proclaiming that the "suave, sexy brasserie proudly stands up for the old values in a culinary climate saturate with all things gelatinous and obscure." While service can at times be snooty, the decor is "chic" and the food is on point: The octopus grenobloise eschews the "brown-butter cliche" in favor of grilled fingerling potatoes and tomato confit, the roast half-chicken "drifted in on a fragrant Provencal breeze of marjoram, rosemary, thyme, and oregano," and the crackling-crusted lamb loin with lemon confit "proved to be impossibly lush." But most noteworthy dish is the "poule de luxe" for two, which gives "the NoMad's exalted $79 bird a run for its precious feathers" with a rich stuffing of wild mushrooms, panko, and herbs.
Alan Richman dived into the hotly debated topic of the best cheesesteaks in Philly.