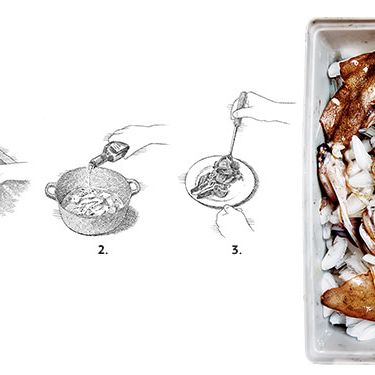 Photo: Bobby Doherty/New York Magazine; Illustrations by John Burgoyne
Local squid is plentiful, affordable, and sustainable—a rare hat trick in today's precarious seafood market. And even though you'll most often encounter it in fried-calamari form, the cephalopod takes well to grilling, baking, boiling, and even poaching in olive oil, a technique favored by Martha's Vineyard chef and farmer Chris Fischer, who served the dish at his Manhattan pop-up, Fish and Rose, last month.
Chris Fischer's Olive-Oil-Poached Squid With Roasted Leeks
1 pound cleaned squid
2 cups plus 2 tbs. mild extra-virgin olive oil
1 lemon
Dried chile flakes
Salt and pepper
4 baby leeks, trimmed and cleaned
2 cups picked parsley leaves
Preheat oven to 375. (1) Rinse the squid under cold water. Place in a Dutch oven, (2) cover with 2 cups of olive oil, add half the lemon (reserving the other half for juice) and a pinch of chile flakes, and season well with salt and pepper. Cover tightly, and poach the squid in the oven until fork-tender, about 1 hour. Remove from the oven, and allow to cool with the lid on for at least 20 minutes. Meanwhile, toss the leeks in a mixing bowl with 2 tablespoons olive oil and season with salt and pepper. Place leeks in a single layer on a sheet tray, and roast until they are tender and beginning to caramelize, about 20 to 30 minutes. Using a slotted spoon, transfer the squid to a mixing bowl, and combine with the makings of a dressing: 1 tablespoon of the poaching liquid, 2 teaspoons lemon juice, and a small pinch of chile flakes. Toss well, check seasoning, then add the parsley, tossing again to coat evenly. (3) Arrange the leeks on 4 plates, and spoon the squid over them, finishing with a drizzle of the dressing, loosened (if necessary) with reserved poaching liquid. Serves 4.
*This article originally appeared in the February 3, 2014 issue of New York Magazine.