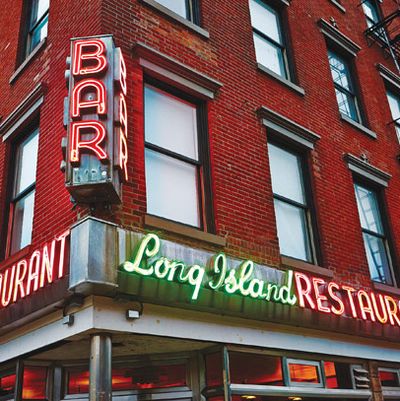 Long Island Bar will have drinks by the pitcher (and an 80-inch TV).
Photo: Bobby Doherty
Sports bars can be a mixed bag: You can watch a game, grab a plate of wings, and drink some pitchers of beer, but the vibe could very likely be … fratlike (and not in a good way). Bars that offer the benefits of a typical sports bar while avoiding some of the more common environmental drawbacks can be tough to find, but not impossible — which is just what you might need come Super Bowl Sunday. That's why Grub Street scoured the city looking for places you'll be able to catch the game while simultaneously avoiding drunken brawls and subpar food (we've also put a premium on fan-neutral sites since Seahawks and Broncos fans no doubt made game-watching plans long ago). Here, then, are 21 places that, come Sunday, should serve as excellent gathering spots for people who just want to settle in and watch some football. (And, as always, this is just a start. By all means add your own choices in the comments.)
Upper East Side
The place: Mexi BBQ
The vibe: BBQ-Mexican fusion (think: brisket tacos).
Super Bowl specials: The recently opened bar-restaurant is a great place to stop in for an extensive list of craft beers — heavy on the IPAs.
Harlem
The place: Bier International
The vibe: Bar specializing in German beers.
Super Bowl specials: Along with a burger-beer special (for $18), the bar will offer Kulmbacher for the first time, a pilsner for anyone who likes Bud Heavies.
The place: Ginny's Supper Club
The vibe: A laid-back jazz club underneath Red Rooster.
Super Bowl specials: A $25 tailgating menu, $4 beers, and the promise of a raffle each quarter.
Murray Hill
The place: Resto and The Cannibal
The vibe: A Belgian beer hall connected to a butcher-bar-meat emporium (expect at least a few Murray Hill clichés in the crowd).
Super Bowl specials: A Mexican feast for $120 per person that features lamb and pibil taco bars, peanut jalapeño poppers, "chorizos in a blanket," and, of course, pig-head potato skins. To drink: draft beer, Mexican Coke, a michelada bar at the Cannibal, and a margarita bar at Resto.
Hell's Kitchen
The place: Bea
The vibe: A posh environment for Super Bowl watching.
Super Bowl specials: The cocktail-heavy restaurant will feature a special Super Bowl menu, containing Thai-influenced chicken wings and a pizza for both teams (a tilapia pizza for Seahawk fans, a pulled-pork pizza for Broncos fans).
Midtown East
The place: The Jeffrey
The vibe: Acclaimed craft-beer bar.
Super Bowl specials: A food and unlimited drink package that includes a roasted pig, maple-bacon baked beans, and a beer list containing brews from Colorado and the Pacific Northwest (for $60 per person).
Flatiron
The place: The Breslin
The vibe: Hipsterpalooza at the Ace Hotel, with outstanding food from April Bloomfield.
Super Bowl specials: Lots of beer packages (including 30 Naragansett beers for $100) and duck-fat-fried-chicken feasts for parties of five or more, which also happen to include biscuits and — a rarity on Super Bowl Sunday — salads. Reserve by e-mailing here.
Chelsea
The place: Chelsea Brewing Company
The vibe: If a brewery set up next to a golf course, it would feel like this. In fact, since CBC is at Chelsea Piers, that's sort of what this is.
Super Bowl specials: For $35 you'll get unlimited beer and wine and access to a halftime buffet.
East Village
The place: Standings
The vibe: The most low-key sports bar on earth (in a good way).
Super Bowl specials: A tap list with beers from the Pacific Northwest and Colorado, like Elysian and Oskar Blue's, and for the first time, Standings will offer Deviant Dale's, an Oskar IPA.
Tribeca
The place: The Butterfly
The vibe: Michael White and Eben Freeman's revisionist mid-century supper club.
Super Bowl specials: Draft beers will be $4 and premium drinks will be $9. For $50 per person you can secure a reserved seat and access to passed hors d'oeuvres. For $100 per person you can get open-bar access for the entire game.
Cobble Hill
The place: Long Island Bar
The vibe: The chillest cocktail bar in town, located in a former diner.
Super Bowl specials: The new Brooklyn hot spot is installing an 80-inch TV and offering "pitchers of drinks" along with "improved stadium food." (You can also rent out a private room with its own 60-inch TV if you're feeling so inclined.)
Park Slope
The place: Dram Shop
The vibe: Like the Platonic idea of a tavern — with miniature shuffleboard and lots of Scotch.
Super Bowl specials: $40 gets you an entree, access to the open bar, and some "swag," per the owners.
The place: The Gate
The vibe: A well-worn beer bar — that allows puppies!
Super Bowl specials: There will be hot catered food (from Park Slope's Chip Shop) for the first time. Also, they will serve pints from Brooklyn's newest brewery, Other Half
The place: Pork Slope
The vibe: Dale Talde's roadhouse-style bar that mixes high-end comfort food with shot-and-beer combos.
Super Bowl specials: An all-inclusive package, for $75, contains unlimited draft beer, well-mixers, and a bunch of bar food: tater tots, chicken nuggets, and pulled pork are among the spread.
Downtown Brooklyn
The place: Bijan's
The vibe: A bartender-friendly bar and cafe.
Super Bowl specials: Free Jell-O shots will be handed out after each touchdown, which should cool one's mouth after eating the bar's Persian spiced wings.
Bushwick
The place: Roberta's
The vibe: Hipster pizza place with an outdoor tiki bar.
Super Bowl specials: The tiki bar will serve wings, chili, mini-pizzas, and football-shaped calzones; booze specials will abound starting at 4 p.m.
Williamsburg
The place: Pine Box Rock Shop
The vibe: A dog-friendly sports bar specializing in vegetarian food.
Super Bowl specials: Veggie offerings include veggie chili and nachos (topped with a vegan cheese) from Champs Family Bakery, and Pine Box will feature a game-long happy hour.
The place: 4th Down
The vibe: A game-filled sports bar that doesn't draw the typical sports-bar crowd
Super Bowl specials: 4th Down is closing February 3 (it will reopen March 1 in a Williamsburg-based former pool hall), so celebrate the bar's end with beer buckets, free Jell-O shots, and skee ball.
Fort Greene
The place: Black Forest Brooklyn
The vibe: Beer garden emphasizing nontraditional beer-garden grub
Super Bowl specials: The owners, both natives of Germany's Black Forest region, will highlight the authentic cuisine, like flammkuchen, a thin-crusted bread topped with sour cream, bacon, and onions.
Astoria
The place: SingleCut Beersmiths
The vibe: A brewery specializing in IPAs and featuring live music.
Super Bowl specials: Free grilled sausages and bratwursts from Schaller and Weber to be enjoyed with pints of SingleCut's wide array of beers, including the hop-heavy Full Stack IPA.
Woodside
The place: Donovan's
The vibe: An exceedingly famous old-school Irish bar.
Super Bowl specials: Nothing specific, but they've got one of the city's best burgers and a brand-new AV system.