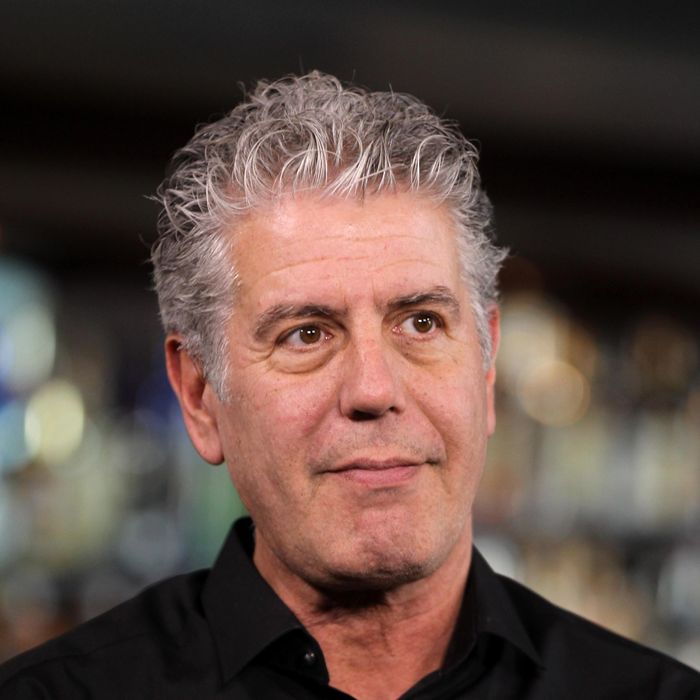 Searching high and low for excellent hawker fare.
Photo: Isaac Brekken/WireImage
This morning, "Page Six" drops the bombshell news that Anthony Bourdain is teaming up with entrepreneur Stephen Werther on what's being billed as a "large-scale food market" focusing on global street food and hawker fare in Manhattan. The location is not identified, but the paper guesses it's happening downtown at Brookfield Place, or perhaps at Hudson Yards. "We are ready to go with the concept, so we are going to be doing some very cool and unexpected pop-ups between now and the opening," says Werther.
This morning, Bourdain confirmed his involvement to Eater NY, writing that he is "carefully assembling a dream list of chefs, operators, street food and hawker legends from around the world." In addition to being a longtime proponent of small-scale vendors around the world, the TV host and celebrity chef was a speaker at last year's World Street Food Congress held in Singapore. He tells the blog he's hoping to bring dishes like authentic Hainanese chicken-rice to New York. "To the extent that I can help bring those things home to New York," he writes, "along with a truly interesting collection of home grown innovators, I will be very, very pleased."
Anthony Bourdain to open NYC food market [Page Six/NYP]
Anthony Bourdain Is Planning a Massive NYC Food Market [Eater NY]