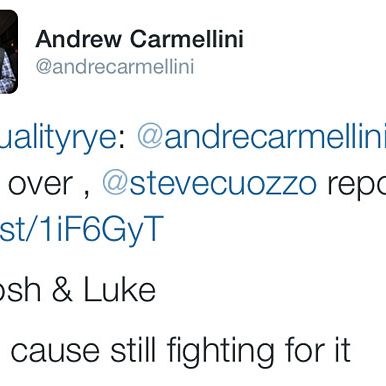 The Post's Steve Cuozzo, apparently confirming the rumor that Eater heard two weeks back, says that Andrew Carmellini and business partner Josh Pickard's lease for 325 Bowery (R.I.P. Peels) is a done deal, but that may not be the case. This morning, Carmellini tweeted that he was only being "coy" because he's "still fighting for it" … but then deleted his tweet minutes after (Grub got a screenshot). Expect Carmellini to go to bat for the two-story Peels space: He wants each of his restaurants to be on a corner.

Update:* Eater confirmed with Carmellini's rep that he's opening a "casual pasta shop" with Pickard and Luke Ostrom in the former Peels space. It's called Bar Primi, and it's scheduled to open this summer.
Fireman's hot new property [NYP]
Are Pickard & Carmellini Planning an Italian Restaurant? [Eater NY]
Carmellini, Pickard & Ostrom to Open Bar Primi This Year [Eater NY]
Earlier: Peels Is Closing Today
*This post has been updated.