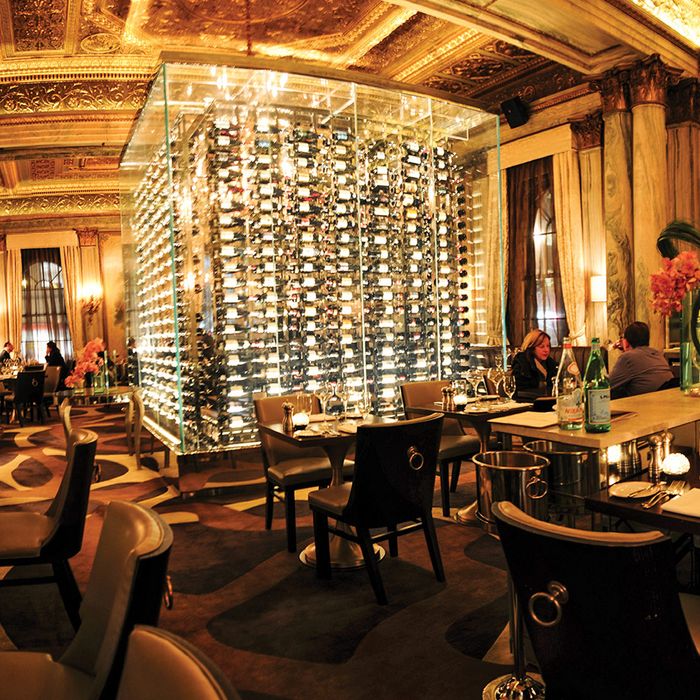 Villard Michel Richard
Photo: Sarah Silberg/New York Magazine
New York's restaurant world is full of perpetually doomed "death zones," where the dreams of even the most diligent and talented chefs go to die. Usually, these cursed black-hole regions are located on marginal side streets, or in fusty, feng shui-challenged rooms, but sometimes the opposite is true. Take the famously ornate apartments of the old tycoon and journalist Henry Villard in the beautifully situated midtown Madison Avenue palazzo that bears his name. Sirio Maccioni used the Gilded Age McKim, Mead & White space as the setting for his elaborate Le Cirque 2000 restaurant before abandoning it a decade ago. Since then, the rooms have housed a series of dreary hotel bars (the mansion sits off the lobby of the New York Palace Hotel) and star-crossed haute-dining concepts, like the tasting room Gilt, which went through several chefs during the course of its run before closing, with barely a whimper, just over a year ago.
The New York Palace was recently purchased by a real-estate investment firm, and the new owners have given the dowager space a lavish, $140 million face-lift and persuaded the venerable French chef Michel Richard to come up from his restaurant in Washington, D.C., to see if he can break the curse. Richard has wisely separated the space into two concepts, one called Villard Bistro, serving elevated brasserie dishes (onion soup, fried chicken, a lobster burger), and another, smaller, wood-­paneled Gallery, designed for the enjoyment of tasting menus and fancy wines, which the designer, Jeffrey Beers, has filled with giant canvases of twentieth-century cinema divas (Audrey Hepburn, Grace Kelly, etc.) and rows of tables illuminated from below in pools of white light.
The grand, sun-filled Bistro overlooking Madison Avenue is the most pleasant of these venues by far, although the dishes my tasters and I sampled during the course of our meals there had a hit-or-miss quality, and none of them were cheap. My mother had nothing but kind things to say about the elegantly upscale frisée salad, but her lobster burger was "more decorative than tasty" and the frites accompanying it were on the soggy side. The Michel Richard interpretation of American fried chicken I ordered had a similar, greasy stodginess to it, so get the crackly-skinned roast chicken instead, which is served with a pleasing little jug of drippings on the side. The best option of all, though, is the toppling mushroom feuille, which Richard, a former pastry chef, constructs with layers of puffy, buttery pastry crust and a delicious sautéed shiitake filling, followed by a classic napoleon for dessert that is the size of a small toaster and served in a silky pool of crème anglaise.
Similar old-world treats are available in the 50-seat Gallery tasting room, although you may feel, as I did while dining alone one wintry evening, like you're the only passenger onboard an ancient ocean liner embarking from Nice, say, on one last cruise across the chilly Atlantic. The room was mostly deserted on my visits. The courtly maître d' is a veteran of Richard's restaurant projects in D.C. and L.A., and the dishes served—Dover sole poured with chicken-consommé emulsion, foie gras brûlée topped with soft segments of citrus and grapes, an ingenious mock caviar made with Israeli couscous and squid ink served in a silver tin among glittery crystal "ice cubes"—feel like a collection of ye olde greatest hits culled from the chef's storied career.
Not that there's anything wrong with this, of course. Richard, who began cooking professionally at age 14 in Champagne, belongs to the trailblazing generation of French chefs who reinterpreted the stern tenets of haute cuisine for a much wider, late-twentieth-century audience in all sorts of inventive, playful ways. The mock caviar in question looks uncannily like the real thing, and when you tweak it with your spoon, you will find a delicious layer of lobster underneath mixed with hollandaise sauce and a single poached egg. This was followed, on my eight-course, $185 tasting menu, by the Dover sole, an elderly tasting "72-hour" braised short rib, and a delicate spoonful of real caviar set over an eggshell filled with a rich mash of scallops and served, in the playful, somewhat dated Le Cirque style, on a statuette of a silver penguin.
Will these culinary magic tricks be enough to lift the curse from this troubled restaurant space? Based on the many empty tables on my visits, the prognosis is a tentative "maybe." The lean gastronaut fashions of today are light-years removed from the kind of elaborate cuisine Richard specializes in, after all, and old mansions in midtown ceased being dining destinations in this city long ago. But if you have a fondness for first-rate culinary nostalgia, you could do worse than a trip down memory lane conducted by this genial chef and his faithful staff. None of the festive desserts (a fanciful "breakfast" made from pound cake, almond panna cotta, coffee foam, and vanilla ice cream; a pink Vacherin cheese that looks like something from a Dr. Seuss book) were as satisfying as the napoleon served in the Bistro. But if you get one, make it the "Lemon Eggceptional," which the pastry chef conjures from white chocolate (the shells) and lemon curd (the yolks) and places in a delicate nest made from candied phyllo.

Villard Michel Richard
455 Madison Ave., nr. 51st St.; 212-891-8100; villardmichelrichard.com
Hours: Bistro: Dinner Monday through Sunday 5 to 10 p.m. Gallery: Tuesday through Saturday 6 to 9:30 p.m.
Prices: Bistro: Appetizers, $12 to $20; entrées, $24 to $40. Gallery: Prix fixe and tasting menus, $140 to $185.
Ideal Meal: Bistro: Frisée salad, roast chicken, napoleon. Gallery: Eight-course tasting with caviar "penguins."
Note: This is a high-roller establishment of the old school, which means the wine list includes ridiculously pricey trophy wines like a $25,000 '61 Château Pétrus.
Scratchpad: Three stars for the technically sophisticated cooking, minus a star for the uneven food in the Bistro and the hefty prices.
*This article originally appeared in the January 20, 2014 issue of New York Magazine.