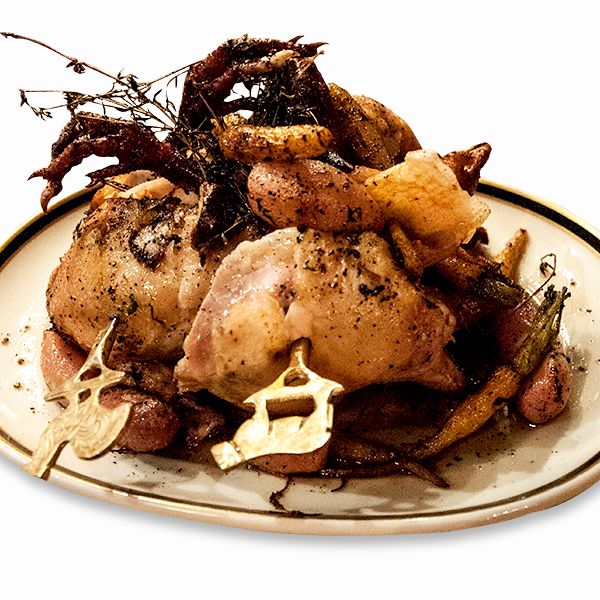 The feet, and head, are served with the bird.
Photo: Sarah Silberg
Among the many new roasted chickens for two that I have sampled around town in the last year or two, the one served at M. Wells Steakhouse (which I reviewed this week) is unique for all sorts of reasons: First off, it's served in a steakhouse, which is a strange place to find such an excellently cooked bird. Secondly, this isn't really a chicken-for-two dish at all. It's a $70 whole roasted bird for three or four, or maybe even five or six, should you feel like dragging a child or two out to Long Island City for dinner. Like lots of gourmet chickens around town, this one comes from Amish country, in Pennsylvania, although Hugue Dufour and his chef de cuisine, Jeff Teller, buy their birds from the famous Madani Halal butchers, in Ozone Park. That means their chickens are slaughtered in accordance to strict Muslim tradition, and delivered to the restaurant that same day. 
Teller, who oversees the chicken line at this quirky, speakeasy steakhouse, likes to rest his birds for a maximum of two or three days to dry the skin out and wring the rigor mortis from the system. When the order comes in from the dining room, he seasons them with salt and pepper, impales them on an upright cast-iron Staub's chicken roaster, and bakes each bird for 30 minutes at a scorching 500 degrees. The kitchen bastes the chickens with butter throughout the cooking, adding garlic and fresh thyme about halfway through the process.
Once cooked, the legs are carved, then reattached to the body with long, silver prongs, and the whole bird is plated on a family-style platter with a jumble of roasted carrots and fingerling potatoes before being finished with generous spoonfuls of butter, drippings, and lemon juice. The M. Wells chicken is served complete with the detached head and claws, along with a small mountain of chicken-liver mousse on the side spiked in with toast points (the recipe was Teller's grandmother's), and it looks, at first, like something that needs to be defused instead of eaten.
Once you've carefully removed the silver prongs, however (along with the head and claws), you'll find the kind of classic roasted chicken that you wish your grandmother used to make. It looks (and tastes) less like a studied, trendy, big-city restaurant dish than something you'd encounter in an eccentric country kitchen outside Lyon or Quebec.
The skin is salty, crackly, and golden brown. You don't really need a knife, because the perfectly tender meat falls off the bone as you tweak it with your fork. Unlike other lavishly praised gourmet chickens around town, there's no foie gras in sight, no brioche stuffing, no scattering of overpriced truffles. This is roasted chicken at its most elemental, satisfying form. It's a communal dish, designed to be eaten with a greasy napkin and (in the case of one gentleman at my table) your fingers. And like any proper roasted chicken, it only gets better as you work your way down to the crisped wings, and the jumble of root vegetables, and drippings, and assorted crispy bits, which are all mingled together in a delicious mash, at the bottom of the plate.
Related: The Latest M. Wells Venture Vies to Be the City's Next Great Chophouse
Earlier: The Bird Boom: Luxury Roast Chicken Conquers New York