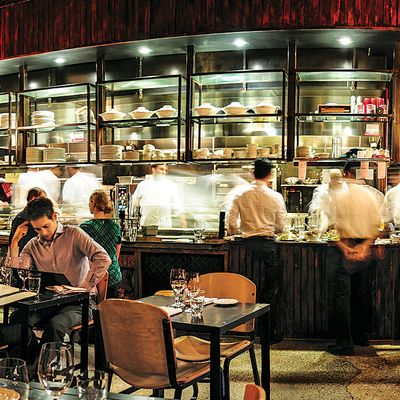 Photo: Sarah Silberg/New York Magazine
This city has been famous for all kinds of strange and eclectic dining styles over the years, but few of them have been more durable than the New York chophouse. That venerable beef-eating institution Keens began life in the late 1800s as a popular English-style dining club for assorted (pipe-smoking) actors and swells. During the turn of the century, immigrants who set the styles in many of the city's great kitchens turned the popular beefsteak craze into the height of fashion at restaurants like Delmonico's and, later, Peter Luger. As tastes have changed, haute cuisine French steakhouses have had their moment in the sun, along with ye olde Italian red-sauce steakhouses (Pietro's, among many others), Asian-themed steakhouses (the late, unlamented Kobe Club, for example), Irish steak-and-ale houses, and more styles of big-money boom-era steakhouses (Smith & Wollensky, Sparks, the Palm, etc.) than it's possible to count.
So it was only a matter of time before the city's latest generation of tastemakers had a New York chophouse to call its own. Or so I kept muttering to myself, as I tacked back and forth, searching for the entrance to Hugue Dufour and Sarah Obraitis's much-hyped new venture, M. Wells Steakhouse, which opened, not long ago, in the wilds of Long Island City. Dufour is a veteran of the great Montreal nose-to-tail restaurant Au Pied de Cochon, and Obraitis grew up in Queens, and they have a habit, like many ambitious cooks today, of setting up shop in obscure locations and letting their audience find them. The first M. Wells venture opened, famously, in a random diner near the midtown tunnel, before closing after a year. It was followed, in 2012, by the quirky cafeteria-style Dinette in the Queens branch of MoMA and now the steakhouse, which is located under the shadow of the Citigroup tower, in the service bay of a ­refurbished auto-body garage.
There is no signage outside this neo-speakeasy steakhouse, of course, although once you finally navigate your way inside the warm, even buzzy room, you'll find many satisfying totems of the chophouse experience. The industrial brick walls have been painted a steakhouse red. There are antique glass chandeliers hanging from the ceiling, which is covered here and there with the kind of gold-flecked wallpaper that you see in the lobbies of traditional European hotels, and some of the waiters are dressed, like steakhouse waiters around the globe, in neatly pressed white shirts and black vests. The menu is a large, somewhat imposing document, and it's stocked with all sorts of rib-sticking, nose-to-tail specialties like housemade blood sausage, sweetbreads simmered in the blanquette style, and lavish cuts of meat (Châteaubriand for two, côte du boeuf), which Dufour and his cooks sizzle over crackling logs on an open grill.
The first dish to arrive at our table was a crock of velvet-thick onion soup that contained a good-size marrow bone hidden in its depths, which we excavated with a tiny silver spoon. This was followed by an inspired creation called the Solomon Gundy, composed of a stack of waffles topped with crème fraîche and a scattering of golden, popping trout roe. Smoked herring features prominently in the ­mountain-size Caesar salad (instead of anchovies, it's touched with a delicate ­herring dressing), although if pork is your garnish of choice, order the impressive wedge salad, dressed with a blizzard of candied pecans and lardons. Other pre-steak appetizers include a limp, overpriced caviar "sandwich," a straightforward slab of foie gras, and the aforementioned sweetbread blanquette, which is simmered to a kind of marshmallow softness in egg yolks, butter, and white wine and poured, for maximum effect, over a bed of whipped potatoes.
Compared with this kind of elegantly layered hungry-man cooking, much of the actual beef at M. Wells seems fairly ordinary. My friend pronounced his T-bone to be "an honest piece of meat," but the côte du boeuf (which at $130 cost as much as the fabled côte du boeuf at Minetta Tavern) was flabby and undercooked and didn't appear to have very much age on it. If you're in the market for a more righteous cut of meat, I suggest the bison instead of the predictably tough, metallic-tasting grass-fed cowboy steak, although neither of these is as satisfying as the non-steak entrées, like the trout au bleu, or the superb whole roasted chicken for two. The former dish is served head on, in the old-world, Alsatian style, with new potatoes and a soft chunk of cabbage, and the latter is cooked to a perfect crisp and presented, as in a country kitchen, on a platter of winter vegetables soaked in a pool of delicious drippings.
This ambitious addition to the M. Wells franchise may not be one of the city's elite beef palaces, but thanks to dishes like these, it's a much better, more varied restaurant than most steakhouses in town. You can complement your hefty dinner with a whole raft of gut-­busting side dishes (try the ­pommes boulangère), along with a selection of properly robust and eclectic wines. Desserts are perambulated around the former garage in a dessert cart, and like many of the savory items, they're shot through with a combination of elegance and heft. My classic Austrian Sachertorte was cut in a generous, Texas-size wedge, and so was the red-­velvet cake, which is colored with beets and layered with a thick sour-cream icing. There's no better way to end your meal, however, than with a grandiose Paris-Brest, which contains chunks of hazelnut brittle in its creamy middle and is as large, and as festively appointed, as an old wedding hat.

M. Wells Steakhouse
43-15 Crescent St., Long Island City; 718-786-9060; magasinwells.com
Hours: Dinner Monday, Wednesday through Saturday 5:30 to 11:30 p.m. Sunday 5:30 to 10:30 p.m. Closed on Tuesday.
Prices: Appetizers, $12 to $50; entrées, $17 to $200.
Ideal Meal: Solomon Gundy and/or sweetbread blanquette, trout au bleu or chicken for two, Paris-Brest.
Note: Parts of the room still feel like a drafty old garage, so ask for a table closer to the kitchen and the open wood-burning grill.
Scratchpad: Three stars for the elegant, two-fisted Montreal cooking, minus a star for the mediocre beef.
*This article originally appeared in the February 3, 2014 issue of New York Magazine.
Related: Platt: M. Wells Makes It Okay to Order Chicken at a Steakhouse