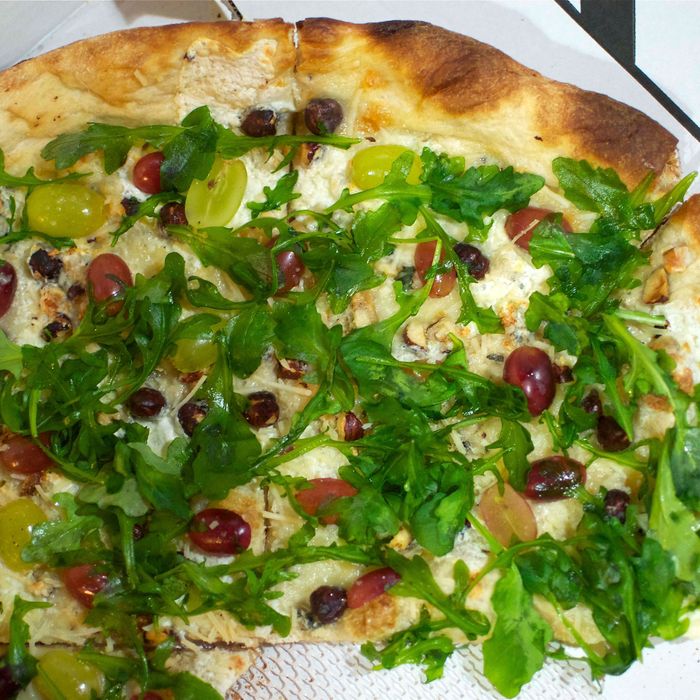 Jingle bells, this pizza smells. Also, Robin probably laid an egg — somewhere.
Photo: Hugh Merwin
In the summer of 2011, Molly Young wrote a piece for New York anointing the stretch of Broome Street between Allen and Eldridge as the city's smelliest. Comically, the block was alive with renegade and offensive odors: Warm giblets, 1,000 damp dogs, recycled fryer oil, human pee. Things like that, all combining to produce an olfactory rush compared, at the time, to a "flushed-out catacomb." These days, the festering poultry plant at 284 Broome is gone and things seem to have improved, but new neighbor Williamsburg Pizza wanted to reference that bygone era anyway, so pie-maker Nino Coniglio came up with the smelliest pizza he could think of that still tasted good. The shop calls it, with affection, the Broome & Allen.
Coniglio worked out a few different flavor combinations and formats before hitting on this one: round crust, Taleggio, roasted grapes, crushed hazelnuts. It's yeasty, ripe, sweet, and nutty; arugula and frisee add some green to the mix, and the whole thing is baptized with truffle oil and honey before being pushed out onto the Lower East Side streets. (Fresh mozzarella is used to bind the Taleggio to the crust, and there may be one or two phantom smudges of blue-veined Gorgonzola melted onto the pie's surface, too.)
The result is over-the-top and visually busy. It smells … good. It's not the garbage plate of NYC-themed pie toppings it could have been; it's much more like the Garbage Pail Kids of New York pizza, a kind of parody that happens to be catchy. (RIP, Cheesy Charlie.)
The Broome & Allen is not sold at the original Williamsburg Pizza in Brooklyn. On the Lower East Side, it goes for $3.50 a slice and $27 for the pie. It really doesn't smell that bad.
Williamsburg Pizza, 277 Broome St., at Allen St.; (212) 226-4455
Related: Williamsburg Pizza Has Arrived on the Lower East Side [Bedford + Bowery]
Related: The Smelliest Block in New York [New York]