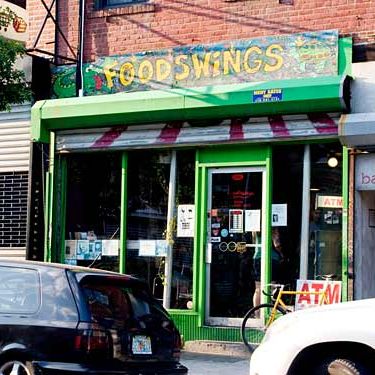 The owners are negotiating to stay past December 31.
Photo: Ryan Bevans
Williamsburg's Foodswings, the greasiest vegan greasy spoon in town, will close by early next year. The restaurant's manager tells the Brooklyn Paper that rent has been unexpectedly tripled and that a sushi restaurant is moving in. "It's Williamsburg," he says, "and that's what happens here now." Gone are the days when the neighborhood was a refuge for oddball places precisely like Foodswings and its vegan nuggets, as inventory is ceding to chains like Whole Foods, Starbucks, and Umami Burger.
Relocation or a food truck may be in Foodswings' future, so for now, get your soy-fried-no-gluten-un-chicken fix on in support, or soon enough the only place to get a vegetable plate around Bedford Avenue will be inside Urban Outfitters.
Williamsburg, soon to be animal-product-free-restaurant-free [Brooklyn Paper]
Related: Ilan Hall's the Gorbals Confirmed for Williamsburg's Urban Outfitters