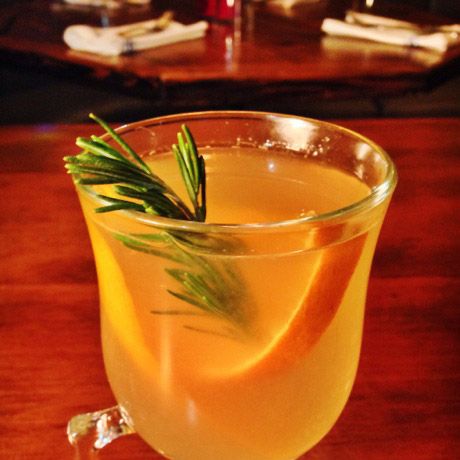 Extra Fancy's punch is definitely good for your health.
Photo: Courtesy of Extra Fancy
When you were a kid, this was the time of year that you came in from the snow and drank as much hot chocolate and warm cider as you could get. But since you're a grown-up, your warming beverages can have the added benefit of containing booze, too. Bars all over town get this, and they are happy to help you out by serving hot cocktails like bourbon-spiked tea, gin-and-honey punch, and malted hot toddies to keep you warm and cozy. We've rounded up fourteen strong ones, straight ahead.
The Drink: Vietnamese Coffee Grown-Up Style
Price: $10
Where to Get It: Whiskey Soda Lounge
To ensure that you don't get tired while waiting for a table at Pok Pok Ny, drink brandy-spiked coffee. The creamy cocktail also includes condensed and evaporated milks and a pinch of salt.
The Drink: Malted Hot Toddy
Price: $13
Where to Get It: The Cannibal at Gotham West Market
After you finish slurping Ivan Orkin's ramen, head over to the Cannibal for a warm drink with malt syrup, barley, and Four Roses bourbon.
The Drink: Scott Toddy
Price: $12
Where to Get It: Bergen Hill
Over in Carroll Gardens, cocktail whiz Ravi DeRossi serves a hot drink with the Famous Grouse whiskey, Zirbenz Stone Pine Liqueur, and bourbon-barrel-aged maple syrup.
The Drink: Sister Christian Two
Price: $14
Where to Get It: Alder
Bar director Kevin Denton likes to use exotic ingredients in drinks, and this one's comprised of hot coconut milk, coffee vermouth (infused in-house), and rum.
The Drink: Pop's Cider
Price: $14
Where to Get It: Distilled
With Brugal 1888 rum, baked pumpkin jus, fall spices, and vanilla-bean whipped cream, this drink's better than most desserts.
The Drink: Lamb's Wool
Price: $14
Where to Get It: The Dead Rabbit
At this FiDi bar, you'll find a delightful cocktail made with Jameson Irish whiskey, Fuller's Extra Special Bitter beer, roasted apple puree, brown sugar, nutmeg, and ginger.
The Drink: Teddy Hill
Price: $15
Where to Get It: Minton's
The recently reopened Harlem supper club spikes hot peach tea with Woodford Reserve bourbon, ginger syrup, and a cinnamon stick.
The Drink: Black Forest Fire
Price: $13
Where to Get It: The Marrow
This boozy, spicy hot chocolate includes mezcal, cherry heering (cherry liqueur with a brandy base), and cayenne pepper.
The Drink: Hot Buttery Nipple
Price: $13
Where to Get It: Golden Cadillac
New on the menu at this seventies-themed bar is a drink made with butter-and-cacao-infused Jameson, rich demerara-based syrup, hot water, and whipped cream.
The Drink: The Butternut and Falernum
Price: $15
Where to Get It: The Butterfly
Eben Freeman has two brand-new hot drinks on his menu: one with aged rum, butternut-squash jus, and Falernum syrup; and another called the Crumble, with brown-butter rum, clove syrup, and sparkling pear cider.
The Drink: Bourbon Hot Chocolate
Price: $10
Where to Get It: Blue Ribbon Beer Garden
Traditional hot chocolate tastes even better when mixed with good-quality bourbon. This drink will be served at the beer garden and Blue Ribbon Sushi Izakaya all winter long — and it's offered at lunchtime!
The Drink: Hot & Cozy
Price: $9
Where to Get It: The Meatball Shop - Chelsea
The Meatball Shop's Chelsea location is the only New York outpost to have a full liquor license, and downstairs at "Underballs," you'll find an apple-cider-based cocktail served warm with Applejack brandy.
The Drink: Mint Mocha
Price: $10
Where to Get It: Forgetmenot
At this surf-shack-esque bar on the Lower East Side, bartenders served a sugary cocktail made with Stonewall Kitchen's peppermint-flavored hot chocolate, vodka, whipped cream, and, most important, a candy cane.
The Drink: Meyer Lemon, Tangerine & Rosemary Punch
Price: $10
Where to Get It: Extra Fancy
Head bartender Robert Krueger, an alum of Employees Only, makes this punch by simmering Dorothy Parker gin, orange curaçao liqueur, honey, white wine, rosemary, and the juice of lemons and tangerines on a stove.