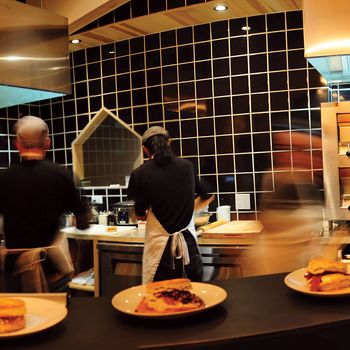 Photo: Sarah Silberg/New York Magazine
Have you ever been to a friend's home for dinner and complimented her by saying something along the lines of "Wow, this tuna casserole is terrific! You ought to open a restaurant that serves only tuna casserole, but in 146 permutations!" Well, the number of people carelessly tossing off these sorts of remarks, oblivious to the consequences and never expecting that their hosts will actually take them up on it, must be on the rise. That, anyway, is one of the Underground Gourmet's theories explaining the sudden increase of the micro-specialist novelty snackaurant. Three of these establishments opened recently in downtown Manhattan, and the U.G., not one to shirk from duty, paid them a visit.
"Breakfast Lunch Dinner Drunk" reads the motto at the top of the Empire Biscuit menu. That last mealtime is presumably a reference to the fact that this biscuit specialist runs 24/7 and caters to wee-hour cravings when inebriated biscuit-seekers are apt to be less picky about what they shovel into their maws. But that's selling itself short. Everything about Empire Biscuit is neat and clean and practically wholesome. The staff is super-friendly. The Momofuku-blond-wooded space with its peaked ceiling beams reminds you a bit of a Swedish sauna or mountaintop ski chalet. There is one communal table and a few stools along the window ledges. Behind the open-kitchen counter, next to the double-decker Bakers Pride oven, you can watch a tattooed, stocking-capped biscuit-maker working the dough in a gleaming stainless-steel bowl. The main attraction is good, too, the biscuit operandi tending toward the crisp and compact versus the tall and puffy. They're smallish in diameter and come in two styles—cut with leaf lard or all-butter—and eighteen sandwich variations. There's also a create-your-own menu section, from which you can pair things like arugula-and-fennel butter with black-grape jam, or a tangy, curdy pimento cheese with red-pepper-and-jalapeño jelly, one of our favorites. We also recommend the more conventional signature combos, like Benton's bacon with a runny-yolked egg and Cheddar; a house-smoked ham and egg; and the spicy fried-chicken biscuit with pickled carrots.
Not to sound unprogressive in our views regarding biscuits, but none of what you might call the creative options comes close to trumping the traditional pairings. A muffuletta in biscuit form, for example, misses the whole point of that storied New Orleans sandwich, which is that the meat, the cheese, and the olive salad meld together and become one with the soft and pliant bread. And as intriguing as the Fancy Pants (foie-gras butter with kumquat marmalade) sounds, the foie butter is muddy flavored and dull. Still, it's hard to find fault with a place where you can get fresh biscuits and Blue Bottle coffee at 3 a.m. on a Monday night.
Is 38 minutes too long to wait in line to place an order for a Chinese-takeout container full of chicken nuggets? That was the crucial, vexing, even existential question the U.G. wrestled with the other night before finally reaching the counter of the Nugget Spot. The two-month-old takeout is "New York City's first single-focus specialty nugget restaurant," according to the press release, and judging by the queue, it is a single-focus-specialty restaurant whose time has come. For certain generations that grew up eating the McDonald's prototype, which was introduced in the early eighties, nuggets resonate. These battered-and-deep-fried specimens come in six varieties (chicken, pork, catfish, polenta, mozzarella, turkey), and according to a sign posted by the register, they are made from "real meat." Part of the appeal of a supposedly single-item restaurant, of course, is that there are no decisions to make: When at the nugget place, you're getting nuggets. In fact, the opposite is true. You are faced with the temptation of ignoring the seven house-suggested pairings and playing chef-god, of choosing not only your (real) meat but also its batter, from "puffed rice" to "crunchy cereal," as in the sweetened breakfast variety. Then there are the eleven accompanying sauces. After much experimentation and soul-searching, the U.G. came to the conclusion that we preferred, in descending order, the crunchy, heavily battered southern-fried chicken nuggets, a schnitzel-crusted pork, and a pretzeled turkey best. One nugget was more or less indistinguishable from the next, but they were all freshly fried and fairly juicy, and did in fact appear to be real meat as opposed to the mystery kind. Ironically, the sides (a thick-and-creamy-sauced mac 'n' cheese made with corkscrew macaroni; a pretty good though oddly yellow-colored biscuit; a refreshing coleslaw of meticulously slivered carrots plus red and green cabbage) outshone the nuggets.
If Potatopia seems like the kind of slickly branded grab-and-go venture you'd expect to find in a shopping center, that's because it is: The first location opened two years ago at the Menlo Park Mall in Edison, New Jersey. The new Greenwich Village outpost offers a spud-based alternative to neighbors like Gray's Papaya and 99-Cent Fresh Pizza, with a menu, like Empire Biscuit's and the Nugget Spot's, that overwhelms in its abundance of customizable options: eleven potato preparations (seven of them fried); thirteen vegetables (if raw garlic and sprigs of cilantro count); six cheeses (from chunks of blue to a dusting of Parmesan); six proteins (including Italian sweet sausage and shrimp); and sixteen sauces, twelve mayo-based. The easy way out is to do as the menu suggests and "leave it to the potato experts" by ordering a "signature meal." Of course, by the time they're fully accessorized, these high-carb "meals" end up tasting oddly similar: The Comatoser, with its base of deep-fried "skin chips" wears the same biting mantle of raw garlic, onion, and scallions as the baked-and-stuffed Veggie Heavy and the deep-fried nuggets in the Smashed Hit. Many of the cheeses overlap as well, and after a while, the aïolis (be they roasted pepper, chipotle, or chile pepper) start to blend together too. The deepest flaw, though, is not one of flavor but of execution. In several instances, the star of the show was undercooked (in a crunchy Au Gratin), simultaneously mushy and stiff (the sweet potato "crinkles"), or just plain lukewarm—the bane of this food category, as any French-fry fanatic well knows. Broccoli and corn toppings notwithstanding, Potatopia, like the rest of the new novelty-food start-ups, deals in junk food, and for junk food to succeed, it needs those essential contrasts of hot and cold, gooey and crisp, and salt and spice. It needs to cohere.
You can find better biscuits and potatoes at restaurants that don't specialize in them. (As for nuggets, we have calls in to a focus group of preschool-age nieces and nephews.) But when it comes to this type of single-food specialist, that's not really the point. It's all about the bold idea, the slick marketing campaign, the finger on the pulse of the dining public's deep-seated craving for comfort food, and the all-American right to keep experimenting with mix-and-match options until you achieve your dream whatever-it-is—or die trying.

Empire Biscuit
198 Ave. A, nr. 12th St.; no phone; empirebiscuit.com
Hours: 24/7.
Prices: $4.50 to $8.50.
Ideal Meal: Ham-and-egg biscuit or Benton's-bacon-egg-and-Cheddar biscuit, Blue Bottle New Orleans coffee.
Note: You can get plain biscuits with butter for $2.50.
Scratchpad: One star for the traditional biscuit sandwiches, one more for the friendly vibe.


The Nugget Spot
230 E. 14th St., nr. Third Ave.; 646-422-7346; thenuggetspot.com
Hours: 11:30 a.m. to 10 p.m., Friday and Saturday till 2 a.m.
Prices: Nuggets, $5 to $8; sides, $1.50 to $5.
Ideal Meal: Southern Belle nuggets, Nacho Mac, Cool Slaw.
Note: There are daily specials like Buffalo-style nuggets and discounted pitchers of beer.
Scratchpad: A half-star for the name, another half-star for some of the nuggets and the sides.

Potatopia
378 Sixth Ave., nr. Waverly Pl.; 212-260-4100; potatopia.com
Hours: Monday to Wednesday 11 a.m. to midnight; Thursday till 1 a.m.; Friday and Saturday till 2 a.m.; Sunday till 11 p.m.
Prices: Potatoes, $5.75 to $7.75; add-on proteins, $1 to $3.50.
Ideal Meal: Smashed Hit with chicken, Mashed Pie with steak, sausage, and curry aïoli.
Note: Delivery is coming soon, but these things don't travel well.
Scratchpad: One star for the concept if not the execution.
*This article originally appeared in the December 23, 2013 issue of New York Magazine.