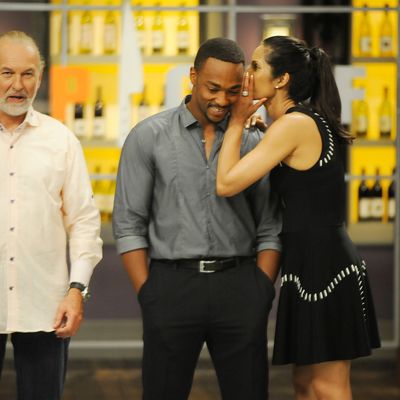 "Don't worry, Anthony. I actually liked Pain & Gain."
Photo: David Moir/Bravo
Hey, did you guys see that recent study that says white heterosexual American adult males have fewer friends than any other segment of the population? Lisa Wade in Salon chalks it up to the deep misogyny and homophobia in our society; friendship requires emotional openness and vulnerability, which are discouraged in straight men because they are seen as feminine characteristics. This causes men to grow up with a lot of drinking buddies, a well of unexpressed longing for intimacy, and shorter life expectancies. It rings true to me, it is deeply fucked, and we must fight against it with all we have, because our lives literally depend on it. We can start by watching tonight's episode of Top Chef. It could be the Iron John for the new emotional male moment. Boy, do our remaining male cheftestants let it rip tonight.
Tonight's show opens with Travis hanging out with Nicholas and Justin, and finally starting to feel like one of the boys after a rocky coming-out process; he recounts how an early boss told him that gays aren't welcome in his kitchen. I'm more comfortable with Travis in this little clique than with the Nina-Beni-Travis klatch that Nina dubbed "the Gossip Girls"; if there's anything worse than a young man who feels obligated to close off emotionally, it's a freshly out gay one who feels like he has to be a catty nightmare. (Obviously, neither of these things is as bad as a chef who exiles gays.) He's working it out, our Travis.
Judging tonight's Quickfire Challenge is Hubert Keller, a legendary French chef whom they pose directly in front of a massive Dunkin' Donuts coffee display. And the challenge is to prepare a dish that incorporates coffee. Winner gets immunity and $10,000. And they're off! Nicholas attempts sockeye salmon with hazelnut-coffee-caramel sauce and mushrooms, which is not altogether dissimilar to Travis's sockeye with coffee ponzu and mushrooms. Hey, they're bros now. Brian gives the middle finger to the infamous Top Chef Risotto Curse by doing coffee risotto with andouille sausage. Shirley, who needs a new air conditioner because she lives in Las Vegas — and God almighty, can you imagine no air conditioning in Las Vegas? — makes coffee-crusted tenderloin with garlic purée and coffee brown butter playing the role of "cream." On the sweet side, Carrie's got coffee custard with candied coffee beans and cocoa nibs, and Carlos tries coffee-and-macadamia sponge cake with mascarpone coffee sauce and peaches. Stephanie is somewhere in between sweet and savory with sweet-potato and goat-cheese coffee crêpe with "bacon-and-coffee-ham jam." Hubert and Padma are puzzled by the flavors, which shatters Steph's already low self-esteem and causes her to cry-barf right into her General Electric slow cooker.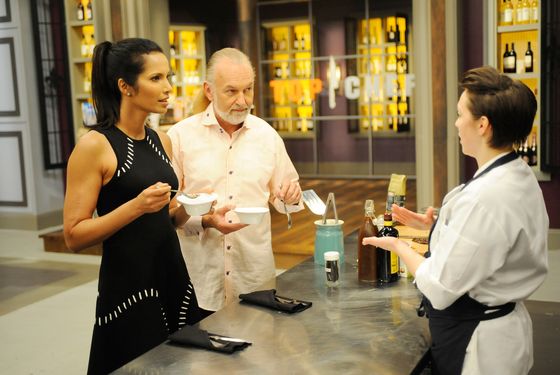 Hubert looks skeptical.Photo: David Moir/Bravo
There is a direct relationship between Stephanie's level of self-doubt and her Top Chef success. She's in the top three for the Quickfire, along with Carrie and Shirley, who wins and whose family is spared death by heatstroke. The bottom two are Brian and Nicholas. Who even knows what happens with Justin or Nina, because we barely see them here.
It's elimination challenge time, with special guest and New Orleans native Anthony Mackie! The challenge is to cook a dish that reminds you of home, and to serve it to the family of local culinary legend Leah Chase, who is already making her second appearance this season, so maybe the challenge should have been to find more than nine local culinary legends for this season.
On the home-cooking tip, here's a story my mother tells approximately five times a week: My freshman year of college, she asked me what was my favorite of her dishes so that she could have it waiting when I returned home for Thanksgiving break, and I apparently answered Hamburger Helper. In my defense, I was never allowed to help out in the kitchen, so I had no idea what was what when it came to food, and also that shit is yummy. What dish reminds you of home? Tell me in the comments, so I can print the list out and show my mom a few of the things she could have been doing.
One thing we all could have been doing is hunting squirrels, but I'm happy to leave it to Justin's family. He's going to make fricassee inspired by the squirrel meat of his youth, but he'll do it with chicken so as not to be sent home before he even starts cooking. Carrie's mother used to make her creamed asparagus on toast with a poached egg over the top, and I'll take that recipe anytime. Nicholas's mother apparently did as much cooking as mine; his home-cooking-challenge dish is inspired by his own home cooking. He does ricotta gnudi, which is his daughter's favorite dish, and the more he talks about his family, the more emotional he gets, and it's beautiful. Travis is cooking a generations-old family recipe of biscuits and gravy and deep emotional repression.
When the chefs return to the mansion, Emeril is there with a pot of green soup and a big red face. The whole gang discusses what three items they would eat for the rest of their lives if they were on a deserted island: Nicholas chooses bread, butter, and a fancy French cheese I've never heard of, while Justin goes for Champagne, caviar, and tacos, which everyone correctly points out is a combination of many different foods. (And also, Champagne and caviar? I didn't have Justin pegged as a Joan Collins type, but here we are.)
The emotions keep flowing: Brian's New York strip steaks will honor his father, who used to marinate them with caramelized sugar and grill them, and who is recovering from three strokes. Brian admits he hasn't been there as much as he'd like, and he can barely hold it together. Nicholas admits he's doing something simple, and if he doesn't nail it he could go home, but the dish is in honor of his children, who are more important.
In the Dooky Chase kitchen, we run into trouble right away: There is no open grill over which Brian can cook his steaks, so he has to skillet them. Carrie has never poached thirteen eggs all at once, and she worries about the yolk consistency. After having made perfect biscuits in the Top Chef kitchen, Travis can't quite cut it today; there's too much butter, which inhibits them from being fully cooked through. He improvises by pouring his gravy right over the top, in a sophisticated maneuver called "covering your mistakes with gravy."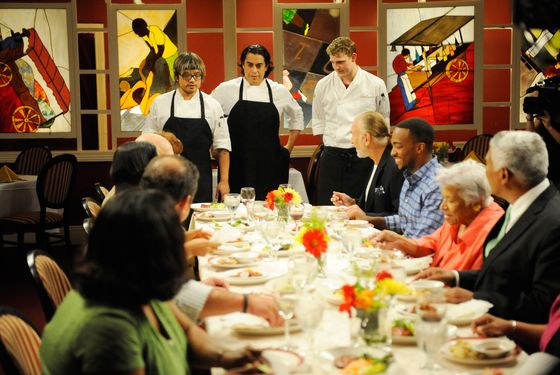 Brian knows that chefs who dress like hipsters tend to do well on this show.Photo: David Moir/Bravo
The dishes come out in groups of three. Group one is Carlos's cochinita pibil with black beans, orange pico de gallo, and corn tortillas, Brian's Korean barbecue strip steak with potato salad, and Travis's biscuits with maple-sage-sausage gravy and sour-plum jam. Emeril points out the obvious, which is that if you're going to make a biscuit for this crew, it had better be on point. It seems the Gravy Gambit has not paid off. Everyone loves Carlos's pork, everyone agrees Brian's steak lacks charcoal flavor.
Group two includes Nicholas, who is so overcome with homesickness that he can barely pull it together to introduce his ricotta gnudi with pancetta, peas, lemon, and Parmesan. Shirley takes a chance on Beijing noodles topped with fermented bean and pork sauce and pickled radish, and Stephanie pays homage to her mussel-gathering outings with her boyfriend by cooking mussels and pickled peppers. The table goes bananas for Nicholas' dish and his obvious heart. "I wish I was his daughter," says Anthony Mackie. "I wish I was his daddy," says me. The texture of Shirley's dish gets good reviews, but everyone goes nuts for Stephanie's mussels.
Finally, it's time for Justin's Louisiana rice with chicken-thigh gravy, pickled mirilton, and jalapeño, Carrie's creamed asparagus over toast with a poached egg, and Nina's curried chicken with "fresh bakes," the vaguest yet most appetizing mystery dish since Silver Lining Playbook's "homemades." Carrie's yolks are just gooey enough, and the whole thing seems to be as tasty as it looks. (For real, Carrie: I'm on Twitter and I've come a long way since my Hamburger Helper days — get at me.) Nina's and Justin's dishes get only muted praise. "Muted praise" is about as vicious as the criticism gets on Top Chef lately.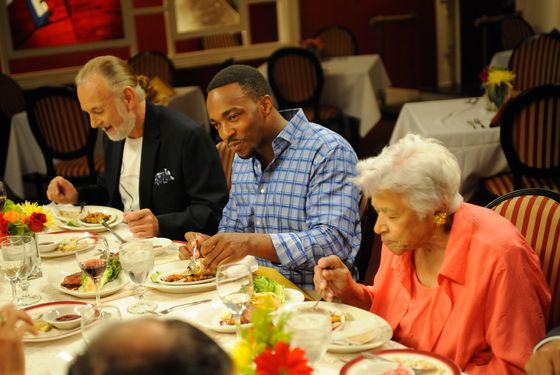 Mackie's into it.Photo: David Moir/Bravo
The whole table agrees that all nine dishes were strong. Anthony suggests they all get some drinks and talk it over. "You gonna make cocktails?" Tom asks. "Gimme a bucket of ice and a shaker," Anthony counters. Tom puts his hand on Padma's shoulder and replies, "Here's the shaker." Ha, get it? Padma shakes uncontrollably without powerful anti-anxiety medication.
Back in the waiting room, every chef is confident, and every chef knows he or she has a decent chance of going home. And when the closed-circuit judges' table TV comes on, literally every single dish gets praised. So when they call for Carlos, Nicholas, and Stephanie, they're not quite sure whether they're the top or the bottom three. (But we know they're the top, because poor Travis is going to get raked over the coals for that biscuit.) Nicholas wins, but Anthony warns him to relax, because he looks too stressed. Hey, some of us think he's cute that way.
The bottom three are indeed Travis, Brian, and Justin. Justin gets a little defensive over the whole thing, as is his way. Brian wisely keeps quiet. And as expected, a simple underdone biscuit sends young Travis home, just when he was getting comfortable. Go get 'em in Last Chance Kitchen, Travis! (Spoiler alert: He does not go get 'em.)
Eat some comfort food and hug a friend today, folks. It's important. See you next week.