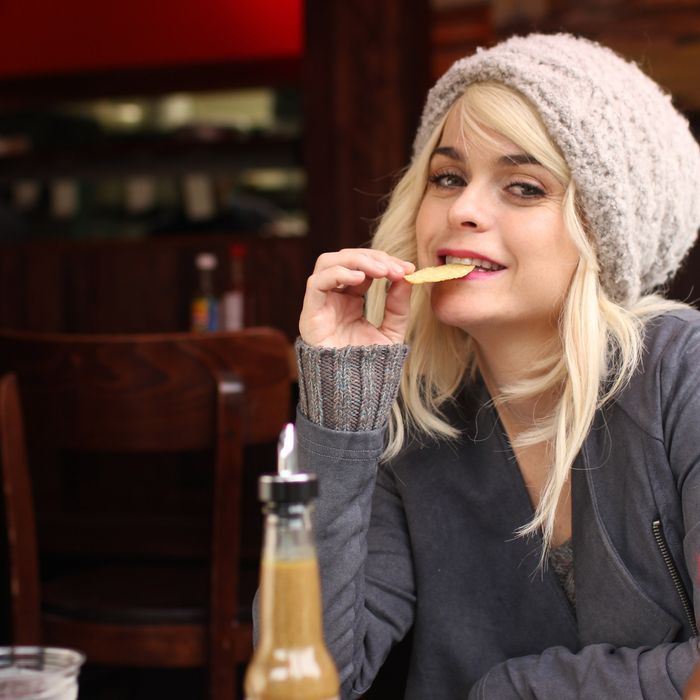 "I love New York very much, but I have to say, I miss my quiet little tree house in Cali."
Photo: Melissa Hom
On Orange Is the New Black, Taryn Manning plays Pennsatucky, a murderous junkie with an affinity for faith healing and a deep distaste for the show's main character. In real life, though, Manning says she's just a "massive hippie at heart" who misses California (though she loves New York) and tries to eat healthily while sticking to a pescetarian diet. ("I hope to become a vegan," she says.) That doesn't mean she's subsisting on a diet of flaxseed and quinoa, though: Manning manages to balance health food with pizza, burritos, tuna melts, and the occasional doughnut from the craft services table.
Friday, December 6
For breakfast, I drank a Mother Earth at Juice Press in the West Village. It's seventeen ounces of the deepest green formula: cucumber, celery, kale, Swiss chard, dandelion, parsley, lemon, and ginger. I started juicing in May, when I sought treatment for my acid reflux. My initial plan was to do a seven-day cleanse, but I was so moved and enlightened that I extended it to a full three weeks. Wheatgrass is definitely an acquired taste, but once you've acquired it, it tastes like pure life, because it's only one scientific component away from blood.
At lunchtime, I had a craving for a tuna melt, so I ordered one from the deli down the street. It wasn't good, so no need to out the deli. Maybe it was an off-tuna-melt day.
I love pizza. Pizza is hands down my weakness, ever since I was a kid. So when I was at Gemma for dinner, I had a margarita pizza with an arugula salad. I like it when pizza crust is so super thin, like a tortilla, and so light that it almost doesn't feel like bread. Spunto in the West Village makes a great one like that. They do it just right.
Saturday, December 7
For brunch, I joined my OITNB castmate Emma Myles, my best friend, and another friend for brunch at Freemans. It's such a cute place, but I forgot that there were animals hanging on the wall and that made me sad. I tried not to look. I have mixed feelings about that, because I guess that's their way of revering the animals that were killed for food. But if they were killed for sport, that just breaks my heart and soul.
We stayed for about three hours, just chowing down and chatting about everything. I'm kind of on a search for the perfect egg, so I tried the poached eggs with roasted tomato and Cheddar cheese grits.
For dinner that night, I went to visit a friend and we had a pizza and movie night, ordering in a cheese pie from Lombardi's. Their crust is a little thicker than Spunto's, and sometimes when you get delivery, you have to throw it in the oven and make it crispier. If the dough is uneven, I can't stand it. It makes me nauseous.
Sunday, December 8
I have a Breville juicer, and while I'm not on a cleanse at the moment, I make green juice as a daily ritual. It's a way of life for me.
For lunch, I popped into Chelsea Market, because it's so fun to walk through. It's kind of like going to the mall. I went to Hale and Hearty and got some lentil-and-veggie soup, because soup is perfect on a cold day. And it was delicious!
I don't eat crab that often, but when I do, I love to dip it into shrimp cocktail sauce, which is what I did at Catch. I like king crab legs cold, over ice, so they're light and refreshing. Really, any excuse to break out the cocktail sauce.
Monday, December 9
Remember that quest I have for the perfect egg? I continued looking during a business breakfast at the Bowery Diner. What I want is for the white part to be all the way cooked. If there is even one runny bit, I'll gag. And if the yolk is 100 percent hard, then it's useless to me — I'll just eat the white part, which is healthier anyway. So I got the eggs there over medium, which is a tricky balance.
Later, on set, I had a sweets craving, so I grabbed a doughnut from craft services. Their food doesn't really usually tempt me: There are a lot of gluten allergies on set, so they always have a nice, healthy spread. But man, it has been a while since I had a doughnut, and it was great.
To make up for my lackluster lunch, I went to Benny's Burritos for dinner and had a bean-and-cheese burrito. They make it easy to eat vegetarian, and they now even have vegan sour cream. It makes me so happy.
Tuesday, December 10
Breakfast at Juice Press again, only this time I had the Simple Greens. At lunchtime, I hit the epic salad bar at Whole Foods, and I loaded up on mixed greens, chickpeas, peas, and tuna, with some raspberry vinaigrette. Usually, I keep it simple, but I've been learning a lot from the cast members on Orange about healthier options. Like Taylor Schilling, who has an extensive philosophy on food, taught me about the two types of tofu and which one is better for you. And Emma, who is allergic to gluten, has educated me about how gluten is in everything.
I caught up with a large group of friends — eight of us — at Diablo Royale, where I had the quesadilla and cheese dip. Maybe the manager was having an off day, but he had a really weird attitude towards my group of friends. Maybe he had the Diablo in him.
Now, I've worked as a waitress: I actually had to start working as a barista when I was 13, when I lied and said I was 15, because I grew up very poor and we needed the money. So I am very, very observant about what waiters need, and how to treat people, and it wasn't like we had been making a scene. I left feeling really hurt.
Wednesday, December 11
It's been an adjustment living in New York: I am trying to find my rhythm here, and I find myself getting tired more easily as compared to L.A. I love New York very much, but I have to say, I miss my quiet little tree house in Cali. I'm truly a massive hippie at heart.
I started to feel a bit of a cold coming on, so I had veggie soup at lunch to fight it. I'm a singer and in the studio a lot, and when I get run down, my acid reflux kicks in and impairs my voice. That's why it's so important that I stay on my juicing and healthy eating. And I didn't stick very closely to the green juices this week. I'm also stressed out. Now, of course, I've lost my voice! So I took it easy.