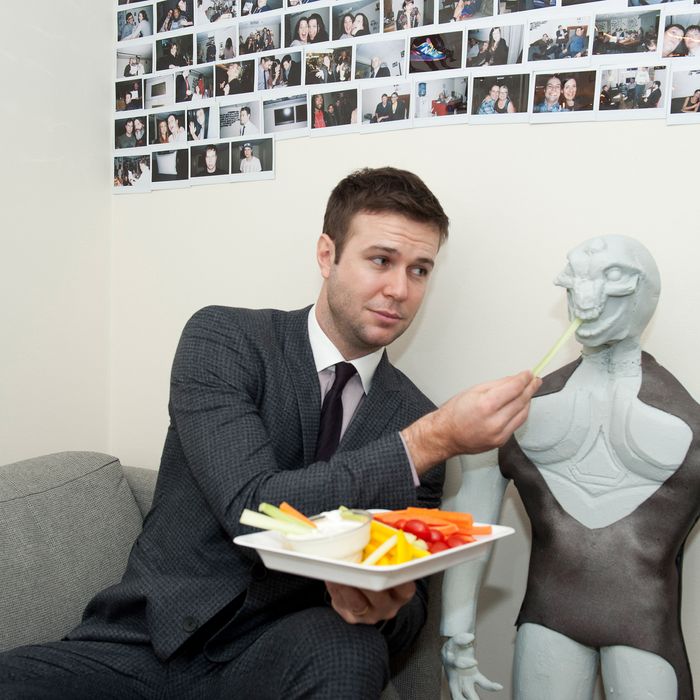 Killam, and a friend, in their SNL dressing room.
Photo: Liz Clayman
There's little doubt that Saturday Night Live's weekly schedule can be brutal. So when Taran Killam agreed to chart his intake for this feature, Grub was very interested to know how he managed to fuel both all-night writing sessions and his amazingly bitchy Jebidiah Atkinson character. Turns out the secret is Starbucks, where Killam picks up plenty of pumpkin-spice and creme-brûlée lattes. "It's a problem I'm aware of," says the comedian, who also appeared in the film 12 Years a Slave and just published his first-ever comic book, The Illegitimates. Of course he found sustenance, too, especially in the form of miniature foods. Read all about it, straight ahead.
Friday, December 13
I had an early shoot in Brooklyn for the pre-tape of Guy Fieri's Christmas special. Bobby as Guy Fieri kills me. I truly have never seen anything outside of a commercial of Fieri's, but he did invite the cast to eat at his restaurant after he saw Bobby perform on "Weekend Update." We haven't been able to arrange that yet. Okay, this is embarrassing. If I've learned anything from doing this, it's that I should be dead. I grabbed a burrito on set from a food truck with scrambled eggs, Cheddar, and bacon.
Around 11 a.m., I had a grande iced coffee with whole milk and two raw sugars. Then, at 7 p.m, I had a grande pumpkin-spice latte from Starbucks, and three salmon-avocado sushi rolls with brown rice and wasabi.
The night before, I actually had a huge, meaty steak meal, so I didn't eat as much that day.
Saturday, December 14
At noon, I went to Starbucks and had a grande pumpkin-spice latte, a Sweet Greens juice, and Greek yogurt with granola, pumpkin seeds, cranberries, and honey. But I didn't eat the honey. That was on my way into work: We've got to be there at twelve-thirty the day of the show.
I rehearsed, and at 4:30 p.m., I headed down to the cafeteria and grabbed two slices of pizza: one margarita and one pepperoni.
I didn't eat until 2 a.m. at the after-party, where I had a Caesar salad and filet mignon at McCormick & Schmick's. I get very hungry as I do the show. I often try to order dinner after dress rehearsal, but I had a busier show, so I wasn't able to get anything. I definitely mowed down. I got dessert as well: the upside-down apple pie with vanilla and cinnamon ice creams. I shared that with my friends at my table. It was awesome. The best part of the meal.
I probably got home around 4:30 a.m. Oh yeah.
Sunday, December 15
Breakfast time: 3 p.m. I left the house to do a little Christmas shopping, and I got a grande iced coffee at Starbucks and a chocolate croissant. I got swept up by the Christmas spirit, and I didn't eat again until 6 p.m. at the Anchorman 2 premiere. I had half a box of popcorn.
After the movie, I went back to Starbucks for a creme-brûlée latte, a piece of a lemon loaf, and Greek yogurt with granola, cranberries, pumpkin seeds, and honey. Again, I skipped the honey. Starbucks is convenient, y'all! And we're not done with it. It's a problem that I'm aware of.
At 9 p.m., at the after-party, I had two little piece of Parmesan cheese, two pieces of mozzarella, four little tomato bites, and a mini vegetarian pizza that made me feel like a giant. That was all I had for the rest of the day. That was a bad day for Taran's stomach.
Monday, December 16
Things got a little better on the Starbucks end on Monday, but not much better on the nutrition. At 11:45 a.m., I headed to Midtown Comics for a signing. I picked up half of a mozzarella-tomato-pesto sandwich from Hale & Hearty, a three-lentil-chili soup, and two chocolate-chip cookies. So good. Hale & Hearty is very reliable.
At 3:30 p.m., I went to 30 Rock for a photo shoot. I had a handful of almonds and carrot sticks and celery. That's not bad! I headed upstairs to pitch ideas to Jimmy Fallon, and I immediately had a handful of caramel popcorn from an open bucket on the writers' table.
At 6:30 p.m., I headed over to the launch party for my comic at Xbox One's lounge. I did two hours of press, and I didn't get to eat the delicious food until about 8:30 p.m. I grabbed the card of the caterer: Scoozi Events NYC. It was insanely good. They had these cans of creamy mac and cheese with bacon — to die for! — and little tuna tartares served on rice paper. On the rice paper, they printed the cover of my comic book. I appreciated them, and then immediately consumed them.
I also had three mini grilled-cheese sandwiches, a mini hot dog on a pretzel bun, a mini milkshake, a cheesecake lollipop, and a s'mores lollipop. The s'mores lollipop came on a tiny plastic turkey baster. So I ate the marshmallow dipped in the graham-cracker crumbles, and then scored the Nutella chocolate into my mouth. It was badass. That was my favorite meal of the week.
Tuesday, December 17
Back to work at 12:45 p.m. to do more press. I was on New York Live, and they wanted to do a teaser for my segment. They just did a segment on sugar cookies, so they gave me one to do a bit with: While I was on-camera, I shoved an entire snowman sugar cookie into my mouth. But I only ate about a fourth of it. I ended up spitting the rest out, but it was good. Smoke and mirrors!
When press was done at 2:15 p.m., I headed down to Potbelly's. I got a standard order of mine: the Italian sandwich — cut thin on multi-grain — some barbecue chips, two miniature sugar cookies, and a chocolate-Oreo milkshake. Potbelly's has changed my life.
I headed upstairs to start writing sketches. Jimmy ordered food for all the cast and writers from Otto. He's pals with Batali, so that helps. I had some broccoli sprinkled with parmesan, Brussels sprouts in a vinaigrette sauce, and whatever the big tube pasta is. That in a red sauce. And two slices of pepperoni pizza. Delicious.
I went to the host dinner, which is always at Lattanzi. Every Tuesday, Lorne takes the host and some of the cast members to dinner there. I started with the crisps in the bread basket, which are brushed with olive oil. They're my fave. I then had the bucatini pasta appetizer, and finished with the salmon.
I was writing all night, so at two-thirty in the morning, I had chocolate-star cookies that came in a big Christmas tin.
Wednesday, December 18
I woke up at 11:30 a.m. to a text that I had to do this interview. I got home from writing at about 7 a.m. I have yet to begin my day. I'll probably head to good 'ol Starbucks. I've recently switched from lattes to just iced coffee to try to be healthier. Things have to change: My body is a temple, and I'm not treating it like one. This week in particular, with the launch of the comic book, it's been a lot of go-go-go and eating whatever's available. I promise, I can be a good boy!
Today, we have a table read, when we read about 40 sketches. There are always platters of snack food, so I'll stock up on carrots, celery, and bell peppers. I'll order dinner halfway through — probably either sushi or a sandwich.
We have our Christmas party tonight in the writers' room, too. As for Saturday, all I can say is that Justin Timberlake is the musical guest, but maybe not just in the musical numbers. My name's Taran Killam. Thank you very much. That's my time.