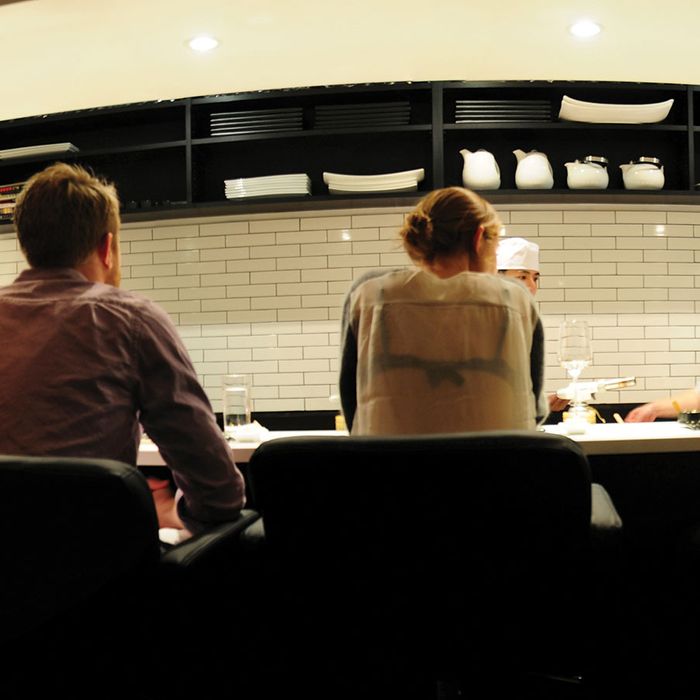 "The student does the master proud."
Photo: Sarah Silberg
This week, Adam Platt awarded two stars to two restaurants — East 12th Osteria for its "traditional Northern Italian pastas" and New York Sushi Ko for its "quality omakase dinner." Pete Wells also enjoyed sushi this week, filing a four-star review of Sushi Nakazawa, while Joshua David Stein submitted another four-star review, this time for roast chicken. Read it all, straight ahead.
Pete Wells filed a four-star review (!) of Sushi Nakazawa, the restaurant by Daisuke Nakazawa, who was the young egg-custard-making apprentice in Jiro Dreams of Sushi. Wells was served "one of the four most enjoyable and eye-opening sushi meals" he had "ever eaten." Each piece here is "an event on its own," grabbing control "of your senses" and craving "themselves into your memory." Stand-out bites: just-poached blue shrimp ("a flavor that was deep, clean, and delicate"), hay-smoked skipjack (an "aquatic version of aged Italian speck"), and sea scallop "lopped from its shell just a minute before it's served, its edges still fluttering." The egg custard Mr. Nakazawa cried over [in the film], made with mountain yam and shrimp, manages to hover "over the border between pudding and cake." It's "transporting" and demonstrates just how well "the student does the master proud."
Joshua David Stein explored Georgette Farkas's Rotisserie Georgette, which "really tests the limits of chicken's place in fine dining." Chef David Malbequi, who has "mad magic for making chicken" brings "repetition and precision" to the rotisserie. He found himself impressed with the Poule De Luxe, which comes "cut up in a cast-iron skillet and accompanied by a slab of seared foie gras on a pile of wild-mushroom stuffing," calling it the "bottle service of poultry" and deserving of "an entourage." Also delicious: the moist and crispy Poulet Roti, which is "audaciously straightforward" and "a triumph for those who dare to be simple." Four stars.
Like many other critics, Amelia Lester of The New Yorker was quite impressed by the cooking at Chris Cipollone's West Village restaurant Piora. Sunchokes, she notes, are found "everywhere on the menu," but that is not a complaint as the roasted version "are as satisfying as late-night pommes frites slathered in mayonnaise." Suckling pig is roasted in duck fat and "crackles like the top of a brownie." Most of all, she enjoyed the dedication that seems to extend "to just about everything," including cocktails made with hand-squeezed cranberries and the market-vegetable salad loaded with ingredients that were not just raw, but also "roasted, confited, pickled, or blanched."
Steve Cuozzo filed a two-star review of "Afro-Asian-American brasserie," the Cecil, calling the restaurant "convivial and winning." Dishes such as the West African beef suya, which packs an "unexpected, barbecue-like punch," "unctuous" chicken liver pâté with date jam, and a "moist, mouthfeel-rich" Wagyu-rib cheeseburger showcase the kitchen "at its best." Skip the gumbo "laden with inedibly rock-hard turkey" and the "ineptly cooked" marinated fried guinea hen — and same goes for the "weak wines." Dessert, on the other hand, especially the "killer" pecan sticky buns, is worth saving room for. The "ambitious menu" is a "welcome addition" to the "resurgent Harlem dining scene."
Daniel S. Meyer filed a three-star review of New York's newest Nordic import, Skal. He found himself pleased with its departure from the "refined aesthetic of Noma or Williamsburg's Aska," instead embracing a more "rustic" menu. The enjoyable beef tartare looked "as if it were sliced with a chain saw," and smokey duck wings appeared "to have washed ashore, cloaked in seaweed and piled atop a lush black puddle of crushed mussels and squid ink." In many of the entrees, the "proteins [are] often outdone by stellar vegetables on the side." Overall, Meyer writes, while "Noma-esque food is known for challenging diners, Skal eases us more gently into its strange Scandinavian climes, casting unfamiliar tastes in familiar guises."
Michael Kaminer filed a review on Metro Cafe, the Sunset Park Sichuan eatery that doesn't "dumb down [it's] fiery fare." Some hits: "dense little fried-chicken morsels" known as Chong Qing chicken, pepper-infused beef that "delivers sinus-clearing firepower," and the strangely named "marinate black fungus," which is actually a "bowl of delicate, chewy-crunchy mushrooms immersed in fierce red chili oil." Out of all the dishes he ate, only two proved to be "total duds": the double-cooked pork with "grotesquely fatty meat" and the braised mixed vegetables that drown in a "kiddie pool slick of maroon chili oil." Three out of five stars.
Alan Richman headed to Portland and filed a breakdown of the noodle game at Andy Ricker's Sen Yai.