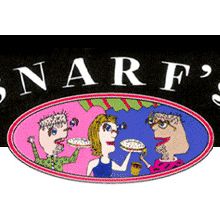 And a merry unemployment to you, too.
Photo: Snarf's
Business has been tough this year for a branch of Snarf's sandwich shop in Chicago, so everyone on staff was let go yesterday. "Due to increased competition and losses, ownership has decided to consider remodeling and reconcepting the store," reads the e-mail received by twenty employees. In the meantime, Snarf's announced its plans to reopen as a burger joint sometime in the unspecified future.
"We really regret our employees were given last-minute notice, but they were aware of the loss of business during the past year," says the restaurant's (still employed) marketing director. Reps deny this has anything at all to do with the fact that some employees walked out on strike in protest of low wages.
The former Snarf's workers were told they could file for unemployment, "if eligible," and were asked to please drop off all company property by the end of the day, yesterday. Workers-rights groups are now advocating for the laid-off employees, which doesn't bode well for the shop's forthcoming and not-at-all immaculate "reconcepting." It's still not clear why the employees were only given a day's notice when the decision to close was something management had "planned for a while."
Sandwich Shop Owner to Employees: Merry Christmas, You're All Fired [Gawker]
Snarf's Sub Shop Just Fired All The Employees At A Chicago Location Via Email, 3 Days Before Christmas [HuffPo]