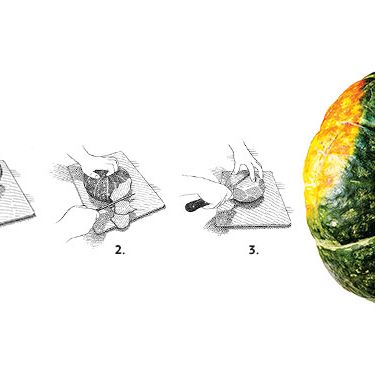 Photo: Bobby Doherty/New York Magazine; Illustrations by John Burgoyne
The harder the skin, the sweeter the flesh, goes the saying regarding winter squash. Case in point: the kabocha variety, whose deep-green-black, take-no-prisoners hide strikes fear in the hearts of home cooks and professionals alike. Armadillos and bulletproof vests have nothing on kabocha squashes. Still, the fruit's bright-orange flesh, with its perfectly sweet flavor and starchy, chestnutlike texture, is worth the effort it takes to get at it. If you need further proof, try this recipe from Pearl & Ash chef Richard Kuo.
Richard Kuo's Sautéed Kabocha Squash With Mascarpone and Maple Syrup
1 kabocha squash, about 3 pounds
2 tbs. butter
1/2 cup mascarpone cheese
1 tbs. maple syrup
Salt and freshly ground pepper, to taste
1 cup pumpkin seeds
1 tsp. Aleppo pepper
4 fresh sage leaves, sliced into thin strips (or 8 leaves fried)
Preheat oven to 350. (1) Place the squash on a cutting board, and with a sharp knife, carefully cut off the stem or a slice from the bottom of the squash to create a sturdy base. (2) Trim away the skin by slicing downward toward the cutting board. (3) Cut the squash in half and remove the pulp and seeds with a spoon. Cut the halves into wedges and the wedges into cubes. In a large pan over medium heat, heat 1 tablespoon of butter, add the squash cubes, and sauté until the squash is soft to the touch, about 10 to 15 minutes. Allow squash to cool. Meanwhile, mix the mascarpone with the maple syrup in a small mixing bowl, and season with black pepper and a dash of salt. Toast the pumpkin seeds in the oven until crisp, about 5 to 10 minutes. Transfer pumpkin seeds to a small bowl, and season with salt and Aleppo pepper. Brown the remaining butter in a small sauté pan. Place the browned butter and half of the cubed squash in a blender or food processor, and process until you have a thick purée. To assemble, mix the puréed squash with the remaining cubes and return to the large pan over medium heat, and cook until the mixture is hot, about 5 minutes. Place the squash mixture in a bowl, and garnish with pumpkin seeds, a dollop of mascarpone mix, and the fresh or fried sage leaves. Serves 4.
*This article originally appeared in the December 9, 2013 issue of New York Magazine.