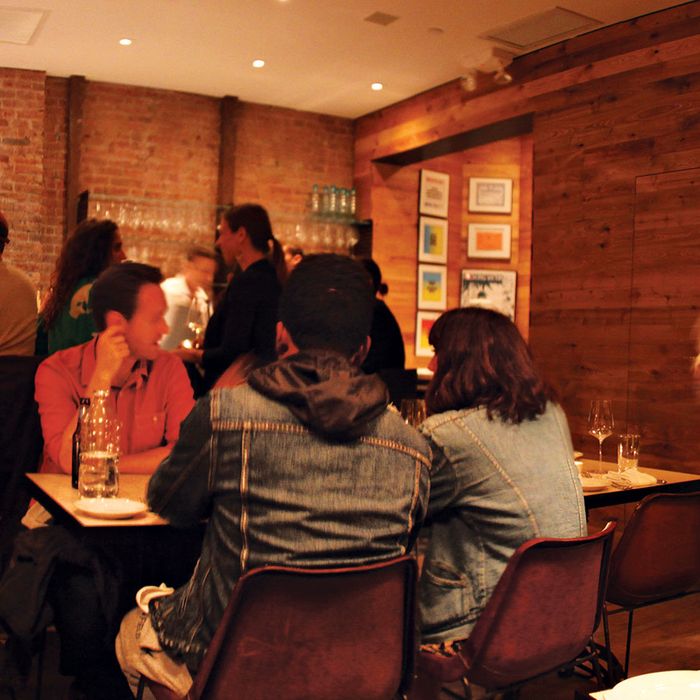 The cooking at Charlie Bird's "surprisingly erratic."
Photo: Jenny Westerhoff/New York Magazine
This week, Adam Platt awarded the "rustico" cuisine at Marco's three stars, in part because of the "homey desserts" you "can get lost in." Meanwhile, Alan Richman checked out both locations of Mile End, while Steve Cuozzo had delightful meals at the Upper West Side outpost of RedFarm. Read it all, straight ahead.
Pete Wells filed a one-star review of Charlie Bird. He praised the restaurant's "loose and relaxed" staff, but found the food to be "surprisingly erratic" — "tremendously likable one moment" and "strangely off-key the next." Dishes that impressed: "near-perfect" risotto, tripe stew, the "heroic" veal chop, and chopped razor clams. But on one evening, "the cooks seemed to be applying salt with a snow blower." It is the wine service, "one that you used to find only in hushed, special occasion restaurants" that he was most impressed with: "I fell hard for everything I tasted" and "the markups are kind."
Alan Richman checked out the "blend of Jewish, Montreal, Eastern European, Middle Eastern, and probably a little more" cuisines at both Mile End restaurants. While the "food at the two branches is supposed to taste the same, it does not." The Brooklyn location serves sandwiches with "thicker slabs of much fattier meat" and has a much larger and "exceptional" beer list. The Manhattan outpost's dishes feel "confused" — like the grilled broccoli with smoked whitefish, roe, yogurt, capers, and bits of toasted bialy — which Richman deemed "a mess." There are some redeeming dishes on Bond Street, including the beet salad with grilled halloumi ("an appealing combination") and the smoked-meat burger. But overall, the Brooklyn branch got two-stars for its better food, while the Manhattan outpost received one star for its "more comfortable" space.
Hannah Goldfield of The New Yorker dined in the "opulent chrome-and-crimson dining room" at Geoffrey Zakarian's Lamb's Club and enjoyed the old-school "seen-and-not-heard hospitality." While the restaurant has a "throwback vibe," the menu is modern American, with standout plates of fresh spaghetti with bottarga, slow-cooked halibut, and "juicy" New York strip steak with shaved beef tongue. But what the Lamb's Club does best is the "boozy business lunch," with cocktails that would "sate both Don Draper and Carrie Bradshaw." Goldfield also highly recommends you don't leave the restaurant without ordering a pastrami sandwich made from a "glistening slab of almost baconlike Wagyu beef" that's carved tableside.
Ryan Sutton suffered through $88 Wagyu beef with "scant more tenderness or flavor than a $10 steak from Pathmark" at the sprawling Tao Downtown, where the owners have managed to turn "Siddhartha, one of history's great proponents of self-deprivation, into Paris Hilton." The menu is filled with dishes worth avoiding: salmon rolls that taste "as if they were freshly delivered from a local bodega," dumplings with skin that "mimics the texture of wet napkin," $15 lo mein "no different from the stuff you get from a take out joint," and pork ribs "doused in enough sugary sauce to pass for dessert." While there are a couple of actually decent dishes — Sutton recommends the shrimp dumplings and pork-belly red rice — it's not enough. Half star.
Steve Cuozzo filed a review of RedFarm's recently opened Upper West Side location, calling it the "most thrilling place to touch down north of West 72nd Street since Ruby Foo's in 1999." The menu is filled with must-order dishes: soup dumplings with perfectly "fragile skin," pot stickers that "are silken enough," and the pastrami egg roll that's beloved at the restaurant's downtown location. Cuozzo found the main dishes to be "mind-blowing," especially the duck breast "as rich as liver," the "impossibly rich, satin-textured skirt steak," and pork chops "on fire from jalapeño peppers." Three stars.
Daniel S. Meyer awarded three out of five stars to Juni, where the beauty isn't found in the "dated veneer" of the restaurant, but instead on "[Shaun] Hergatt's painterly plates, and in the vegetables from which he coaxes impressive amounts of flavor." While "Hergatt's retrofitted cuisine often reads one step behind, sometimes still betraying the impulses of fads past" — such as an "over-the-top eagerness for truffles" — there is no denying his "knack for distilling and amplifying flavors." Standout dishes: the Tuscan kale soup, black salsify agnolotti, and the poached poussin breast that's "sweetened by a pungent garlic puree." Watch out, though: "Juni's acute deficiency of cool" and "its tenuously high prices" "might number its days."
Stan Sagner is a fan of Contra's $55, five-course, prix fixe, seasonally driven meal. There are plenty of hits: seared monkfish, "succulent" slow-roasted chicken breast, and steak tartare. The "virtually new menu each night" has its tradeoffs: "The kitchen can rarely master a dish before moving on to its next creation." While desserts "don't live up to their ambition," the "thoughtful and continually evolving list" of wines helps to make up for it.