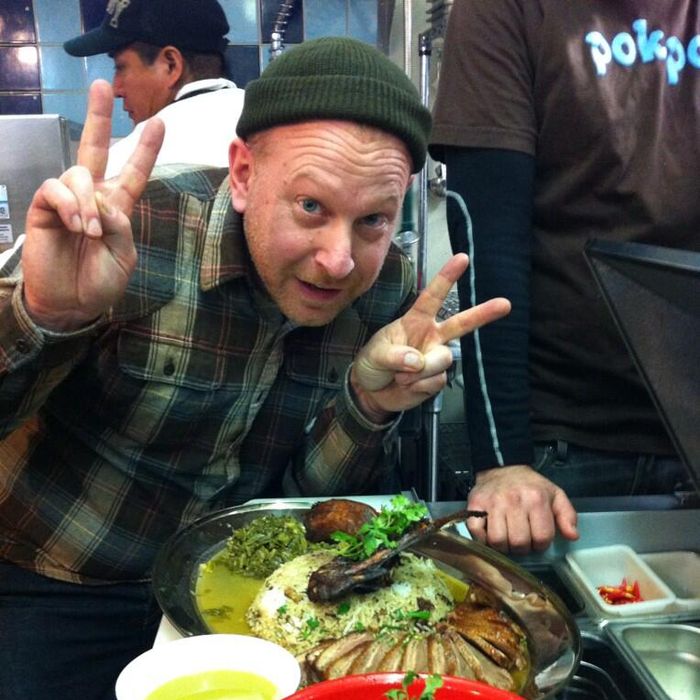 Ricker, with a test kitchen haan pha lo earleir this week.
Photo: Pok Pok/Twitter
Beginning tonight, Andy Ricker and his crew of cooks at Pok Pok Ny are dabbling in a large-format dinner special called Haan Pha Lo, which is based on a Chinese and Thai-influenced feast he's particularly admired for a while. At the center of the meal is half of a goose stewed in a Chinese-Thai broth. "It's way more Chinese than Thai," Ricker tells us. "But I've only had it in Bangkok."
Here's the breakdown: Each order starts with half an approximately ten-pound goose, which has been split and stewed in broth seasoned with a Thai-Chinese five-spice mix Ricker says is similar to the one used on the duck leg dish on Pok Pok Ny's regular menu. The breast, which cooks faster, is reserved, and served warm and sliced, while the hindquarter, giblets, wing, and carcass are slow-poached until soft. The dark meat is served in the broth with garlic oil and chopped herbs; the giblets are chopped up with any spare meat and folded into goose-fat-fried rice with spring onions and egg; the wing and goose neck are deep-fried and served on top of that. Pickled mustard greens and a "tart" sauce made from yellow chiles are served on the side.
The dish costs $85 and serves four people, but Ricker says with some side dishes to supplement things, six or maybe eight people could make a decent go of it. You can't reserve or order the Haan Pha Lo ahead, but you can reserve at the door if there happens to be a wait when you arrive. Only a few orders will be served each night, and the large-format meal will only be available for a limited time.
Earlier: First Look at Pok Pok Ny's New Space, Now Open Down the Street