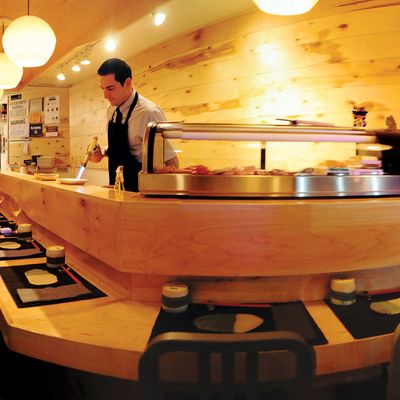 Photo: Sarah Silberg/New York Magazine
The old chef-as-rock-musician trope has worn a little thin in this age of scruffy kitchen beards, tediously loud restaurant soundtracks, and omnipresent sleeve tattoos. But spend an ­evening watching the frenetic (and, yes, tattooed) New Jersey-bred sushi chef John Daley blowtorching his signature tuna chicharrón to the sounds of Heart's "Crazy On You" and you'll understand where it comes from. Daley used to have a sous-chef helping out behind the bar of this tiny, unorthodox ­Clinton Street sushi-ya, called New York Sushi Ko, but these days it's just him on the stage. As the patrons file into the eleven-seat restaurant (or, as sometimes happens, blanch at the epic, front-row ticket prices and walk out the door), he boisterously greets them, and then, with exaggerated bows, begins his elaborate omakase performance.
All top-level sushi chefs develop a trademark style, of course, and in the six months that Sushi Ko has been open, Daley's has evolved. When I first dropped into the restaurant, several months ago, the chef was wearing an overly large towel around his head (probably to absorb the summer sweat). His voice boomed manically around the matchbox space, and in comparison with other, more classically decorous sushi joints in town, the helter-skelter choreography with his (equally large, non-­Japanese) sous-chef seemed almost comically awkward. I'm happy to report, however, that Daley has now lost the samurai head towel (or at least he doesn't wear it every night). The last time I visited, he was dressed in a flannel vest and an elegantly knotted black tie, and after working for months alone behind the bar, he retains his refreshing exuberance but his style seems more relaxed and composed.
The same goes for Daley's elaborate, often unexpected omakase interpretations, most of which tend to combine by-the-book technique with a zealous convert's willingness to think outside the box. Daley apprenticed with Masato Shimizu of 15 East, among others, and like him he gets the majority of his fish flown in from Tokyo twice a week. Unlike many sushi chefs, he has a fondness for sandwiching tuna bacon and uni between slices of tuna ("I call it my B.U.T."), and drenching high-quality tuna belly tartare in droplets of smoky, freshly sizzled tuna fat (for the aforementioned chicharrón). Depending on which very expensive omakase option you choose, these dishes are served in between bites of miso-braised pork ribs (served over rice) or sweet hotate scallops from Hokkaido poured with a velvety uni sauce and wreathed in a cloud of yuzu foam.
These dishes are more or less perfect in terms of technique and the quality of ingredients, although you may grow weary, like I did, of the endless iterations of uni, which Daley employs the way the old French chefs used to use butter and cream. The sushi and sashimi portions of the menu are more restrained, in particular the nicely composed sashimi plate, which includes a slip of Japanese black sea bass charred on top to a gentle crisp. Pay attention also to the goldeneye snapper sushi (it's given a gentle pass with the blowtorch too), and the silvery mackerel fished from the waters off the island of Kyushu, which the chef cures to a rich, torolike softness in rice vinegar, just the way the grand sushi masters in Tokyo do, then serves over a pat of bottom-of-the-barrel "kettle rice" for a subversive, downtown crunch.
Like John Daley, the well-traveled Northern Italian chef Roberto Deiaco has been running a lean operation ever since opening his own restaurant, East 12th Osteria, this spring in the East ­Village. Deiaco was the executive chef at the Armani Ristorante on Fifth Avenue before abandoning the uptown glitter for a ­simpler, less encumbered life downtown. Unlike his previous showroom ­establishment, this one sits anonymously, amid a jumble of bars and cheap-eats ­restaurants. He and his wife, Giselle, ­decorated the former bodega space themselves with antique mirrors, a small white marble bar, and reclaimed wooden floors from a farmhouse in Maine. There are potted shrubs outside on the busy sidewalk, and every night, you'll find Deiaco and his sous-chef back in the kitchen working the stoves.
Maybe that's why the excellent bread basket at East 12th Osteria is baked fresh and always warm. It's also probably why the traditional Northern Italian pastas (fat ricotta-filled ravioli scented with truffles, crinkly maltagliati with a chunky Bolognese) have an eggy, handmade quality, and why the fritto di mare tastes like it's been flash-fried just seconds before. There are slipups, of course. Deiaco's menu is perhaps a bit too baroque for a kitchen this size, and if the room is more than half full, orders tend to back up and the service takes on a Fawlty Towers feel. But if you persevere, you will be rewarded with unexpected pleasures like bowls of rust-colored guazzetto di pesce (fish stew), tender cuts of lamb loin crusted in bread crumbs and green olives, and a cut of well-aged tagliata di manzo (with bone marrow), which is easily the best piece of steak in this scruffy, vegan-friendly part of town.

New York Sushi Ko
91 Clinton St., nr. Rivington St.; 917-734-5857; newyorksushiko.com
Hours: Dinner Monday through Friday 7 p.m. to 1 a.m., Saturday 5 to 11 p.m. Closed on Sunday.
Prices: Omakase, $65 to $200.
Ideal Meal: $175 omakase option (includes sashimi and seven to nine pieces of sushi).
Note: The sake and beer selections are decent by neighborhood standards, but could be better.
Scratchpad: Three stars for the quality of the omakase dinner, minus a star for the exorbitant prices.

East 12th Osteria
197 First Ave., at 12th St.; 212-432-1112; east12osteria.com
Hours: Dinner Monday through Friday 5 to 11 p.m., Saturday and Sunday 11 a.m. to midnight.
Prices: Appetizers and primi, $11 to $22; entrées, $21 to $32.
Ideal Meal: Ravioli all'uovo, tagliata di manzo, tiramisu.
Note: For best results, book your table on an uncrowded day early in the week.
Scratchpad: This is two-star cooking on a slow night, veering toward one star when the room fills up.
*This article originally appeared in the December 16, 2013 issue of New York Magazine.