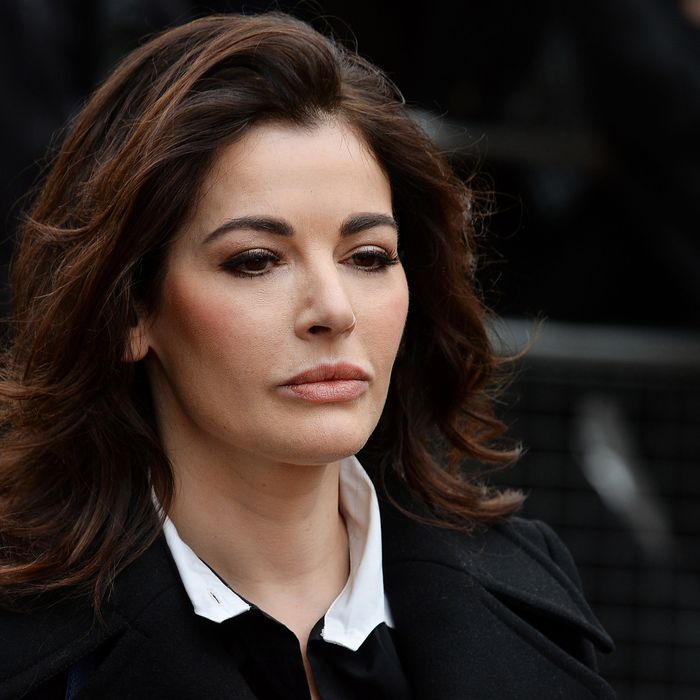 Moving on.
Photo: Getty Images
Italian sisters Elisabetta and Francesca Grillo, who racked up in excess of $1 million in credit-card purchases using credit cards belonging to ex-employers Charles Saatchi and celebrity chef Nigella Laswon, have been found not guilty of fraud in U.K. court. While the jury has cleared the sisters of any wrongdoing, the trial, which lasted three weeks and involved Lawson taking the stand for a total of ten hours, may have caused damaged to the TV presenter's public image: Lawson's admission of having used cocaine became the focal point of media coverage, to the point where Prime Minister David Cameron's even felt compelled to declare allegiance to "Team Nigella," which almost led to the case's collapse.
As for the aftermath, Scotland Yard has declared it will not investigate the drug charges against Lawson unless further evidence emerges, which may seem like a small consolation for a witness who ostensibly had nothing to prove in the first place. The lines were so blurred that even the trial's outcome settled inaccurately on the celebrity chef:
The mistweet seems nonetheless fitting, given the amount of scrutiny directed toward Lawson and her ex-husband. There'll be lots of debate about the state of her reputation going forward, as the January premiere of The Taste looms, but after such rapidly escalating scandal around the TV chef, maybe she can find a much-needed reprieve. At least she's got Cameron on her side.
Lawson and Saatchi assistants found not guilty of fraud [Guardian UK]
Earlier: David Cameron Chooses Team Nigella
Earlier: Nigella Lawson Admits to Dabbling in Cocaine