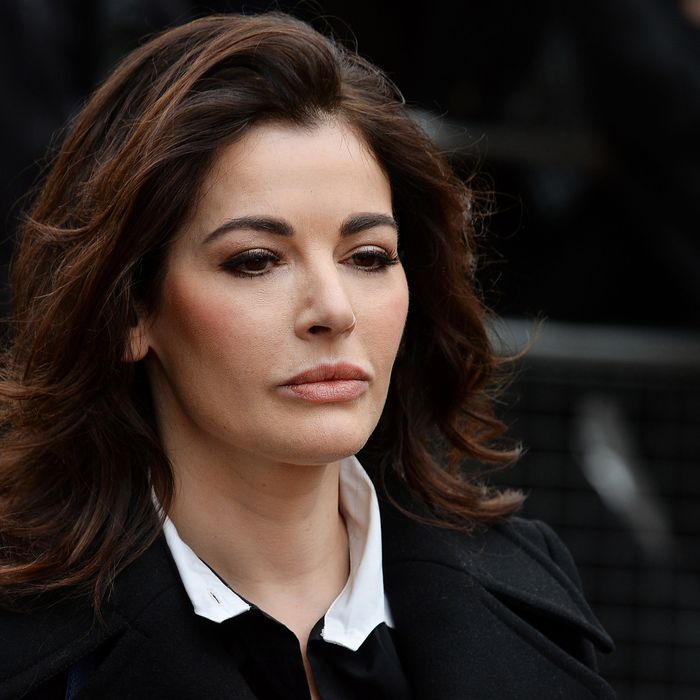 Lawson admitted to using cocaine and smoking pot in court today.
Photo: Getty
In court this afternoon, as part of the trial of two former personal assistants to Nigella Lawson and her ex-husband Charles Saatchi, who allegedly made an estimated $1 million worth of unauthorized purchases, Lawson admitted to doing cocaine during two periods of her life: First, with her first husband (who died in 2001), after he had received a diagnosis of terminal cancer, and also in 2010, when she was going through a difficult time with Saatchi, CNN reports. "I've never been a drug addict, I've never been a habitual user," the celebrity chef and cookbook writer testified. "I did not have a drug problem, I had a life problem."
Last week it was made public that Saatchi, whose divorce from Lawson was finalized over the summer, had in an e-mail accused her of ruining her children's lives with drugs. In statements taken before the trial began, the former personal assistants — Italian sisters who had worked for Lawson for more than a decade — alleged that the celebrity chef consented to their credit-card purchases on luxury goods in exchange for their silence on Nigella's alleged drug use. Saatchi told the court earlier this week that he had never known Lawson to use drugs during their ten-year marriage, nor had he seen any evidence of drugs in their home. Meanwhile, the list of purchases made by the sisters, which was previously tallied around $484,000, has now topped $1 million, including payments made for flights, and Prada and Louis Vuitton goods.
Lawson, who also admitted to "smoking the odd joint," said today that any depiction of her as a drug addict is part of a deliberate effort to damage her reputation. "I have been put on trial here … and in the world's press," she told the court.

Of course, the U.S. second-season premiere of The Taste is weeks away, and perhaps ineluctably, somewhat ridiculously, Lawson is in fact on trial. Never mind that Gordon Ramsay can hurl offensive epithets, steal reservations books, and then thrive as a result, or that Robert Irvine can grossly overinflate his credentials and still land nice work afterward, here there's an intimation of cocaine in Nigella's past — a personal matter, broadcast in court — and suddenly there's a long list of faceless industry experts waiting to comment on how the allegations signal the severe and double-standard-sounding "death of a dream for a Domestic Goddess." Said one boldly anonymous "television critic" last week: "Nigella has no chance in the US if these allegations have credibility." Really? No chance at what? She's not running for Senate. Though she'd get our vote.

Chef Nigella Lawson admits using cocaine twice, denies drug problem [CNN]
Earlier: Nigella Lawson Drug-Use Allegations Just Keep Getting Nastier