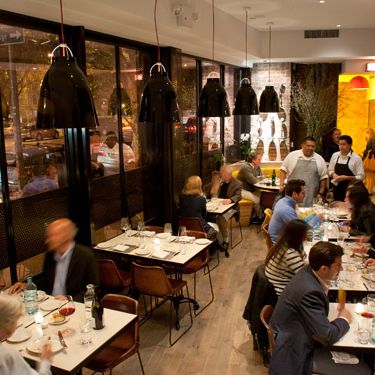 Just one more reason to go to Charlie Bird.
Photo: Liz Clayman
As far as bad restaurant nights go, New Year's Eve ranks right up there with Valentine's Day as one of the absolute worst: The city is jammed, drunk idiots are everywhere, and — worst of all — restaurants tend to charge way too much for sub-par set menus. And yet, people still subject themselves to a night out because, hey, it's New Year's Eve. Luckily, not every restaurant is interested in price gouging just because they can. And so, to ensure that you can spend the night out without dropping $500 for a few extra courses you don't even want, here are 15 restaurants that will be serving à la carte menus and doing business as usual this December 31.
Mission Cantina
See if you can order all of the tacos at Danny Bowien's newest restaurant (or the excellent roast chicken for two).
Han Dynasty
Avoid the East Village crowds and come here for a low-key New Year's celebration filled with dan dan noodles, triple-flash-fried fish, and tripe in chili oil.
ABC Kitchen
If things get wild, you can always try to sneak upstairs and crash on one of the floor-model beds.
Maiden Lane
Salmon roe, mussels in escabeche, uni gelee, a Champagne toast, and a live D.J.: What more could you want out of a party?
Franny's
It's business at usual at Franny's, which means that yes, it will still be mobbed, but there will be copious pizza (and the always-excellent wine list).
Blue Ribbon Bakery Kitchen
Fancy fried chicken, chocolate-chip bread pudding, and the heat of the bread oven downstairs will make you feel all warm and fuzzy. Plus: Blue Ribbon Beer Garden and Sushi Izakaya will also offer their regular menus.
Il Buco Alimentari
Besides the à la carte menu, Justin Smillie will cook specials like whole-wheat pasta with black truffles and Pecorino, and a cassoulet of lamb, corona beans, and sausage. Plus another special: live music.
The Spotted Pig
This spot always feels like a party — and you can keep your meal simple with April Bloomfield's excellent ricotta gnudi and chargrilled burger.
RedFarm UWS
For one-night only, Ed Schoenfeld will accept reservations for tables seated after 10 p.m.
Locanda Verde
If you're looking for a romantic night out, treat your boo to fire-roasted garlic chicken and tiramisu: Both dishes are sized for two.
Charlie Bird
In addition to the normal à la carte menu, Charlie Bird will offer specials with truffles and caviar, as well as a Champagne toast.
Bar Americain
An unconventional choice, for sure, but if you're stuck in the Times Square area, why not kick it old-school, Bobby Flay-style? The restaurant is serving is regular menu, and is taking reservations until 11:30 p.m., so there's that.
Red Rooster
Marcus Samuelsson's à la carte menu includes fried yardbird, cornbread with honey butter, and blackened catfish. If you're not too full, you can continue the party downstairs at Ginny's Supper Club until 4 a.m.
Pok Pok Ny
Andy Ricker's not changing a thing, but note that the restaurant will close at 10:30 p.m. You can always continue your evening across the street at Whiskey Soda Lounge, though.
Lafayette
Order a grand raw-seafood platter, an oxtail-and-foie-gras terrine, and some of the best French fries in town. Even better: You can take home pastries to enjoy on your lazy New Year's Day morning.