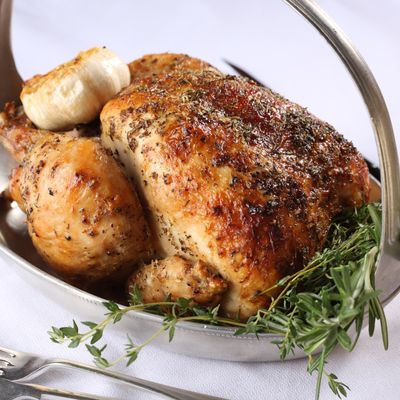 One of the Pennsylvania-bred birds served at Rotisserie Georgette.
Photo: Melissa Hom
Chickens have it rough. Their feet are ridiculous. They have no natural defense against predators. Their clucks sound idiotic. And they are just about the most perfect animal to roast over fire and devour whole. When done right, the combination of crispy, crackly skin and tender meat is a texturally perfect canvas that skilled cooks can flavor any way they like: Add some lemons and herbs; perfume the meat with ginger, garlic, and scallions; give it a dash of smoked paprika; slather it with a sauce of bacon and onions. It all tastes good. And now, the humble chicken has become the new must-have luxury menu item at New York's most vital new restaurants.
It's not like the idea of roast chicken is new. It has been served, no doubt, for as long as there have been restaurants. But for too long, a chicken dish was the blandest option at any given restaurant. Here's where things stood in 1995, when Ruth Reichl reviewed UES bistro L'Absinthe for the Times: "Does the roast chicken need to be quite so forceful a reminder that American chickens don't have much flavor?"
There were poultry pioneers since then, of course, such as Balthazar's poulet for two, arriving at your table with mashed potatoes and some vegetables. And all talk of New York's roast chicken scene must mention the version served at Barbuto, spatchcocked and roasted in the brick oven. A plate comprising half a bird and a spoonful of Italian salsa verde rings in at a mere $19, and many cite this pollo al forno as the best in the entire city.
But the new chickens that have currently taken up permanent residence on New York's menus are different. They're not mere comfort food; they're grand birds competing for prime menu space with steaks and other luxury large-format dishes. And they all share some similar traits: They will be at the very least roasted (and often given extra kitchen love beyond that), generally served for two people, routinely purchased from the ever-popular "Amish and Mennonite farms" of Pennsylvania, and they are more or less guaranteed to taste very, very good. And in many cases, they are quite literally a different breed of bird than what's been served in New York previously.
At Dover — the brand-new restaurant from Brooklyn's Battersby team — the kitchen buys Green Circle chickens, which are a French variety that have been fed scraps from restaurants like Per Se and Gramercy Tavern. The staff then confits the legs in duck fat for three hours, cools them, and dresses them with celery, apples, sherry vinegar, and black truffles. When diners order the chicken, the confit comes out first (served with white mushrooms, celery root, and more sliced truffles). The breasts are roasted on the bone, presented whole at the table, then carved back in the kitchen and plated — served alongside a truffle-and-Comte gratin. This will run you $65.
The $65 price tag is the same for chicken at Kingside, the new midtown spot with a menu from Marc Murphy. Lafayette serves chicken for two fresh from the Rotisol rotisserie that runs $50. Chef Michael Toscano's redo of the Montmartre menu has a "Coq au vin jaune" for two for $58 (it also comes with egg noodles). At Rotisserie Georgette, owner Georgette Farkas and chef David Malbequi serve two poultry options from their own Rotisol: a $24 plate of "roasted organic Zimmerman farm" chicken for one, or the "poule de luxe" for two — a heritage-breed bird from upstate New York that Malbequi serves with mushroom stuffing and slabs of foie gras. It's $74.
Nomad kicked off this whole mania with its own luxe $79 birds, famously stuffed with foie under the skin, presented tableside, whisked back to the kitchen for carving, and then served delicately plated.
The chicken love is hardly relegated to French-leaning spots, though. Both Pok Pok Ny and Uncle Boons offer Thai-accented versions. Danny Bowien's Mission Cantina serves entire birds, stuffed with chorizo and rice (alongside some seriously excellent tortillas) for a relatively affordable $35 each.
It is not surprising that chefs are fascinated with chickens — and happy to sell them. Among their virtues:
It is endlessly versatile: As evidenced above, there are a zillion ways to make chicken delicious. For chefs, this is very appealing, especially when compared to, say, high-end steak, which has basically one preparation (sear with fire, slice, serve).
The economics of it really work out well for restaurants: Think of how much you pay for a high-quality chicken at a grocery store. It's $15, maybe. Online, a three-pound bird from D'Artagnan (which sells the same Pennsylvania chickens used by restaurants) will cost you about $22. Even New York's Kinderhook Farm, which raises the same kinds of heritage birds used by Rotisserie Georgette, charges $6 per pound at the farm store for their Label Rouge birds. Restaurant owners don't talk about how much they pay for their ingredients, but wholesale prices are inevitably lower, which means the mark-up is enormous when kitchens charge $50, $60, or $70 for those same chickens. But for customers, it works out to about $25 to $35 per person for an entree — a not-unreasonable price to pay in a New York restaurant.
It's truly difficult to tire of roast chicken: Chefs need regulars if they hope to stay in business for more than eighteen months, which means they have to give people something to come back for. An amazing chicken dish is just the thing, since people crave it. Look at San Francisco's Judy Rodgers, who passed away earlier this week and whose legacy will be her roasted chicken with bread salad. It makes sense: Rodgers perfected what just might be the world's most perfect dish. People remember that kind of thing forever.