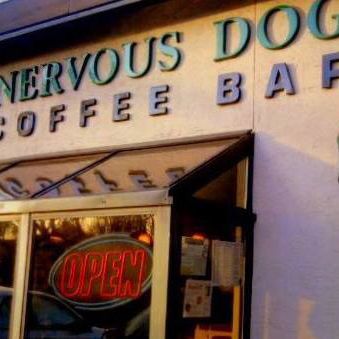 Only in Akron.
Photo: Nervous Dog Coffee Bar & Roaster/Facebook
A coffee shop in Ohio is choosing to see the very best in the bald guy who waltzed right up to the counter and stole cash from the tip jar by holding a food drive and promising him free coffee for the rest of the year. Management at Akron's Nervous Dog Coffee Bar & Roaster posted security footage of the sticky-fingered patron on their Facebook page as an entreaty to their clientele to help them track the thief down — not to press charges, but because "we figured anyone desperate enough to steal a few bucks from a kid working her way through college, is likely pretty hungry." Or, he may just be a cheapskate.
Watch the footage carefully, and it even looks like the barista puts the man's change into the tip jar, which really adds insult to injury. So far, the good folks at the Nervous Dog Coffee Bar — who either understand the value of free publicity, really get what the holidays are all about, and/or are trying to shame the thief as much as possible — have collected "about three boxes of food." The first donation, you may have guessed, came from the barista who waited on the thief.
Coffee shop holds food drive for man who stole from tip jar [WKYC]
Bald Dude Steals Tips [Nervous Dog Coffee Bar/Facebook]