The customer isn't always right, even if he is sick.
Over the weekend, a group of sixteen people finishing up their annual Christmas party at the Nashville branch of Morton's Steakhouse were getting ready to pay the $2,000 tab when one of the diners slipped an innocuous wool beanie on his head. After Robert Chambers was told to remove the hat because it violated the restaurant's dress code, Chambers's family stepped in to explain he was undergoing chemotherapy and needed the beanie to keep his head warm. The exchange attracted the attention of the assistant manager, who offered the completely unhelpful advice that if Chambers really wanted to get away with wearing a hat in the dining room, he should have brought in a "doctor's note," or at least called ahead so that the group could be seated in a private dining area.
Incensed by their treatment by management, the party got up to leave, and things just got worse: Several first-person accounts that have since been posted to Yelp allege that Morton's called the police to come deal with the dinner party. One report states that one of the customers was thrown out by the police after he tried speaking with the manager.
After news of the incident spread on social media, corporate representatives of the restaurant have now apologized for what they call a "complete and total misunderstanding by our staff who had no idea that our guest had a medical condition."
The restaurant also pledged to investigate and "uncover all the facts."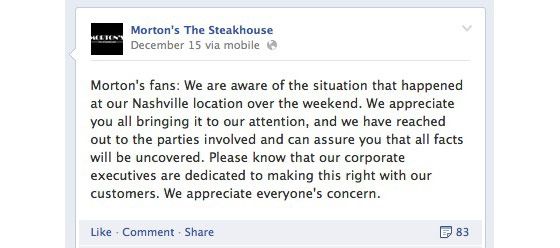 The restaurant also pledged to investigate and "uncover all the facts."

Photo: Facebook

For his part, Chambers tells the local Fox affiliate that he accepts the apology. Morton's has issued a statement saying it has donated $2,000 to St. Jude's Hospital, and will partner with the mistreated customer on a forthcoming fund-raiser for cancer research.

Nashville Morton's Responds to Alleged Mistreatment of Cancer Patient [Fox 17]