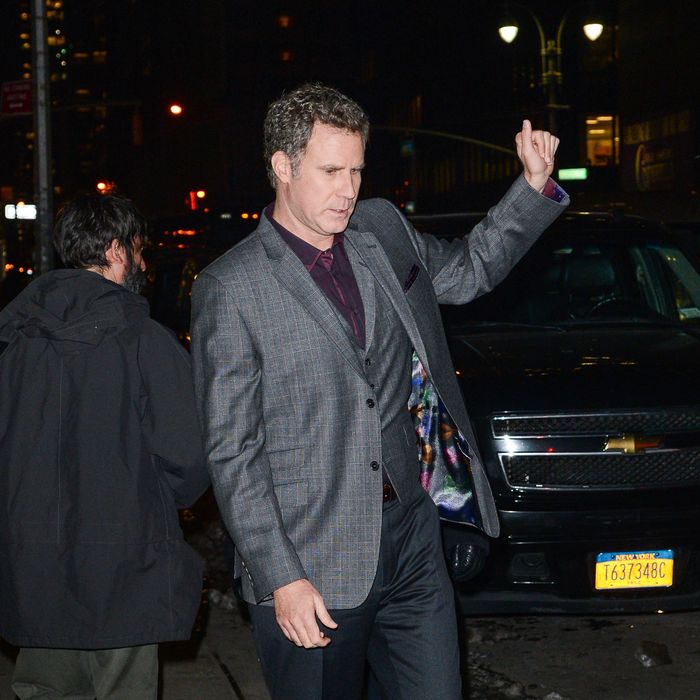 Anchorman loves ice cream.
Photo: Ray Tamarra/WireImage
The holiday season can be a time for reviving old alliances and forging new connections, but not all celebrities this week experienced idyllic Love Actually–style endings. Rihanna seemed to click with A$AP Rocky at Soho House, but Leonardo DiCaprio was rejected at 1 Oak. Elsewhere, Calvin Klein avoided people altogether at the Soho Grand. This, and more, straight ahead.
1 Oak: Wolf of Wall Street sybarite Leonardo DiCaprio's attempted 3 a.m. flirt session with a Danish model went unrequited. [Page Six/NYP]
Bagatelle: Ryan Seacrest valiantly resisted the urge to partake in boozy brunch in favor of talking shop with NBC chairman Ted Harbert. [Page Six/NYP]
Bill's Bar & Burger After recently announcing his separation from Idina Menzel, Taye Diggs watched the Knicks with his son before hitting Tao Downtown with some friends. [Page Six/NYP]
Benjamin Steak House: Kenan Thompson went out for a friend's birthday. [amNY]
David Burke: Steve Carell reportedly enjoyed the chicken chili. [amNY]
Harlow: Will Ferrell sang songs in Swedish while indulging in a few ice-cream sundaes. [Page Six/NYP]
Lavo Miley Cyrus was spotted in midtown east, twerking with a lucky someone, perhaps. [Page Six/NYP]
Moran's Chelsea: Peter Dinklage had a casual night out at the bar with a date. [Page Six/NYP]
Old Homestead: Paul Giamatti had steaks with pals in the meatpacking district. [Page Six/NYP]
Pounds & Ounces: Gerard Butler was swarmed by a small army of Santas after brunch. [Page Six/NYP]
SoHo Grand: Calvin Klein was allergic to people at the eleventh-annual charity toy drive: He arrived, saw the large crowd, then departed immediately. [Page Six/NYP]
Soho House: Rihanna may have been seeking an encore to her kissing cameo on A$AP Rocky's Fashion Killa music video: The pair were "looking very friendly." [Page Six/NYP]