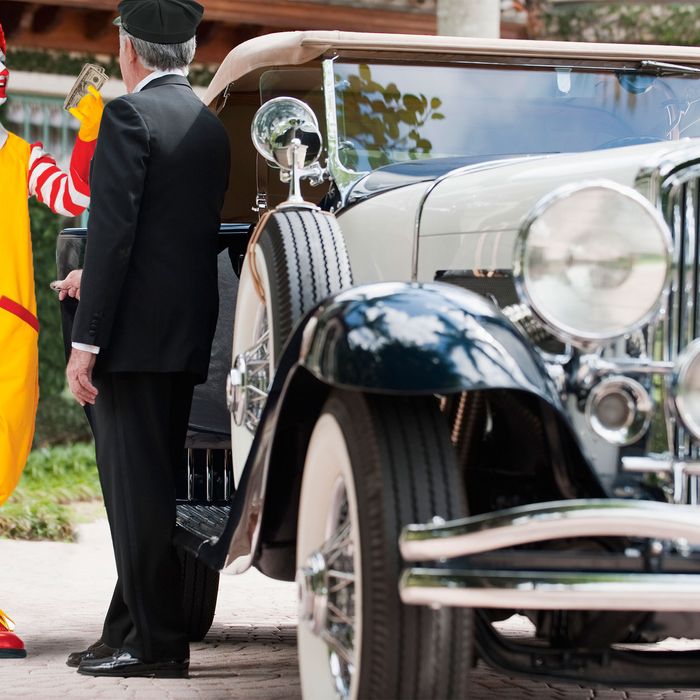 Say, what's the appropriate amount to tip Jeeves — a week's pay, or a small gift and $50 cash?
Photo: Rick Gomez/Corbis (Chauffeur)
The folks at CNBC noticed that McDonald's corporate posted a comprehensive guide to tipping all sorts of service people that pretty much no McDonald's employee can afford to employ — personal trainers, massage therapists, au pairs, landscapers — on its McResources website, the same portal that unhelpfully instructed workers to sing happy songs to get through periods of stress and break food into tiny pieces during times of diminishing grocery budgets. (Fitness trainers should get "the cost of one session" at the holidays, just FYI.)
CNBC notes that the tipping rules advised readers to stick to their budgets first and foremost, while, in an e-mail, McDonald's pointed out the guidelines were penned by "third-party partner" Emily Post, "one of the best-known etiquette gurus." Then they removed the insensitive post from the website. Thousands of minimum-wage-earning workers trying to figure out how much to give the pool boy this Christmas will be forced to search elsewhere.
McFail: McDonald's out-of-touch tipping advice to employees [CNBC]
Earlier: McDonald's Advises Hungry Employees to 'Break Food Into Little Pieces'