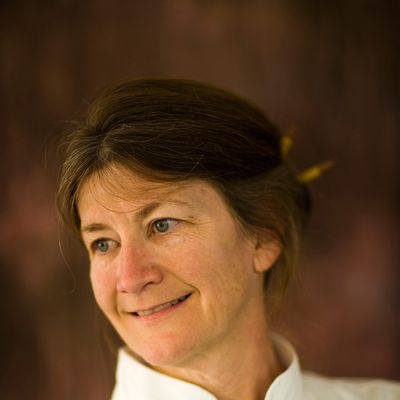 Judy Rodgers
Photo: Craig Lee/The Chronicle/Corbis
Judy Rodgers, whose no-nonsense approach to food at the Zuni Café in San Francisco had a profound influence on a few generations of young cooks, has died at the age of 57. The Chronicle confirms the news through Gilbert Pilgram, Rodgers's business partner at the restaurant. While the cause of death has not been confirmed, the chef's protégé Gayle Pirie had previously documented Rodgers's struggle with a rare form of cancer that had "slowly metastasized over a series of years." At this time last year, the chef was recovering from the disease, in addition to life-threatening surgery.
Zuni Café opened in 1979, and Rodgers, a St. Louis native who had trained in kitchens throughout southwestern France and cooked in several Bay Area restaurants (including Chez Panisse, where she worked for a year), signed on as chef and co-owner in 1987. Rodgers was known for her long hair and free-spirited appearance, but steadfast and serious focus on technique. Her straightforward menus at Zuni Café transitioned the restaurant from a Mexican focus to a more regional elegance heavy on grilled and braised meats and market vegetables.
The restaurant picked up strong reviews, awards, and many accolades over the decades. Meanwhile, Rodgers honed her craft and techniques — her long-favored practice of aggressively pre-salting meats hours before cooking them — came across to other chefs in turns as counterintuitive and brilliant. Over the years, Rodgers had a broad influence on a younger generation of cooks who worked for her, dozens of whom went on to open their own places.
Another example of the chef's unique approach to food can be found in her French onion soup, where the sliced and sweated vegetables are salvaged from their traditional molten cheese-topped cauldron of sludge in favor of a significantly lighter, just-cooked presentation. These things are demonstrative of the chef's painstaking consideration and reconsideration of basic flavors others might have taken for granted. "Making even a simple dish three times in two weeks can teach you more about cooking than trying three different dishes in the same period. Pay attention to the process of making it, and to the small and large differences in the results," she told the Los Angeles Times in 2006; the result of this was often the most delicious food.
Throughout the last 25 years, the menu at the Zuni Café changed, sometimes almost entirely on a day-to-day basis, while two dishes — Caesar salad with anchovies and the roast chicken — remained. Early on, Rodgers cracked the code for the perfect roast chicken, which she served with garlicky toasted bread "chapons." You may not immediately trace it back to Rodgers, but its influence is vast: That oneroast chicken recipe has done more for the way people eat than a thousand modernist spherified juices and assorted artichoke foams.
The roast-chicken recipe also became the de facto centerpiece of the Zuni Café Cookbook, published in 2002, which became an instant classic; Thomas Keller is a fan. During her career, Rodgers was named Outstanding Chef by the James Beard Foundation, Zuni Café received the Outstanding Restaurant award, and the cookbook was also heavily awarded by both the Beard Foundation and the IACP.
Below, chefs, restaurateurs, and food writers share their remembrances of Rodgers. She will be missed.
So sad to learn that Judy Rodgers is gone. Judy was the most modest, inspirational, intelligent chef. A lovely person and true pioneer. RIP.— ruthreichl (@ruthreichl) December 3, 2013

RIP Judy Rodgers from Zuni Cafe. I staged there back in the mid 90's. She was one of the greats. This year we have lost some legends.— Homaro Cantu (@Homarocantu) December 3, 2013

I remember a night at Zuni Cafe with a dear friend, that iconic chicken and the otherworldly warmth. The kind of small memory that lives on.— Francis Lam (@Francis_Lam) December 3, 2013

Roses from Judy Rodgers garden…you taught us well from your food & legacy of Zuni! You will be missed! RIP JUDY. pic.twitter.com/sRwX4iy2ih— statebirdprovisions (@statebirdsf) December 3, 2013

I am so sad to hear that Judy Rodgers has passed. A wonderful chef and person. My first great meal in SF was Zuni in 1990. RIP, friend.— daniel patterson (@dcpatterson) December 3, 2013

I am so so so so saddened to learn Judy Rodgers passed today. Such a brave, talented and inspirational woman. SF has lost one of our greats.— Marcia Gagliardi (@tablehopper) December 3, 2013

We have lost a great friend, chef and mentor. Judy Rodgers left us today, but she is cooking with all the other great chefs. #judyrodgers— Terra Restaurant (@LissaandHiro) December 3, 2013

Rest in peace Judy Rodgers. The Zuni cafe cookbook was an inspiration to my mother and me, especially. You will be missed. #rip— alex guarnaschelli (@guarnaschelli) December 3, 2013

Judy Rodgers unlocked many secrets for my Slow Food book: she was generous, and unlocked secrets no one else could. http://t.co/6IQTeeNXD1— Corby Kummer (@CKummer) December 3, 2013

Judy Rodgers had especially been on my mind w/ growing discussion of female chefs. Consider making this in tribute: http://t.co/V0GsY69rEO— Kat Kinsman (@kittenwithawhip) December 3, 2013