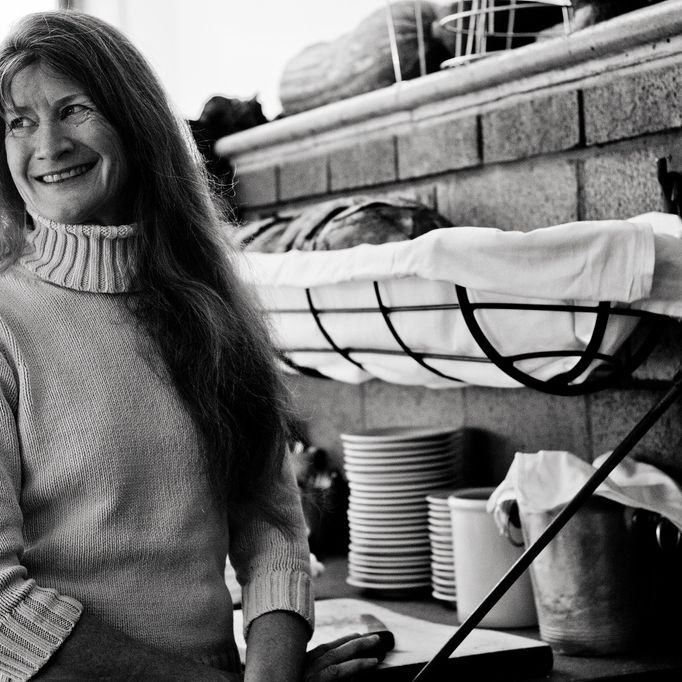 Rodgers, earlier this year at Zuni Café.
Photo: Wayne Bremser
San Francisco lost one of its culinary pillars last night when Judy Rodgers died at the age of 57 after a yearlong battle with a rare cancer of the appendix. Along with chefs like Alice Waters, Jeremiah Tower, Cecilia Chiang, and Thomas Keller, Rodgers transformed the Bay Area into one of the country's most significant eating destinations, due mostly to her work at Zuni Café. But Rodgers's influence extends far beyond the superlative Caesar salad and famously perfect roast chicken that she made her staples at Zuni.

Though Zuni Café opened in 1979, Rodgers took the restaurant over in 1987. She kept the name, but shifted the restaurant's focus from Southwestern (the restaurant is named after the Zuni tribe of New Mexico) and turned the spot at 1658 Market Street into one of the historic landmarks of California cuisine. In an interview several years ago with Epicurious, Rodgers said of Zuni, "My guideline at this restaurant has always been I want only things here that I would love to have and the way I'd love to have them. If it doesn't make me happy, then it's false."
Despite her restaurant's impact, Rodgers remained extremely humble. In the same Epicurious interview, she said, "I've never thought of myself as having invented a single solitary dish. I'm just sort of the thing through which this food gets made."
Here, now, is a selected timeline of events in the life of Judy Rodgers.
1972: At the age of 16, Rodgers leaves her home in St. Louis after some neighbors arrange for her to spend a year as a foreign exchange student in Roanne, France. She happens to be placed in the home of the Troisgros family, owners of the Michelin three-star Les Frères Troisgros (still open and now known as Maison Troisgros). As a favor to the neighbor who arranged the trip, she spends time copying down family recipes and watches and listens in the kitchen every day after school, so that she can report back.
1974: Rodgers moves to the Bay Area to enroll at Stanford as an art history student, and occasionally cooks reportedly impressive dinners for friends at her co-op, Terra House.
1976: She spends another year abroad in Paris, and while there she receives a letter from a friend back in the Bay Area who had just dined at Chez Panisse and "fell in love at first bite."
1977: Upon her return to the States, Rodgers eats at Chez Panisse and is enamored with the style of "nouvelle cuisine" she finds there. She spends her free time hanging out at the restaurant on Saturdays, helping Alice Waters prepare lunches. "I guess Alice decided there was enough I was doing that wasn't terrible, so she hired me as the regular lunch chef after graduation," Rodgers told Stanford Magazine.
1978: Waters hires Rodgers to fill in as lunch chef when Waters takes a leave of absence. "She had very little experience," says chef, protege, and longtime friend Gayle Pirie. "It was just like a meeting of the minds. Alice could sense that they had a similar aesthetic, and that's just how she hired people."
1980: Rodgers itches to be in Europe again, this time taking an opportunity to stage at a Bordeaux country inn. She returns after four months, when her money runs out.
1981: On Waters's introduction, Rodgers takes a job working with Marion Cunningham at the historic Union Hotel in Benicia, California, north of Berkeley at the mouth of the Sacramento River. Cunningham had been hired as a consultant, but Rodgers becomes executive chef and begins to get her first national press for her own style of simple, unadulterated food.
1983: Rodgers takes a trip to Italy, where she books a farmhouse near Florence for several months to delve deeper into her study of Mediterranean cuisine.
1986: After living and working in New York for a couple of years, Rodgers is hired as opening chef at Yellow Fingers on the Upper East Side, envisioned as an American restaurant by owner Joe Santo. Santo, seeing Rodgers's love of Italian and French cooking, lets her run with it and create her own menu.
In March of 1986, Zuni Café, which had opened seven years earlier, goes from being a 55-seat restaurant to having 110 seats, taking over the glassed in, flatiron-shaped space at the corner of Market and Rose formerly occupied by the Red Desert cactus store. Then-chef Kathy Riley suggests to owner Billy West after becoming pregnant with her first child that they should consider bringing Rodgers in to help.
1987: Billy West dines at Yellow Fingers and succeeds in luring Rodgers back to the Bay Area, convincing her to leave New York after only six months at the restaurant to come back to San Francisco and take over the kitchen at Zuni. As Gayle Pirie tells it, "She took over a place that had good bones, you know. This iconic space. But it was running on the leftovers of guacamole made to order and [eighties Southwestern stuff]. They were doing Caesar salad to order already, which was good. But she just transformed it very quickly into this European-centric restaurant with high integrity. Like, you take an eighteen-month-old prosciutto and serve it with a beautiful aged Reggiano, with some olives and almonds on the plate, and don't fuck it up. Just serve it. Everybody has antipasti plates now, but back then, those simple aesthetics, that was a new idea."
1988: Rodgers tells West that the restaurant has to have a brick oven, and within months he has one built. Not wanting it to become a full-time pizza oven (pizzas would become a lunch staple), Rodgers decides they need a whole roast chicken on the menu, seasoned only with salt and pepper. At first she serves it with a simply dressed green salad, but then decides it needs something heartier. She devises a spin on the panzanella, with baby mustard greens, a light vinaigrette, pine nuts, raisins, and hunks of bread that she heats in the oven drizzled with chicken stock. The chicken is then served cut up over the bread salad, and becomes the restaurant's iconic dish, unchanged to this day and widely imitated.
1989: The restaurant begins to collect more of its signatures, like Rodgers's ricotta gnocchi, and her salad of celery, anchovy and parmesan. "She was really obsessed with anchovies and curing her own anchovies," Riley says. "That dish has never come off the menu."
1996: Marsha McBride, longtime sous chef under Rodgers, opens Cafe Rouge in Berkeley.
1999: Gayle Pirie and John Clark, longtime sous chefs at Zuni, open their own highly successful restaurant in the Mission district, Foreign Cinema.
2002: Rodgers publishes The Zuni Café Cookbook.
2003: Zuni wins the James Beard Award for Outstanding Restaurant in the country, and the cookbook wins Cookbook of the Year.
2004: Rodgers beats out Mario Batali, Alfred Portale, Nobu Matsuhisa, and Tom Colicchio to win the Beard Award for Outstanding Chef.
2006: Longtime chef and friend Gilbert Pilgram becomes a partner in Zuni Café.
2011: San Francisco Chronicle food and wine editor Michael Bauer writes, "I've repeatedly maintained that if there's one restaurant that captures the San Francisco vibe, it's Zuni Cafe… It remains as fresh and exciting as it did more than two decades ago when Rodgers came into the kitchen."
November, 2011: In an interview with Culinate, Rodgers talks about how her approach to cooking has changed over the years: "I'm trending to more digestible, more economical and responsible — you don't have to kill the second pig for the sauce… Instead of reduction, I'll just purée vegetables with a mouli — that's how they're doing it in farm houses. It's less wasteful, and I like it better. That's how traditional cuisine happens — they do things over and over and distill what's best."
September 2012: Rodgers is diagnosed with a rare appendix cancer that had likely been metastasizing over several years. She begins to undergo what will be a year of painful treatment, and spends less and less time at the restaurant.
June 2013: Rodgers is named guest of honor at a dinner honoring women chefs of San Francisco at Nancy Oakes's and Pamela Mazzola's restaurant Prospect; however, she is unable to attend.
December 2, 2013: Rodgers passes away after a final, two-week hospitalization, with friends at her side. Kathy Riley, still a close friend of Rodgers, places a call to Gilbert Pilgram at the restaurant to deliver the news. "I'm supposed to be in the kitchen tomorrow night," Pilgram says. "Well," Riley told him, "get ready for a crowd."