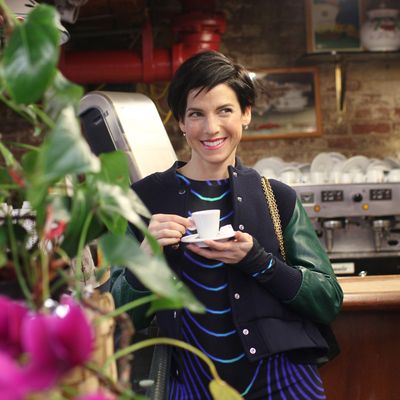 Seinfeld, at Buon Italia in Chelsea Market.
Photo: Melissa Hom
"When I met Jerry he'd never really known anyone who'd cooked," says Jessica Seinfeld, whose latest book is the Can't Cook Book. "It's just something I'm naturally comfortable with. I can zone out and relieve stress." There's another reason the mother of three prefers cooking for her family when it's dinnertime: "We are kind of very sarcastic, and — how do I say this? — we kind of antagonize our kids, and our mealtimes are kind of a battlefield. So it's not the greatest thing in the world to be out to dinner." But Seinfeld still managed to hit Charlie Bird this week ("I've been there so many times), grab some midday meals, and get not one but two Thanksgiving dinners on the table. Read it all in this week's Grub Street Diet.
Thursday, November 28
Thanksgiving. I wake up early and turn on the oven. Spending time with a raw bird and giblets at 8 a.m. turned me off breakfast, but I made a very large coffee with coconut oil and honey, which I whip up like a cappuccino with an immersion blender. I don't like the texture of milk in my coffee, so a couple of years ago I heard about this coconut situation and I've been doing it ever since.
Back to Thanksgiving: We try not to eat much other than the big meal, because why spoil a meal you've spent hours making? You're already full after five minutes anyway. So Jerry and I treat Thanksgiving as if it's Yom Kippur Lite. This was our first Thanksgiving meal at my parents' new house in Vermont, and my mom made the meal because, like me, she loves to do the whole thing herself. I did make the gravy, sweet potatoes with marshmallows, and I stayed up the night before making our pies: pecan with bourbon, apple, pumpkin, and maple-cream meringue. Maple cream was the clear-cut winner, followed by the apple.
Friday, November 29
Back to New York to have our second Thanksgiving — this time at our house — so I make the meal myself and we invite our dear friends, the Stephanopoulos family. We call this tradition "Thanks, Again" (coined by Jerry, of course). I made the turkey with an apple-cider-jalapeño-sage gravy. It's the second year I made the recipe and it was perfect. No brining. No basting.
At the behest of my children, I once again made mashed sweet potatoes, with allspice, Chinese five-spice, and marshmallows; as well as roasted carrots; mashed potatoes with crème fraîche; broccoli with raisins, garlic, and crushed red pepper; porcini-mushroom stuffing; and cranberry sauce. I also repeated my pie menu for "Thanks, Again." People were extremely happy with the meal, which was nice.
Saturday, November 30
Making coffee is a form of therapy for me so I bought an Elektra coffee machine five years ago that cost more than my first (very) used car, a Volkswagen Jetta I bought with tips from my bussing/waitresssing/hosting jobs when I was a senior in high school. I bought the Elektra under the guise that it was a present for Jerry's and my tenth anniversary, but really it's my most prized possession — nothing comes close. For a long time I wouldn't let anyone touch it, but I let some people in last year. Anyone who spends time at our house usually leaves jittery and way overcaffeinated.
I made coffee, and read the paper, and felt full from the Thanksgiving dinner so I vowed not to eat for two days. That lasted about an hour. My kids woke up and I made lemon-ricotta pancakes with oatmeal with apricots and sliced almonds.
My kids went off to their various play dates and/or sports, and I continued to break my fast by meeting my friends Derek Blasberg and Tony Biancosino at Co. pizza for lunch. We started, because it's the holidays, with seasonal cocktails. We had four pizzas: the Popeye (great!), Brussels sprouts (five stars), cauliflower pie (loved!), and margarita. Brussels sprouts won the day.
For dinner that night I made a dinner of pasta with quick marinara sauce, then we went to the movies with the kids and saw Frozen. We had large popcorns and Junior Mints (yes, Seinfeld fans, a big cliché).
Sunday, December 1
Sundays are the days we completely Jew-out. We do a run to Zabar's where two of our favorite guys behind the counter for the past fifteen years, Jerry and David, serve up the best Nova lox in NYC, sliced so thin you can read the New York Times through it. The fish section at Zabar's is where Jerry first told me he loved me way back when, so that area always chokes me up.
Along with lox, we grabbed fresh-squeezed OJ, bagels, veggie and plain cream cheese, and sour pickles, then made a stop at Sugar & Plumm on Amsterdam for the absolute best rugelach on the planet. We ate that smorgasbord at home. Our friends came over, and I made coffee after coffee for all of us.
We skipped lunch and went directly into the next Jewish tradition: Sunday night Chinese food. We like Mee Noodle Shop on Ninth Avenue and 53rd. We usually keep it basic and pretty orthodox — wonton soup, scallion pancake, steamed veggie dumplings, chicken and broccoli, and fried rice. Yes, there is pork involved. You can judge me, it's cool.
Monday, December 2
I woke up around 6:15, made breakfast for my kids, sent them to school on the NYC bus. I made coffee for myself and Martha, who has worked for us since our kids were born. We talked through the day — what kid is doing what, when, and then we walked our two dachshunds, Jose and Foxy Brown, in Central Park. Then I jumped on the C train to my office downtown to start testing recipes.
I didn't eat breakfast because I knew I'd be testing recipes, but when I was done I went to Manousheh for some Lebanese fare. It's a pop-up near the Bowery that closed for much of December but will come back in January, thank god, as I will be waiting. You watch them bake fresh flatbread that they cover with za'atar. I had mine rolled up with tomatoes, mint, olives, and cucumber. The flavors are unreal.
I had a meeting after that, so on my way I stopped at Abraço for a cortado and a slab of olive-oil cake that was sort of mind-blowing.
I made broiled halibut, spinach, steamed broccoli, and, since we are in the midst of Hanukkah, potato latkes with homemade applesauce for everyone for dinner. I cleaned up afterward and there was soon an ice-cream war cry in my house. Jerry is onboard. He also likes overcooked and stale things, so anything day-old and not nailed down is always polished off.
Tuesday, December 3
I didn't really eat early because I knew I had a full day of testing. We were making chicken drumsticks with salt, cumin, cayenne, and both apricot and cherry jam. I had that for lunch.
I went home and pounded out some chicken for chicken Milanese. I had every intention of making chicken Parmesan but it got too late to make the sauce because I had all the interruptions with homework and all that madness. The sauce only takes twenty minutes, but I was too overwhelmed by my son's math homework. This is why you shouldn't have a mother of three do the Grub Street Diet.
Wednesday, December 4
I spent the day testing and shooting the chicken drumsticks. The cherry one tasted like coq au vin — so delicious.
I brought it home for my kids and Jerry to eat for dinner, then I met a friend for a late, luxurious pre-holiday celebration dinner at Charlie Bird, which is the restaurant I am currently most obsessed with. (Jerry opted out after a long day of shooting Comedians in Cars Getting Coffee.) They are kind at Charlie Bird, and my friends and I always end up staying way too long. We started with cocktails, then a 2003 Etna Rosso. We ate poached eggs on toast with Parmesan and truffle, very fresh Nantucket Bay scallops, an escarole salad, Brussels sprouts with garlic sauce, and the roast chicken with a crispy-bits salad.
Dessert was chocolate budino with olive-oil gelato and caramelized rice crispies. Then a cheese course appeared, but I am sadly not sophisticated enough to appreciate cheese after dinner. I tried, but could not partake. Then some friends showed up, they ordered grappa, and it was the beginning of the end.