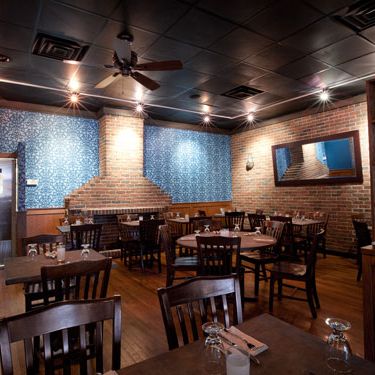 The dining room at Williamsburg retaurant Gwynnett St.
Photo: Elliot Black
In a somewhat shocking story just posted online, the Daily News alleges that Gwynnett St. owner Carl McCoy "agreed with a drug dealer" to have several packages of methylone from China sent to the restaurant in exchange for $1,000 a pop because he was "having financial difficulties." The paper alleges that drugs bound for McCoy's front door were intercepted at JFK, and that the proprietor later confessed to his role in the operation upon being confronted by Homeland Security. He agreed to wear a wire, a bust was made, and McCoy was arrested, the News says, then released from jail yesterday. Or did it really happen like that?
@PMorris153 @NYDailyNews This is not true— Gwynnett St (@GwynnettSt) December 12, 2013

After which the user promptly backed off, in a tweet that's since been deleted, saying: "Thanks. Thought it was strange which is why I forwarded 2 U 2 get reply. We love the place! Hey, it's The Daily News."
We've reached out to the restaurant, but it's perhaps worth noting that the paper I.D.s the drug methylone, named in the court documents, as "Molly" in its headline, then later as a "narcotic" in the body of the article, then also asserts McCoy was arrested for "crystal meth possession" in the article's URL. These things are not the same: Molly can be all or part — but isn't always — methylone, but also, methylone is not a "designer narcotic," or a narcotic at all. It's definitely not the same thing as methamphetamine, as the Post reports.
Taking the crystal meth angle to its inevitable conclusion, the Daily News describes the scenario as "Breaking Bad in Brooklyn." (Somewhere, Bryan Cranston is probably very sad about all of this.) "I don't want you to print the story. I have no comment," is the only thing McCoy told the paper, and the rest was gleaned from Brooklyn Federal Court documents.
Gwynnett St. opened in November of 2011 to near-immediate acclaim as an innovative restaurant. Executive chef Justin Hilbert left the kitchen in April of this year under seemingly good terms ("He's a bad ass," McCoy said at the time). New York's Adam Platt gave the restaurant two stars in 2012.
Acclaimed Brooklyn restaurant owner busted for receiving package of club drug Molly addressed to his bistro [NYDN]
* This post has been updated throughout.