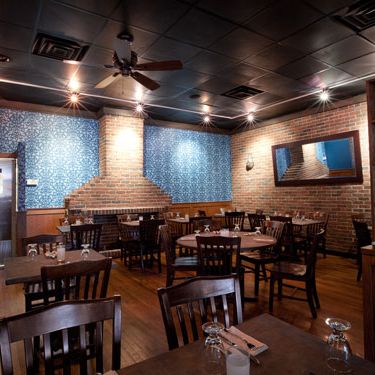 Gwynnett St.
Photo: Elliot Black
Following his drug-related arrest and subsequent attempt to explain the incident, Gwynnett St. owner Carl McCoy now tells the Times that he did accept packages whose contents he knew were illegal, for $1,000 each. Meanwhile, as McCoy waits to learn if he will be indicted, he tells the paper that he will forge ahead at the Williamsburg restaurant, even without his chef.
"I wasn't doing it for money," McCoy says, describing his relationship with Omar Calixto Herrera, a friend and contractor at the restaurant. "I wouldn't jeopardize my business." Because McCoy's legal issues are just beginning, he isn't able to discuss the case in any detail, and instead takes the opportunity to outline how the restaurant will proceed: Its next iteration will abandon the ambitious concept and modernist food that garnered Gwynnett St. two stars from New York's Adam Platt. In addition to cocktails, McCoy says he plans to serve snacks, including the restaurant's admired whiskey bread. The next menu will take a more "casual direction."
For his part, former chef Owen Clark tells the Times that he left with his staff because he felt his "safety had been in jeopardy." Clark says that while he's looking for a new job, chef friends are helping him out: In the interim, he'll cook a six-course dinner at Contra for $66 on Monday night.
Owner's Drug Arrest Puts Future of Acclaimed Restaurant in Doubt [NYT]
Earlier: Gwynnett St. Owner Responds to Daily News 'Drug Dealer' Accusation
Earlier: Chef Owen Clark Leaves Gwynnett St. in Williamsburg With Kitchen Staff
Earlier: Daily News Fingers Gwynnett St. Owner As Drug Dealer; Gwynnett Denies Everything