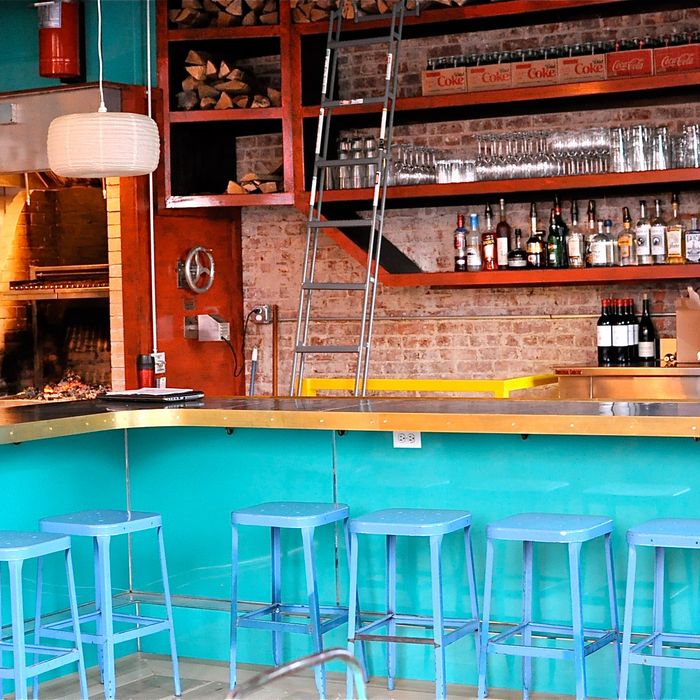 Yes, the rotisserie chicken is back, too.
Photo: Hugh Merwin
Up until now, the (sort of literal) bread and butter of Crown Heights restaurant Glady's, which opened in April and is named for owner Michael Jacober's paternal grandmother, has been its sandwiches. There's the corned beef Bubie, the dry-aged burger with melted Tilsit, and more. Now Jacober has two major developments in the works: First, he's signed a lease on the space next door, which he'll devote to the very first brick-and-mortar outpost of Morris Grilled Cheese, his other endeavor. Come next spring, expect a takeout spot featuring some of Morris's staples, as well as some dishes from Glady's favorites, including prepared foods and ice cream.
Next up are service changes at Glady's, specifically the debut of entrées along with the dinner menu. They include:
Half-Rotisserie Chicken
8-hour brine, 24-hour air dry. Cooked on the rotisserie over hardwoods, basted with fennel butter. Served with oak vinegar-dressed arugula and radish salad.

Coal-Roasted Celery Root
Roasted in embers, warmed in vegetable stock, crème fraîche, and butter, served with hazelnut and black-garlic dotted lovage salad.

Grilled Pork
Wood-grilled loin, braised belly, with white lima beans and mizuna.

Tilefish
Charred cabbage, oyster mushrooms, Empire apples.

Short Ribs
Braised and grilled, with Japanese turnips, panisse, and bagna cauda.

Entrées, which will change frequently, range in price from $17 to 24.
Earlier: First Look at Glady's, Bringing Wood-Fired Grilled Cheese and Pork Knuckle Sandwiches to Crown Heights
Related: Taste Test: Eight New Rotisserie Chickens