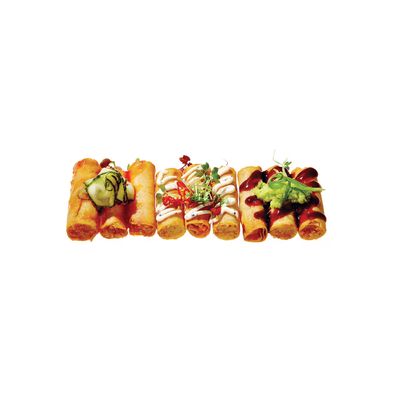 From left, sets of pork, mushroom, and Peking duck lumpia from Lumpia Shack Snackbar.
Photo: Bobby Doherty/New York Magazine
Keen observers of culinary trends might have noticed the signs: the photos of sizzling sisig showing up in Instagram feeds; the 2012 declaration from Bizarre Foods host Andrew Zimmern that Filipino food is "the next big thing"; the Smorgasburg stands and underground-supper-club dinners serving cuisine from the Philippines.
It seems New Yorkers are finally ready for Filipino food, which has long languished in the shadow of Thai, Indian, Chinese, and other Asian standbys. Once, the restaurants that did open here—in places where the expat community lived (Woodside), worked (Manhattan's East Side hospital corridor, a result of heavy health-care-industry recruitment), or docked (Red Hook, where the short-lived Philly Pinoy catered to crew arriving at the Brooklyn Cruise Terminal)—flew mostly under the radar of non-Pinoys (i.e., Filipinos).
Granted, mainstream America might consider the cuisine an acquired taste. "Most of the things we liked about it were stinky, saucy, and sour," says Amy Besa, who, with her husband, Romy Dorotan, opened the pioneering, contemporary Filipino-centric Cendrillon in Soho in 1995. By the time the couple relocated to Ditmas Park, where they opened Purple Yam in 2009, they had company: King Phojanakong, whose Kuma Inn and Umi Nom display the chef's Thai and Filipino ancestry; those restaurants were soon joined by Maharlika, whose owners present traditional foods in stylishly hip East Village surroundings. (The community might be small, but it's tightly knit; many of these restaurateurs have jointly organized benefits and fund-raisers in the aftermath of Typhoon Haiyan.)
It's possible that Filipino food has struggled to define itself precisely because it's inherently a fusion of culinary influences, both familiar and exotic: Chinese (pancit, or noodles; soy sauce), Spanish (pork; the tapas tradition), and native Pacific Islander (roots and tubers) among them. And in many cases, New York chefs have gone one step further, sneaking in Filipino staples alongside other Asian or even Western fare. If you have yet to acquaint yourself with the characteristically tart, sour, and fermented flavor palate, now's the time. Here, the latest wave of Filipino chefs and restaurants to bring New York their versions, interpretive or traditional, of the perpetual next "next big thing."
Vekslers
521 Hicks St., at Degraw St., Cobble Hill; 718-534-5498
Half-Filipino chef Joe Bayley, who has worked with Purple Yam's Dorotan, describes this restaurant as a gastropub amalgam of Filipino and Spanish cuisine with a Russian name. Dishes like garlic rice and egg with longaniza, an often sweet Spanish sausage commonly used in Pinoy cooking, reflect Bayley's heritage; in recent months, he's served lobster rolls on pan de sal, which he calls the "Wonder Bread of the Philippines."
Pig and Khao
68 Clinton St., nr. Rivington St.; 212-920-4485
The happily irreverent menu blends primarily Filipino and Thai influences, inspired by chef Leah Cohen's Southeast Asian travels and her Filipina mother. This leads to such mouthwatering juxtapositions as a crispy-pata (pig trotter) plate with pickled green mango next to Thai-style massaman-curry lamb's neck next to Chinese sausage.
Lumpia Shack Snackbar
50 Greenwich Ave., nr. Perry St.; no phone yet; opening soon
Neil Syham and Angie Roca, the couple behind Smorgasburg's Lumpia
Shack and Adobo Shack, will open a West Village shop selling various lumpia,
the savory spring rolls that express the Chinese influence on Filipino food, plus the shaved-ice dessert halo-halo and adobo baboy, pork belly with garlic rice and greens.
Papa's Kitchen
65-40 Woodside Ave., Woodside; 347-724-9586
Woodside has for decades been home to Filipino bakeries, restaurants, and groceries like Phil-Am Food Mart and continues to welcome new ventures, like a branch of fast-food chain Jollibee or this cozy newcomer. It attracts a dedicated crowd for its karaoke sing-alongs and its traditional—and affordable—plates like palabok (rice noodles with a shrimp sauce) and kaldereta, or beef stew.
Talde
369 Seventh Ave., at 11th St., Park Slope; 347-916-0031
First-generation Filipino-American chef Dale Talde has found such success with this Asian-American hit that he and his partners plan to open a Jersey City branch next year. The chef is known for concocting dishes that often buck tradition for what tastes best—and is fun. (See halo-halo topped with Cap'n Crunch cereal instead of traditional pinipig, or pounded rice.)
Pan de Sal
245 E. 21st St., at Second Ave.; 212-228-8273
This Gramercy bakery is named for the de rigueur rolls served in the Philippines at most every meal. Try them for $2.50 apiece with a variety of fillings: corned beef, chicken adobo, tuna, serrano ham, and spicy sardines. Although the owners also operate the nearby Filipino restaurant Grill 21, here the emphasis is on Western cakes and pastries, with only the subtlest Pinoy flavor.
Maharlika
111 First Ave., nr. 7th St. 646-392-7880
A team of restaurant-industry vets launched the business as a floating brunch pop-up in 2011; it morphed into a Dekalb Market stand and finally this brick-and-mortar East Village location. Co-owner Nicole Ponseca, who envisioned the place as "a gateway restaurant" for those new to her ancestral cuisine, spent months with her chef, Miguel Trinidad, traveling the Philippines, learning recipes from lolas, or grandmothers, that they later reinterpreted, like the restaurant's popular sizzling sisig.
Ugly Kitchen
103 First Ave., nr. 6th St.; 212-777-6677
An often raucous crowd is helped into that state by hyperboozy Filipino drinks like the Weng Weng (similar to the Long Island Iced Tea) and San Miguel (the ubiquitous beer of the Philippines); to soak all that up, the Filipino chef, Aris Tuazon (formerly of popular Pinoy spot Krystal's Cafe, which recently reopened around the corner), serves an Asian-fusion menu including such dishes as tapsilog (a combo plate of sorts, with steak, eggs, and garlic rice) and lechon kawali (deep-fried pork belly).
Jeepney
201 First Ave., nr. 12th St.; 212-533-4121
Maharlika's younger sister draws inspiration from the exuberantly decorated, brightly colored public buses of the Philippines; it's Mission Chinese's Filipino equivalent in terms of a fun and lively ambience. Many dishes at this gastropub are playful updates of classic Filipino foods: Longaniza sausage is served on a hot-dog bun with bagoong (fermented-fish condiment) mayonnaise.
*This article originally appeared in the December 16, 2013 issue of New York Magazine.