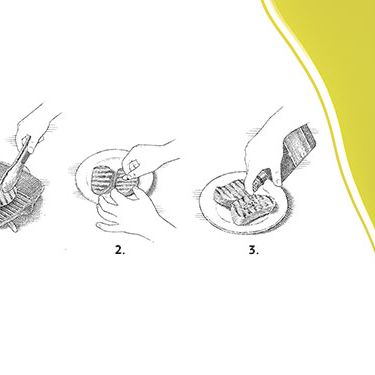 Photo: Bobby Doherty/New York Magazine; Illustrations by John Burgoyne
Making fettunta is the traditional way for Tuscan olive growers to show off the quality of their new-harvest olive oil, or olio nuovo. Like any other fruit, olives have a season, which in Italy typically begins in October or November. And the first, fresh-off-the-presses oil made from olives at this time of year yields the most flavorful results—bright and lush and exceptionally fragrant, not to mention expensive. Look for bottles that read "2013 harvest" on the label at shops like Bklyn Larder in Park Slope. Then drizzle the stuff unstintingly over grilled and garlic-rubbed bread. According to fettunta aficionados, if your chin isn't slicked with oil after eating a slice, you're not doing it right.
Fettunta
4 slices of rustic country bread such as Sullivan St Bakery's truccione saré, about 3/4-inch thick
2 cloves garlic
Olio nuovo extra-virgin olive oil
Sea salt to taste
(1) Toast both sides of the bread on a grill or grill pan (and under a weight if necessary). (2) Slice off a bit of one end of each of the garlic cloves, and vigorously rub the exposed side over each slice of bread. (3) Generously drizzle each slice with olive oil, and sprinkle with sea salt. Serves 2.
*This article originally appeared in the December 16, 2013 issue of New York Magazine.