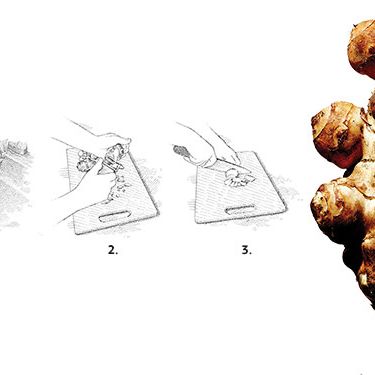 Photo: Bobby Doherty/New York Magazine; Illustrations by John Burgoyne
The incredibly versatile sunchoke, otherwise known as the Jerusalem artichoke, can be roasted, steamed, sliced thin and deep-fried, or eaten raw in salads. (But don't confuse it with an actual artichoke; the plant is a variety of sunflower.) The gnarled tuber is nutty and sweet—two traits that serve it well in this creamy soup, a recipe that won its creator, Taïm and Balaboosta chef Einat Admony, a trophy in a cooking contest.
Einat Admony's Sunchoke Soup With Crispy Chestnuts
2 pounds sunchokes
2 tbs. unsalted butter
3 tbs. canola oil
1 medium yellow onion, coarsely chopped
1 leek, white parts only, finely chopped
2 garlic cloves, coarsely chopped
1 medium carrot, cut in half
2 fresh thyme sprigs
1 1/2 tbs. kosher salt
1/4 tsp. freshly ground black pepper
1/4 cup dry white wine
2 cups whole milk
2 cups water
5 chestnuts, coarsely chopped
2 tablespoons heavy cream
(1) Scrub the sunchokes to clean thoroughly. (2) Peel them with a vegetable peeler, (3) then coarsely chop. Melt the butter with 1 tablespoon of the canola oil in a medium pot over medium-high heat. Add the onion and leek, and sauté until soft, about 5 minutes. Add the garlic, carrot, sunchokes, and thyme, and season with the salt and pepper. Sauté the vegetables until soft and fragrant, about 10 minutes. Add the white wine, and deglaze the pot. Reduce until about half, then add the milk and water. Lower the heat, and simmer for 30 to 45 minutes. While the soup is simmering, heat a small skillet with the remaining 2 tablespoons oil and fry the chestnuts until crispy, about 3 minutes. Drain them on paper towels, and set aside. Remove the soup from the heat, and allow to cool for 20 minutes. Discard the carrots and thyme. Place the sunchoke soup and heavy cream in a blender, and purée until smooth. Adjust the seasonings if needed. Reheat the soup over medium heat, and serve with the crispy chestnuts on top. Serves 3 to 4. Adapted from Balaboosta, by Einat Admony (Artisan; $29.95).
*This article originally appeared in the December 23, 2013 issue of New York Magazine.