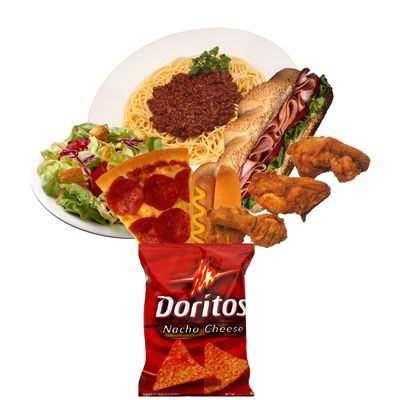 There's some Passion Fruit Frenzy in there, too.
Apparently PepsiCo, which owns Doritos-maker Frito-Lay, isn't even thinking of stopping with its ultra-successful Doritos Locos Tacos at Taco Bell. Instead, the Associated Press reports, the corporation has struck up a deal with Buffalo Wild Wings on a forthcoming line of "unique menu offerings" for the chain. What's more, Doritos-themed pies and pastas are probably going to colonize the menu at Pizza Hut, which is owned by Taco Bell operator Yum! Brands. Here's the best part: Because the tortilla-chip company is owned by PepsiCo, the floodgates of soda saucery will soon be thrown open with "salad dressings and sandwich and chicken wing sauces that incorporate PepsiCo's sodas, including Mountain Dew." Soon, it seems, "doing the Dew" may not be a choice.
Is moving the soda out of the fountain and into the kitchen just a clever way for the companies to thrive and get around all those pesky soft-drink bans and taxes popping up around the country? What would a soda-pumped and Doritofied fast-food future look like, anyhow? There are, after all, scores of nacho-related flavors, dozens of Pepsi varieties, and a sizable back catalogue of Mountain Dew releases. Here are some educated guesses about what all this will look like, based on the aforementioned flavors and what's already out there on Pizza Hut and Buffalo Wild Wings menus.*
Starters and Sides
Doritos Burn Coleslaw
Pepsi Jazz Bread Sticks
Doritos Salsa! Veggie Boat
Doritos Salsa! Accursed Veggie Boat of No Return
Mountain Dew Energized Hot-Dog Slammers
Mountain Dew Hexed & Stuffed Pizza Rollers
Doritos Cool-Ranch-Agitated Coleslaw
Doritos Stadium Nacho Inspired by EA Madden NFL 11 Potato Wedges
Doritos Mutually Assured Destruction Mini-Corn Dogs

Salads
Doritos All-Nighter Side Salad
Mountain Dew Passion-Fruit Frenzy Salad*

Mains
Doritos Four-Cheese Penne Bake
Pepsi Infamous Chicken Flatbread
Mountain Dew Supernova Three-Cheese, Stuffed-Crust Pizza
Pizza Hut Spaghetti With Meaty Pepsi Throwback Sauce
Doritos Ketchup Supreme Pizza
Christmas Pepsi Tuscani Meaty Marinara
Doritos Collisions Cheesy Asian Zing Chicken Salad
Pepsi Derelict Hot Dog Slammers
Pepsi Pink-Pepperoni P-Zone Pizza
Doritos Most-Dangerous-Game Chicken Wrap
Pepsi Raging Razzberry Hand-Tossed Cheese Pizza
Baja Blast Mountain Dew Black Forest Ham and Cheese Sandwich
Doritos First-Degree-Burn Screamin'-Loudly Nacho Burger
Doritos Flagrante Delicto Steak and Cheese Hoagie
Mountain Dew Adrenaline Fish Tacos
Doritos Disheveled and Broken-up Ribs & More Ribs
Ultimate Cheese Lover's Pizza With Mountain Dew Red Alfredo
Mountain Dew Recluse Build-Your-Own Damn Crispy Chicken
Doritos Second-Degree-Ouch-It-Burns Fiery Buffalo Molten Dip

Dessert
Caffeine-Free Hershey's Chocolate Pepsi Dunkers

Are more Dorito-flavored foods on the way? [AP]
*We actually have no idea what we're talking about.
*Served with brominated-vegetable-oil vinaigrette.