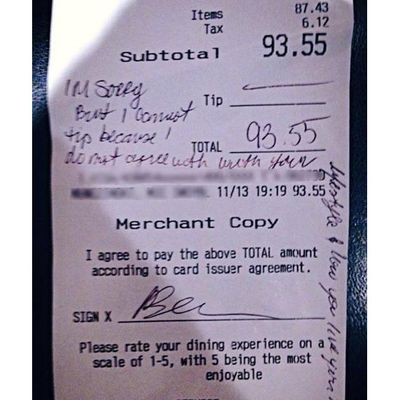 The receipt in question.
Photo: Facebook/Have A Gay Day
Dayna Morales, the server who won loads of sympathy (and some charity-bound cash-money tips) over allegedly being refused a tip because of her lesbian lifestyle, has been temporarily suspended by Gallop Asian Bistro, the scene of the crime, pending some sort of internal investigation. Several people, including the restaurant customers in question, claim the whole thing is a hoax and Morales doctored the receipt, possibly to garner sympathy. "Ms. Morales is currently not on our employee schedule while are still working to complete our investigation," the restaurant posted to Facebook over the weekend, and meanwhile, it seems everyone wants in on the Case of the Homophobic Receipt, too, as colleagues and friends emerge from the woodwork to suggest this wasn't an isolated incident.
Morales is in fact a Marine Corps veteran, as she claims, but was reportedly dishonorably discharged from service and never saw combat in either Iran or Afghanistan, where she claimed her entire platoon had been wiped out in an explosion. Another source says she was discharged for skipping drills, while yet another coworker has come forward to say Morales claimed she had brain cancer following an episode in which she shaved her head while on the job at the Cheesecake Factory.
Meanwhile, perhaps because they have nothing better to do, irate Facebook users are not only calling for Morales to be fired, but, in turns, for Morales's father's photography business to be boycotted ("The apple doesn't fall far from the tree and this loser supported her lies so he should be punished also") and the restaurant's bookkeeper to be fired ("Your accountant must be really inept for it to take this long"), along with the restaurant's general manager ("You lying sacks!"), other management ("Fire your slow-ass investigators"), and even its absentee owners ("They own numerous gas stations and other businesses"), all of which sounds about right for an incident that took place in the improbably narrow Venn diagram shared space that exists between the subjects of homophobia, patriotism, Asian-fusion cuisine, terminal brain cancer, and, of course, the Cheesecake Factory. We hope it all gets wrapped up by the end of the week.

Dayna Morales Suspended from Bridgewater Restaurant [NJ 101.5]
Waitress in Anti-Gay Note Dispute Was Dishonorably Discharged From Marines: Source [NBC]
Waitress in tip tale, a former Stony Point resident, 'lies about everything,' ex-coworkers, friends say [LoHud]
Earlier: Customers Accused of Anti-Gay Receipt Commentary Say It's a Hoax
Earlier: Family Refuses to Tip Restaurant Server With Offensive Gay 'Lifestyle'