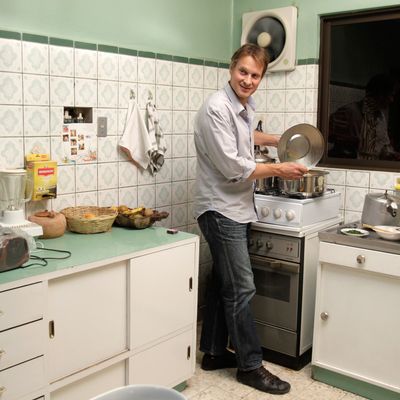 Meyer, just cooking some falso conejo in Bolivia, in 2011, where he now owns a restaurant called Gustu.
Photo: David Mercado/Reuters/Corbis
Former Time Out critic Jay Cheshes profiles Claus Meyer, who co-founded Noma with René Redzepi, for the December Holiday issue of WSJ. Magazine. The chef, who had a thriving career as a celebrity chef and cookbook-writer long before spearheading what would go onto become one of the world's most acclaimed restaurants, talks about growing up during "one of the darkest periods of Danish food history," in which tinned meats and frozen greens were a staple on dinner tables throughout the land. Meyer's role in creating "new Nordic" cuisine is always fascinating, but predictably, it's the parts about the friction with Redzepi here that are most interesting.
At the same time Redzepi brought on U.S.-based investor Marc Blazer into the fold earlier this year, the acclaimed chef also bought out the majority of ownership at Noma from original partners Meyer and Kristian Byrge. It turns out that before the deal was signed, the transaction almost killed the restaurant completely, according to Redzepi.
Things had become so strained between the two cofounders that, a few months ago, Redzepi threatened to walk out of the restaurant. As the chef himself tells me, 'I said, "'It's you or me, Claus.'" The two had been at odds for years, bickering about small things. Redzepi says his old partner had been trying to hijack the Noma brand. "I said to Claus, 'You cannot associate Noma with your places,'" he says, "'Noma is totally different, totally independent, you cannot go out and use it in your world.'" He now rejects Meyer's manifesto as a public-relations stunt that never had any influence on his cuisine.
"For René's growth and Noma's growth I had to kind of write myself out of the story," Meyer tells the magazine, adding that while the pair won't likely work together in the future on anything branded with the Noma name, he says that "nobody can prevent me from giving my knowledge away — what I learned from creating Noma and the Nordic cuisine movement."
To that end, it's not all that surprising that Meyer, who launched a restaurant in Bolivia last summer and followed that up with a huge new bar, restaurant, and jazz club complex in Copenhagen called the Standard in October, is planning even more projects. Cheshes says he's working to open a "new Nordic food emporium" in New York City next year, but there are no more details. But because the Danish chef already has his name on various lines of jams, coffee, vinegar, and more back home, we're going to guess it'll happen sooner rather than later.

Claus Meyer's Food Empire [WSJ. Magazine]