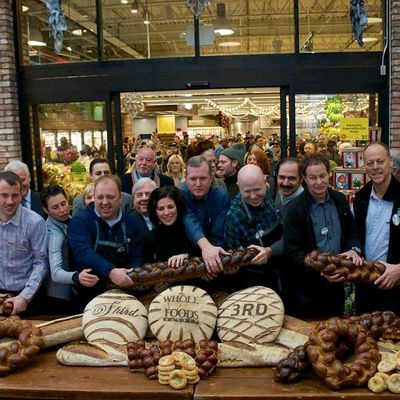 All that bread symbolizes the cash this place is going to make.
Photo: Courtesy of Whole Foods
Earlier today, amid snowy, blustery weather and bone-chilling temperatures, Whole Foods finally opened its long-awaited superstore along the Gowanus Canal. It's been years in the making and the shop is sure to be a hit. But wait: Another international chain opened its own long-in-development location in a major metropolitan area mere weeks ago, when Chicago got its very own Eataly. The timing might be largely coincidental, but New Yorkers and Chicagoans have long been known to argue over whose city has the best food. In turn, it stands to reason that residents of each city would also want to know who has the superior brand-new megamart. And so Grub Street must rank these shops in thirteen crucial categories to determine just which store is truly best. Here goes.
What's the Vibe?
Whole Foods: Brooklyn Artisanalism, handcrafted into an enormous store from an international chain.
Eataly: Italian Artisanalism, grande.
Advantage: Eataly
As a sales concept, "gourmet Italian" has proven longevity. The Brooklyn thing could end up being less durable. In ten years, it's possible we're all going to think back and be like, Wow, we used to care a lot about pickles, huh?
Who Will Shop There?
Whole Foods: Brooklyn breeders.
Eataly: Midwestern tourists.
Advantage: Whole Foods
No matter how you feel about Carroll Gardens yuppies, they are preferable to tourists from Wisconsin.
Just How Gigantic Is It?
Whole Foods: This baby is 56,000 square feet. According to the fact sheet, it's got 240 parking spaces, a 20,000-square-foot roof greenhouse, a record store, its own knife-sharpening service, and two separate car-charging stations.
Eataly: Eataly clocks in at 63,000 square feet. It's two floors and contains 23 separate mini-restaurants.
Advantage: Whole Foods
Yeah, Eataly's says it's a little bigger, but space is at a premium in the Northeast.
Is the store dedicated to Ernest Hemingway?
Whole Foods: It is not.
Eataly: According to the homepage, yes!
Advantage: Eataly
Grub Street will always support a random Papa shout-out.
Will Your Food Cost a Little Too Much?
Whole Foods: Yep.
Eataly: Certainly.
Advantage: Draw
This is a given.
Key Features
Whole Foods: A new Yuji Ramen, a juice bar, a rooftop restaurant, and beer bar, an on-site heat-and-power plant, knife-sharpening services, and there's a record store.
Eataly: Where to start? Eataly's got a Spanish wood-burning oven, a wine shop, a bookstore, tons of beer, and more cured meats and cheeses than most actual Italian villages.
Advantage: Eataly
Like New York needs another juice bar.
Is There a Nutella Bar?
Whole Foods: Nope.
Eataly: Yep.
Advantage: Whole Foods
Surprise! Yes, a Nutella bar is nice, but one Chicago writer compared the bar's line to the DMV. Non buono, Eataly.
Does the Store Somehow Symbolize One Area's Gentrification?
Whole Foods: You betcha. Whole Foods is smack in the middle of one of Brooklyn's most rapidly gentrifying areas. People moving here don't even seem to care that the dolphin-killing Gowanus Canal, which cuts right through the neighborhood, is one of the country's filthiest bodies of sludge.
Eataly: No. Eataly's space used to be an ESPN Zone.
Advantage: Eataly
A giant gourmet superstore is definitely an improvement over ESPN.
Which Celebrity Chefs are Affiliated?
Whole Foods: The Yuji ramen guy is sort of famous.
Eataly: Mario Batali and his buddy Joe Bastianich, of course.
Advantage: Whole Foods
Americans love Mario, but no grocery store really needs its own celebrity-chef owner.
Most Inane Line from the Corporate Mission Statement
Whole Foods: "We encourage our Team Members to connect with our Core Values on a personal level …"
Eataly: "What you choose every day determines what we'll stock on our shelves over time."
Advantage: Whole Foods
It's not interesting that you'll restock items when people buy them, Eataly. That's how literally every store works.
Are the Locals Excited?
Whole Foods: If you live in the area, sure. If you live in another part of Brooklyn, or any other borough, this probably doesn't seem like a big deal.
Eataly: Oh, man, are they ever. Eataly says 120,000 people showed up during the store's first week. The store had to unexpectedly shut down during its second week just to catch up with the demand.
Advantage: Whole Foods
Get a grip, Chicago. It's like you've never seen mozzarella before.
Will the Store Still Have Cachet in Six Months?
Whole Foods: Probably not. At that point it will be just another Whole Foods.
Eataly: As New York's Eataly has proven, the crowds will probably never die down.
Advantage: Eataly
Seriously, have you been to Eataly New York lately? It's just as packed as the day it opened.
What Are the Chain's Next Moves?
Whole Foods: Opening in Bryant Park.
Eataly: Eataly reportedly has at least tentative plans to open stores in Los Angeles, Philly, Washington, D.C., Toronto, and Brazil.
Advantage: Eataly
The park's ice rink is nice, but this one's no contest.
The Final Verdict: It's a tie at six apiece. What's a confused shopper to do? Grub's suggestion is to maybe just go to a farmers' market or a local butcher instead.