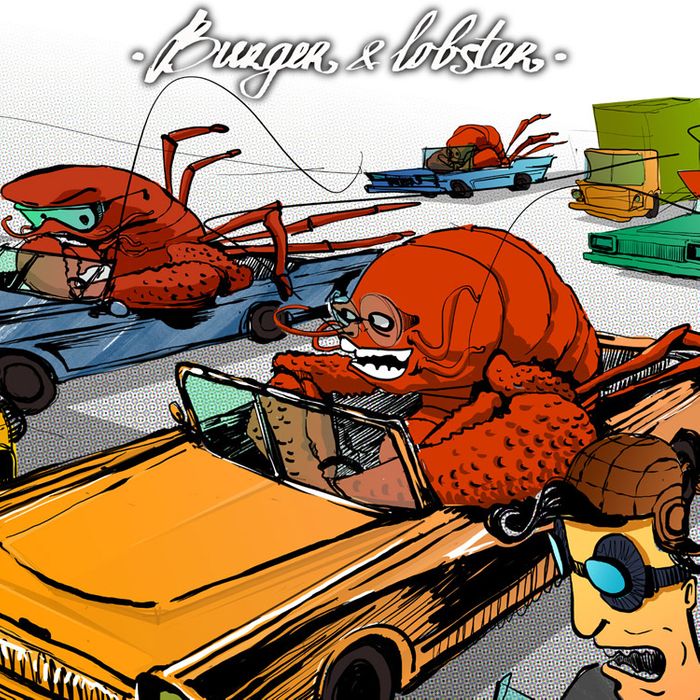 Never let the lobster drive the Coupe de Ville.
Photo: Burger and Lobster
One would think that New York has a surfeit of hamburger sellers and a good amount of lobster-roll vendors, but the idea behind the incoming restaurant Burger and Lobster, which combines the two under one roof, is a little different: Both items sell, along with steamed or grilled lobster, for the same flat price of £20 ($32). There are wine and cocktails, but otherwise, that's it — just three items on the menu.
Granted, the gluten averse can get their burger cupped inside iceberg lettuce instead of a bun, French fries come with all three options, along with a salad, and there are other bells and whistles — wasabi mayo, add-on rashers of bacon — though, basically, it's straightforward. The chain makes no extraordinary claims about its crustaceans, other than they're fresh, and there's no deep umami, science-y background to the ground beef. Impressed yet? How about if you knew that the lines outside the London branches (five in all, one more just announced) typically run dozens deep?
The expanding mini-chain is hugely, massively popular in London, long lines and all, and is now planning a 7,000-square-foot branch for Flatiron, at 39 West 19th Street. Burger and Lobster is Russian-owned, and DNAInfo reports that partner Vladimir Borodin outlined operational plans at a CB5 Manhattan meeting last month. The good news: In New York, menu items will sell for the low, low price of $20. In all, even with sides, that seems a little high for a lobster roll, somewhat low for a steamed lobster dinner, and maybe pretty decent for a burger, especially one that's ten ounces.
As Burger and Lobster has grown across the pond, subsequent outposts have debuted with tweaks to the format and service: Some branches allow guests to pick out their own lobsters, family-restaurant style, from a dining room tank, which may be stocked with specimens up to ten pounds. Some of the London restaurants accept advance bookings, but there's no word yet on whether the bi-level space will accept reservations once open. Or whether or not New Yorkers will go for a bright new place that combines three of its most perpetually popular foods.
Burger and Lobster is slated to open in August of 2014.

London Burger and Lobster Chain Plans First City Outpost in Flatiron [DNAInfo]