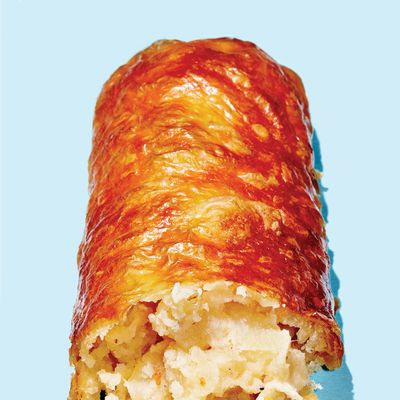 Photo: Bobby Doherty/New York Magazine
With the great Fried Knish Shortage of 2013 still upon us (thanks to the factory fire at major supplier Gabila's in Copiague), and with demand for Cronuts as high as ever, Bubby's
Ron Silver could not have picked a better time to unleash the Cr'nish ($4 at Bubby's High Line, 73 Gansevoort St., nr. Washington St.; 212-206-6200). What is a Cr'nish, you say? It's smashed potatoes mingled with caramelized onions, wrapped in buttery croissant dough and baked to a golden brown. Think Ceci-Cela meets Yonah Schimmel. And think of the possibilities: Silver's already talking pulled-pork and pastrami Reuben Cr'nishes down the line.
*This article originally appeared in the December 9, 2013 issue of New York Magazine.