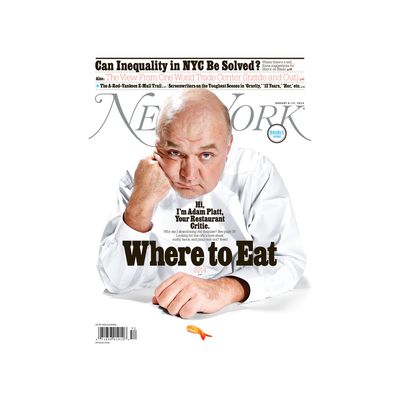 He just looks grumpy.
Photo: New York Magazine
For his annual and sprawling "Where to Eat" guide to city eateries, Adam Platt begins by dropping the critic disguise, and along with that, the associated, outdated pretense of being an anonymous customer who slips in and out of dining rooms uptown and downtown like some kind of secret agent. "Starting with this issue," he writes in New York, "I would like readers to know what restaurateurs around town have known for years. Adam Platt is a tall, top-heavy, round-faced gentleman who often dresses for dinner in the same dark, boxy, sauce-stained coat he bought off the rack at Rochester Big & Tall thirteen years ago."
For better or worse, he writes, the food world has been offset with a "riotous democracy of chattering TV judges, glorified restaurant bars, and tattooed comfort-food cooks," and "much of this old magic" of the old-school critic world has vanished. It's not that he believes food criticism is dead; it's just changing. Read all about that here.
Meanwhile, getting down to business, Platt goes on trend watch, remarking on how very large cuts of meat have supplanted enormous bowls of pasta at Italian restaurants, on why a bumper crop of sushi counters means there's never been a better time to get Tsukiji-quality raw fish in the East and West Village, and what's up, exactly, with all those newfangled tacos. There's even an endearing section of picks from Mrs. Platt and the kids, including a shout-out to the stellar midtown Ippudo, where the noodles are made in-house, and a thoughtful aside that praises desserts and pastries that perhaps ought to be just as famous as the Cronut.
Remarking on how the traditional bar food menu has been refined into something else entirely and centered on the dining room, Platt writes that Daniel Burns's cooking at Luksus in Greenpoint stands out, along with the West 26th Street one-two punch of Hanjan and Maysville, two very different drink-oriented restaurants redeeming one Flatiron block. In Brooklyn, the critic notices chefs at restaurants like the newly opened Dover and the Elm are perfecting a "new-Brooklyn big-box style" dining room, informed in part by fine-dining menus and old-fashioned outer-borough rule-breaking. "Order anything the peripatetic, ex-Manhattan chef cooks in a Le Creuset pot," Platt writes of the Elm's Paul Liebrandt.
While the way Platt sees the world of restaurant criticism — not to mention the way the restaurant world sees Platt — may be changing, the food is only getting better. Check it all out, starting here.
Hi, I'm Adam Platt, Your Restaurant Critic [New York]
Adam Platt's Where to Eat 2014 [New York]