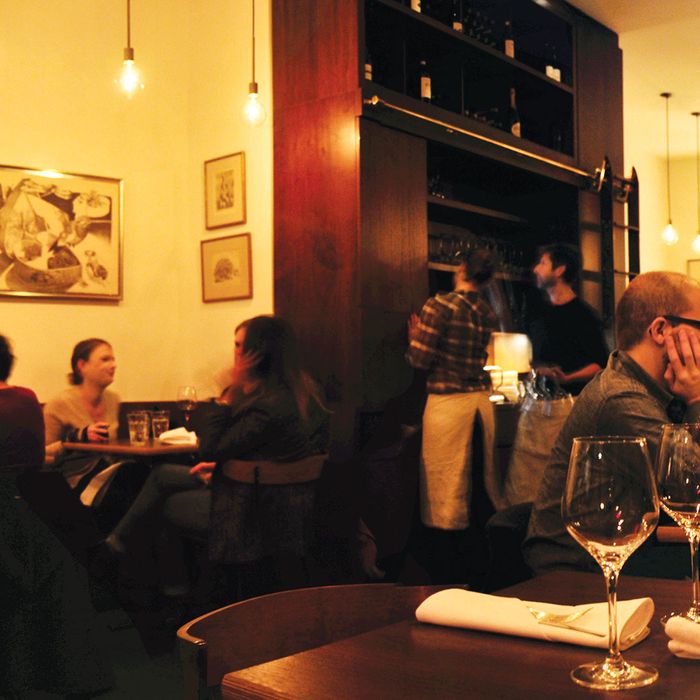 Marco's
Photo: Sarah Silberg/New York Magazine
By now, the star trajectory of the Manhattan food demigod is well established: hit it big in an obscure restaurant, hastily publish a glossy cookbook (or three), take a few bows on TV, then open other larger, more prominent establishments as quickly as possible in order to monetize your fame. In neighborly, brownstone Brooklyn, however, things tend to move at a more leisurely pace. Francine Stephens and Andrew Feinberg opened their seminal "new Brooklyn" pizzeria, Franny's, in a storefront space on Flatbush Avenue way back in 2004. As news of the excellence of their wood-fired pizza and market-driven pastas spread far and wide, they continued, well, to make more pizzas. Eventually, they opened a shop across the street (Bklyn Larder). They published their first cookbook just this year (with a foreword by Alice Waters), and now, after nearly a decade of success, they've finally gotten around to opening another restaurant.
To be fair, Stephens and Feinberg have actually opened two new restaurants this year. The original Franny's has moved several blocks up Flatbush, to a larger, more polished, more user-friendly space, complete with lunchtime service, a busy pizza-to-go operation, two state-of-the-art wood-fired pizza ovens (instead of one), and an expanded drinks program. The new Franny's now takes reservations for large groups, and there's also an online shop, selling Franny's baseball caps, NPR-style Franny's tote bags, and even Franny's hoodies. The snug former Franny's space has been remodeled and is now home to a slightly more ambitious Italian trattoria called Marco's. There's no pizza at this new operation, but if you're one of the old Park Slope devotees who consider the new Franny's to be a little more hectic and impersonal than the original, you may think you've died and gone to restaurant heaven.
At least that's how several of the card-carrying Brooklynites at my table looked as they happily studied their menus in the cozy gloom of Marco's unassuming dining room. In the tradition of fine-dining establishments all over Kings County, there's a minimum of artifice on the walls. The lighting emanating from the filament bulbs overhead is dim, bordering on gray, and the old Franny's café furniture has been cleared away and replaced with sturdy brown tables that look like they've been lifted from the parlor of someone's ancient brownstone. The Italian, non-red-sauce menu is printed on brown paper and can be difficult to decipher without the help of a miner's lamp. But once you've acclimated yourself to the local conditions, you quickly see that it's compact and to the point, and that almost everything on the menu looks like something you'd want to eat.
It helps, of course, if you enjoy classic rustico favorites like spindles of charred duck gizzards drizzled with balsamic, and toasty "spiedino alla Romana" sandwiches stuffed the way the Romans like them, with melted mozzarella and a single salty anchovy. Instead of the usual tired assemblage of unripe, over-garlicky tomatoes and olive oil, the bruschetta here is made with an edifying mix of Mars grapes and sautéed escarole and sprinkled with shavings of Piave cheese. The fat Maine oysters are grilled over wood embers and dressed with a simple tomato confit, the way you think maybe you tasted them once, a long time ago, in a precariously situated village along the Amalfi Coast. The best of the pastas have a similarly unadorned, primary quality to them, in particular the agnolotti (filled with Fontina) and the eggy tagliatelle, which is tossed with nothing but butter, Parmesan, and chewy shreds of Gran Riserva prosciutto di Parma.
The man in the kitchen at Marco's is a former Ducasse chef named Danny Amend, and like the other cooks in the slowly expanding Franny's empire, he has a knack for imbuing these traditional home-style recipes with first-class gourmet technique. My helping of pork loin was spit-roasted to a crispy-edged pinkness and splashed with a tangy, well-balanced white-wine sauce, and if you want to know exactly how the Venetians like their calamari, order the squid, which is slow-cooked in white wine, fennel, and garlic and poured around a triangle of polenta. My brother couldn't stop yammering about the ethereal qualities of his wood-fired swordfish (with radishes and a scattering of currants and fat golden raisins), but if you get just one dish from the wood oven, I suggest the even more ethereal lamb chops scottadito, which are served three to a plate, over a wedge of country toast.
I'm not normally in favor of inflating a restaurant tab with superfluous side-dish add-ons, but I couldn't resist the bowl of Carolina rice (folded with brown butter and a touch of vinegar) as it was passed around the table family style, or the fluffy, sweet onion sformato, which the kitchen cuts with gently tangy shallots agrodolce. If you have the resources and the knowledge, you can get lost in the outsize wine list, which features interesting selections from all the great wine-producing regions of Italy, including at least 85 bottles of reds alone. You can also get lost in the homey desserts, like pots of custard laced with honey, and steamy helpings of baked quince. Pay special attention, if you still have the energy, to the cakes and crostatas (the peach crostata, and the taragna cake made with polenta and buckwheat), which taste like they've been transported directly from some fragrant kitchen in the Veneto.

Marco's
295 Flatbush Ave., nr. Prospect Pl., Prospect Heights; 718-230-0427;
marcosbrooklyn.com
Hours: Dinner Monday through Thursday 5:30 to 11 p.m., Friday and Saturday until 11:30 p.m., Sunday until 10 p.m. Lunch Saturday and Sunday noon to 2:30 p.m.
Prices: Appetizers, $4 to $16; entrées, $13 to $30.
Ideal Meal: Oysters, spiedino, tagliatelle with prosciutto di Parma, lamb chops scottadito, taragna cake served with fig marmellata and whipped crème fraîche.
Note: This former no-reservations joint now takes them for parties of up to eight.
Scratchpad: The ambience is perhaps a little too old-school Brooklyn, but we'll give one star for the antipasti and primi portions of the menu, one star for the entrées, and another for the wines and dessert.
*This article originally appeared in the December 9, 2013 issue of New York Magazine.