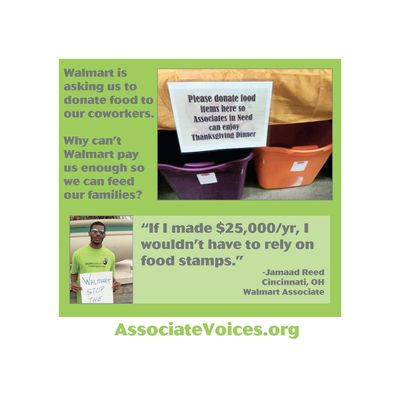 Nonperishables only, please.
Photo: Courtesy of Organization United for Respect
Several advocacy groups are today pointing to a photo taken at the scene of a Cleveland-area Walmart in-house food drive as a clear indication that Walmart isn't paying its associates enough money. "Please Donate Food Items Here, so Associates in Need Can Enjoy Thanksgiving Dinner," the sign reads. "The company needs to stand up and give them their 40 hours and a living wage, so they don't have to worry about whether they can afford Thanksgiving," says an OUR Walmart organizer.
Meanwhile, a corporate spokesperson says the sign just proves the strength and power of the "company's culture to rally around associates and take care of them when they face extreme hardships." Bill Simon, who serves as president and CEO of Walmart, recently disclosed that most of the chain's 1 million-strong workforce makes less than $25,000 per year, a figure that's precariously close to the federal poverty guideline of $23,500 a year for a family of four.
Is Walmart's request of associates to help provide Thanksgiving dinner for co-workers proof of low wages? [Sun News]
Walmart Holding Canned Food Drive For Its Own Underpaid Employees [Think Progress]
Here's How You Know Wages Are Too Low [Slate]