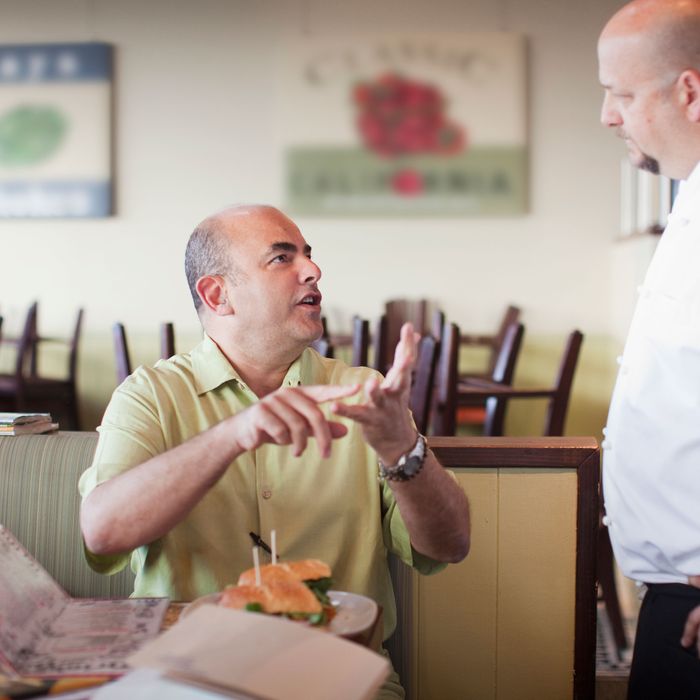 Seriously, how close is this guy at the table to a knuckle sandwich?
Photo: Ronnie Kaufman/Larry Hirshowitz/Corbis
Two servers in Montreal have boldly taken a list of twenty job-related gripes and grievances straight to the pages of the Montreal Gazette, and though they claim they enjoy their profession (item No. 18, "No, I'm not a student, and, yes, this is my real job"), it's somewhat hard to believe them given the sheer number of things that piss them off. In short: Your questions are stupid, your jokes are not funny, your kids are annoying, and if you're vegan, you should have "stayed home."
Get ready to have all the illusions behind the ritual that is the server-client relationship shattered. That old standby of handing an empty, licked-clean plate to the waiter and saying you hated the food? "We hear these jokes multiple times a week, and every time that we have to pretend to laugh at them a piece of our soul dies." Also, servers don't want to be in on your nervous French-fry-ordering behavior strategies. "Why do women always laugh when they order fries?" they ask. "Guilt? We both know that you're going to order them. No need to laugh."
We're all for tipping your servers and being respectful diners. But just so you know, these guys are acting all hurt after years of abuse. They don't want to give you a doggie bag. They don't have a booth to offer you. They can't stand you coming in ten minutes before closing time, and they're just not going to respond well if you snap your fingers to get their attention (well, that's just inhumane).
The servers write that they don't even want to offer their opinion on the dishes. They want you to read the menu carefully. But since the waiter knows the food so well, why wouldn't a patron ask for advice when ordering? And why would a restaurant professional even talk about a mistakenly ordered entrée in terms of whose "fault" it is (No. 5 on the list)? Isn't dealing with mistakes with grace part of what service is all about?
Anyhow, no matter. To make these Montreal-area restaurant servers happy, just come in and sit down (that is, once the hostess says it's okay), shut up, and be out in 30 minutes. And whatever you do, don't open your mouth. Oh, wait, we've got the perfect job for these guys — the restaurant where no one says a word.
Waiters' top 20 ways to not be a horrible restaurant customer [Montreal Gazette]
Related: Gag Order: What It's Like to Eat a Totally Silent Dinner at a Restaurant