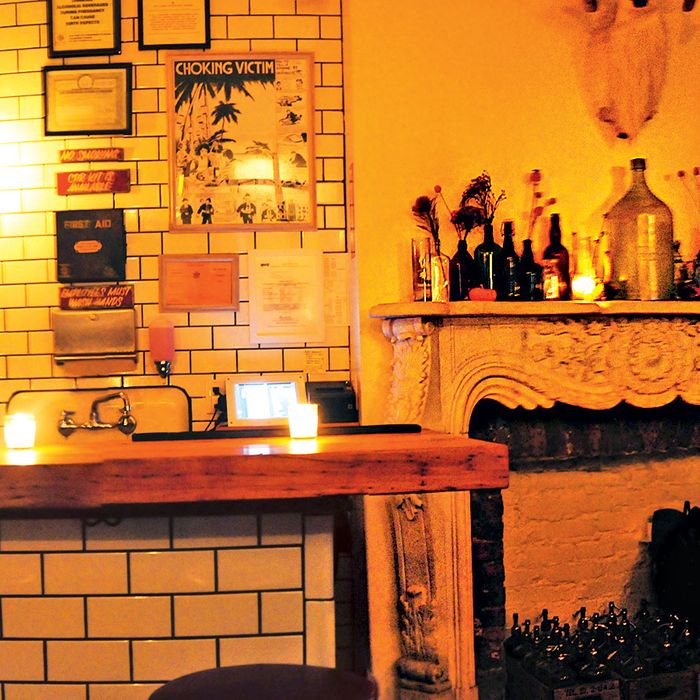 Photo: Sarah Silberg/New York Magazine
Funny to think that future generations may grow up unaware of not only what a newspaper or a television is—let alone an 8-track tape—but also how terrified their ancestors were of Brussels sprouts. That was the thought that crossed the minds of the Underground Gourmet as we tucked into a dish of the pungent little cabbages at Martha, a homey, inviting, sort-of-new restaurant located along a leafy stretch of Fort Greene's restaurant row. The Brussels in question were sliced in half and deeply charred, some would say burnt, but deliciously so. They came mingled with honey and pickled jalapeño in a piping hot cast-iron pan with a pink hand-knit cozy wrapped around the handle. The masterstroke, though, was the zingy addition of fish sauce. It was funk on funk with a touch of sweet and a dash of hot to take the edge off, and a gang of young vegivores at a nearby table could be seen popping the addictive morsels into their mouths like M&Ms.; The person to thank for the sprouts, if not the skillet mittens, is Martha chef-owner Andres Valbuena, a mountain of a man whose shock of dark, spiky whiskers and voluminous apron give him the appearance of an old-world smithy.
Of course, you can't talk about dunking Brussels sprouts in fish sauce without talking about David Chang and his former lieutenant, Tien Ho, who, in a burst of brassica brilliance, came up with the idea seven years ago at Momofuku Ssäm Bar. In this post-Changian world, cruciferous vegetables and fish sauce seem as natural and classic and maybe even clichéd a pairing as beets and goat cheese. It's the new normal: local ingredients cooked through a broadly Pan-Asian prism, with less importance placed on authenticity than on flavor. And it's a realm Valbuena has sidestepped into, after launching the spot with a different name and concept a year ago. Martha is the Asian-hipster evolution of Brooklyn Sandwich Society, an haute sandwich shop that itself evolved from a supper club Valbuena and his partner, Melissa Gorman, ran in Valbuena's Prospect-Lefferts Gardens apartment. At first, dinner at BSS was all sandwiches, supplemented by seasonal small plates. Then the selection dwindled to one sandwich per night. Finally, with the name change this summer, there were none.
It was a wise decision. While the Society's featured attractions never entered the pantheon of New York's star sandwiches, Martha's menu is a cannily calibrated take on the big, cravable flavors that dominate today's culinary landscape. Even if this grub is nothing that Brooklyn gastronomes haven't seen or tasted before, it's still undeniably delicious.
In fact, just about everything the U.G. tried was great, with nary a clunker in sight. Vegetables, in particular shine: cubes of butternut squash cooked just to the point of tenderness, bathed in a pool of rich, salty miso butter; roasted broccoli funkified with Chinese black vinegar and Korean chiles; Fairy Tale eggplant strewn with chopped hard-cooked egg and Thai bird chiles. Yuzu-brightened fluke crudo is speckled with salmon roe and fanned out across a slate board like a royal flush. And the trio of lamb meatballs with its sidecar of mushroom congee might seem a quirky pairing, but each component satisfies. The more entrée-ish plates are equally impressive: Long, fettuccine-like egg noodles well-matched with crumbly bits of duck sausage and bok choy, or a moist and flaky whole brook trout mottled with dabs of sweet chile sambal. The fried half-chicken—four remarkably juicy pieces of crunchy-battered bird, slicked with a sweet-and-spicy "General Tsao" glaze—is like the best-case scenario of a hypothetical collaboraton between the General and Colonel Sanders.
In many ways, Martha is the quintessential New Brooklyn Cuisine restaurant. It's got the salvaged décor, with reclaimed-wood wainscoting and back-bar subway tile; the menu page that lists local purveyors; the water tumblers filling in for wine glasses (what, no Mason jars?). The look falls somewhere between retro apothecary and draftsman's studio—attractive but not entirely functional. Bar stools rise out of an elevated platform that you likely won't notice until you trip over it. And the combination of too-small table, lightweight camp-style dishware, and a kitchen that dispenses dishes as they're ready (even if you're not) creates a precarious scenario that can only end badly; try to slice through a Fairy Tale eggplant in the few square inches not occupied by sizzling skillets and slate serving planks, and that piquant plate might very well end up in your lap. Service can be less than informed, and desserts like an oddly lumpy chocolate mousse don't live up to the rest of the meal, in concept or execution. But that's okay. After all, the joint isn't called Brooklyn Dessert Society—at least not yet.

Martha
184 Dekalb Ave., nr. Carlton Ave., Fort Greene; 718-596-4147; marthabrooklyn.com
Hours: Brunch Saturday and Sunday 11 a.m. to 4 p.m. Dinner Tuesday to Thursday and Sunday 6 to 11 p.m., Friday and Saturday to midnight.
Prices: $8 to $24.
Ideal Meal: Brussels sprouts, butternut squash, egg noodles and duck sausage, fried half-chicken.
Note: Sodas are made with fizzy water from that Canarsie relic Gomberg Seltzer Works.
Scratchpad: Two stars for the deft cooking, and two more for savvy sourcing—both local and global.
*This article originally appeared in the November 25, 2013 issue of New York Magazine.